Bank /
Term loan, SME snare major loan portfolio of Standard Bank
---
Rubel Rana
Published:
2018-05-31 08:49:13 BdST
Term loan, SME snare major loan portfolio of Standard Bank
---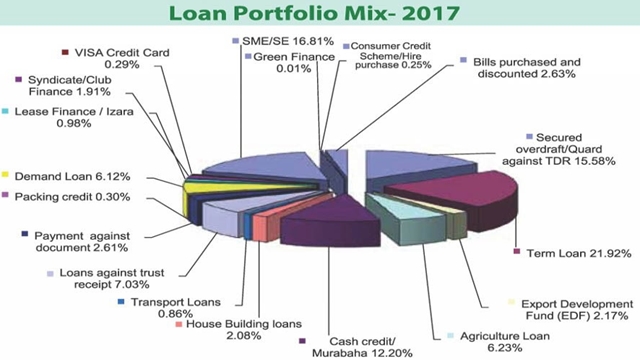 FT ONLINE
Term loan and small and medium enterprises (SME) continued to grab the major loan portfolio of Standard Bank Ltd.
As per the loan portfolio mix-2017 of the bank, term loan accounted for 21.92 per cent, SME 16.81 per cent, secured overdraft against TDR (term deposit receipts) 15.58 per cent and cash credit/murabaha 12.20 per cent of the total advances.
"We will maintain asset quality by restricting increase of non-performing assets through early detection, monitoring and corrective actions," Mamun Ur Rashid, managing director & CEO of Standard Bank said in the latest annual report of the third generation private commercial bank.
"Our Bank is committed to ensure a prudent asset liability management by maintaining a good credit portfolio through diversification of business with focus on SME, retail credit and import-export business," Mr Mamun Ur Rashid said.
The bank also focuses on increasing of deposit, procuring more low-cost deposits, improving net interest margin, low interest margin, fee-based income and non-funded incomes, strengthening the recovery against rescheduled, classified and written-off loans for reducing NPLs to a large extent through intensive recovery drive and early settlement of court cases.
The bank in its 19th annual general meeting held on May 10 approved 10 per cent stock dividend for the shareholders for the year ended on December 31, 2017.
The bank so far launched 18 'agent banking' outlets to help reach the bank's services to the un-banked population across the country.
''The central bank has allowed us to open 50 agent banking outlets,'' according to the annual report.
It said the bank has taken a five-year business plan for implementation of agent banking covering 600 unions of 400 upazillas across the country by 2019.
"We expect to increase rural customer base with 0.3 million new accounts and low cost deposit of Tk 3000 million riding on agent banking," the Standard Bank MD said.
He further said upon implementation of agent banking, the outlets of the bank will enhance the foreign remittance disbursement capacity including small loan disbursement and recovery point of loans besides cash payments under government safety net programme.
The bank will complete 19 years of operation after launching the commercial operation on June 3, 1999.
"Business diversification in a prudent way is our bedrock and based on this strong principle we want to go a long way in the journey towards building a strong and robust economic base of Bangladesh," the annual report said.
The bank has 125 branches across the country and 10 will be added in this year.
The bank's net profit rose to Tk 1238.00 million in 2017 against Tk 1088.00 million in 2016, registering a growth of 14 per cent.
The bank's deposit stood at Tk 134731 million as on December 31, 2017 compared to Tk 122554 million in 2016.
On the other hand, the loans and advances rose to Tk 128,228 million as on December 31, 2017 in comparison to Tk 105,039 million, showing 22 per cent rise.
Meanwhile, as per Quarter 1 report, the bank's profit fell to Tk 65.64 million against Tk 153.42 million of the corresponding quarter of January-March, 2017.
Unauthorized use or reproduction of The Finance Today content for commercial purposes is strictly prohibited.