Economy /
BD needs new drivers of growth: ADB
---
SAM
Published:
2018-04-15 13:57:18 BdST
BD needs new drivers of growth: ADB
---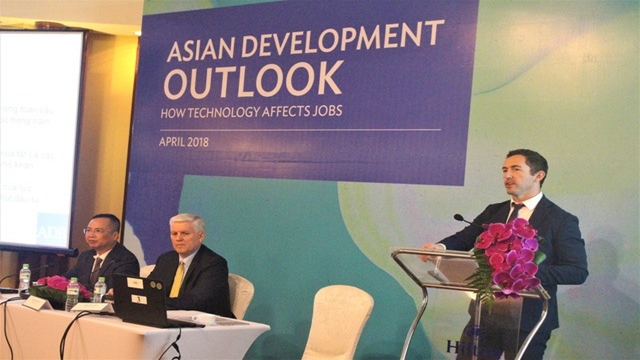 FT ONLINE
Contributions of exports and remittances to the economy, the two traditional growth drivers of Bangladesh, have weakened in recent years.
Making the observation, Asian Development Bank (ADB) stressed on the needs of seeking new drivers of growth in near future.
It pointed out the export-GDP ratio declined below 15 per cent in the current year which was around 20 per cent five years back. In a similar vein, remittance-GDP ratio came down to around 5 per cent, which was around 10 per cent in 2013.
"Exports and remittances have historically served Bangladesh well by fostering rapid economic growth, but in more recent years their contributions to growth have weakened," said ADB in its Asian Development Outlook (ADO-2018) released Wednesday.
"This points to the need for new drivers of growth. Diversifying exports away from readymade garments, now accounting for over 80 per cent of the total, would broaden the export basket, enhance resilience, and underpin continued high economic growth," it added.
ADB viewed that promoting labour-intensive manufacturing in general would help the industry to expand and meet growing demand in the domestic market.
It also pointed out that Bangladesh has good potential in several industries like leather and footwear, light engineering, electronics, pharmaceuticals, furniture, shipbuilding, jute products, food processing, automobiles, and rubber goods.
"These industries could leverage the country's large supply of low-cost labour and advantageous location to garner participation in various stages of global value chains and enter new markets," it added saying that some of these products would enjoy a sizeable domestic market.
"Having recently experienced quick success in exporting software and other information and communication technology products, Bangladesh can expect to become a player in this fast-growing field," opined ADO-2018.
Unauthorized use or reproduction of The Finance Today content for commercial purposes is strictly prohibited.