Religion /
Astami Snan begins at Langalbandh
---
Nirmal Barman
Published:
2018-03-25 06:25:20 BdST
Astami Snan begins at Langalbandh
---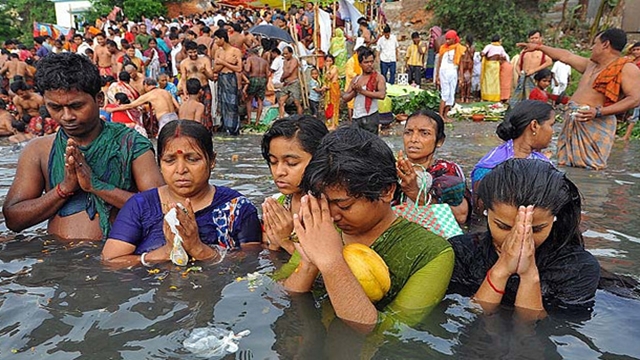 FT ONLINE
A two-day "Astami Snan", one of the biggest religious festivals of the Hindu community, began on the bank of the river old Bramahputra at Langalbandh under Bandar upzila in Narayanganj on Saturday with due respect and solemnity peacefully.
Mahatirtha Langalbandh Astami Snan observance committee organized the snan in co-operation with the district administration.
The Holy bath was inaugurated by a galaxy of Brahmins dipping in the river water at Raj ghat, Annapurna ghat and other 16 ghats simultaneously at 10.15 am and it will continue till on Sunday at 7:52 am.
Tens of thousands of people, male, female and children, thronged at Langalbandh from different parts of the country by buses, private cars, trucks and trawlers and country-made boats along the rivers Brahmaputra and Meghna.
Devotees from India, Nepal, Bhutan and Sri Lanka arrived here a day ahead of the Astami Snan.
About 20 voluntary religious organizations including Bangladesh Jatioy Hindu Mahajot, Sadhu Nag Mahashay Asram, Sree Guru Sangha and Narayanganj District Puja Udjapan Parishad set up reception camps to give shelter to the attending devotees.
The district administration sanctioned 10 tones of rice to feed the devotees.
Wasa has arranged the supply of pure drinking water, BREB has ensured uninterrupted power supply, Narayanganj District council has removed water- hyacinths from the river.
Police sources said the two kilometer long Langalbandh has been brought under foolproof security net by deploying 1500 police, 336 Ansars, a large number of RAB and setting up 36 closed circuit cameras, nine police watching tower, fire service & civil defence, 2 mobile medical teams and two 10 bed mini hospital.
The law maker of Narayanganj-5 AKM Salim Osman, Advocate Hoshne Ara Bablee MP (reserved seat) deputy commissioner Rabbi Miah, Adc (general) Abdul Hamid Miah, Police super Moynul Haqu, Bandar Upazila UNO Pintu Bepari, convener of Mahatirtha Langalbandh Astami Snan observance committee Soroj kumar Saha, president of Narayanganj district puja udjapan Parishad Sankar Saha, president of Narayanganj Hindu-Bouddha- Christian oikkya parishad Gopi nath Das and paritosh kanti saha among others visited Langalbandh.
According to Hindu mythology, Parsuram, a saint killed his mother Amugha Devi by an axe at the order of his father Jamadagni. The axe clung on his hand as a mark of sin. At the order of the divinity, Parsuram bathed in the river Brahmaputra on this day of lunar month as the waterfall of the Himalayan peak joined the river Brahmaputra.
The axe dropped from his hand and Parsuram freed from sin. According to Hindu belief a dip in the river Brahmaputra on this day of lunar month one can get rid of the sin.
Unauthorized use or reproduction of The Finance Today content for commercial purposes is strictly prohibited.