Banking sector nearing 10,000-branch mark
---
SAM
Published:
2018-07-02 09:18:48 BdST
Banking sector nearing 10,000-branch mark
---
FT ONLINE
The banking sector is going to set a new milestone as the number of bank branches across the country is likely to reach the 10,000-mark soon.
The number of bank branches both in the private and public sectors stood at 9,981 by the end of May.
Of them, 5,633 branches are operating in rural areas and 4,348 in urban areas, according to the data available with the Bangladesh Bank (BB).
The number of branches was 9,040 -- 5,150 in rural areas and 3,890 in urban areas -- at the end of December 2014. The figure was 8,685 -- 4,962 in rural areas and 3,723 in urban areas -- as of December 2013.
The branch network of scheduled banks has expanded fast across the country, playing a significant role in the development and economic growth, bankers said.
It also helped deepen the financial inclusion by bringing unbanked people under the banking coverage, they added.
"The authorities have put the banking sector on a sound footing. This has been possible mainly due to efforts made by the Bangladesh Bank (BB)," a senior banker said.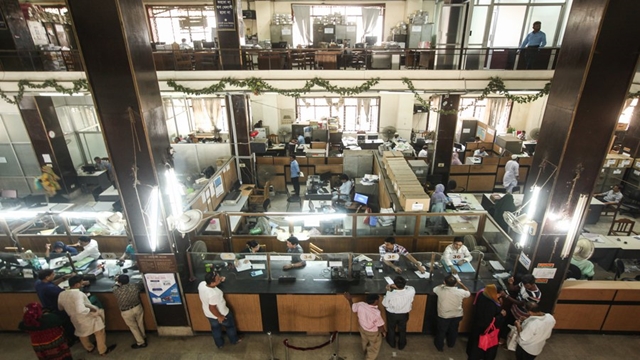 "The central bank is sincerely trying to extend banking services to rural areas and increase financial inclusion in an effort to reduce poverty," a senior official of the central bank said.
He, however, said the banks continued to enhance penetration into rural areas in line with a BB guideline.
The central bank had earlier introduced the guideline for bringing unbanked people under the banking network.
Private commercial banks (PCBs) are opening more branches in rural areas, an official of a private bank said.
Rural banks have traditionally contributed to development of rural economy by providing funds to local businesses, he added.
He said the willingness and ability of commercial banks to disburse agricultural and rural loans efficiently will play an important role in boosting the rural economy.
The banking sector is contributing to the expansion of the rural economy, which boosts the country's overall economy, said another official.
Innovations in mobile banking in addition to access points by the central bank through the commercial banks have brought revolution of financial transactions in rural areas, he added.
Unauthorized use or reproduction of The Finance Today content for commercial purposes is strictly prohibited.