Record paddy yield makes no difference to farmers
---
SAM
Published:
2019-09-29 11:07:12 BdST
Record paddy yield makes no difference to farmers
---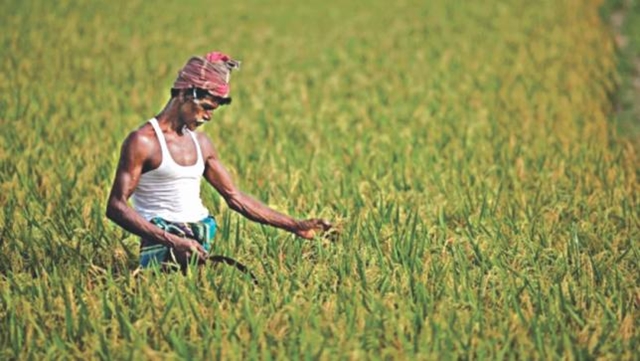 FT ONLINE
Rice output hit an all-time high of 37.3 million tonnes in fiscal year (FY) 2019, but that brought little smile on the growers' face for low prices, said, insiders.
After witnessing falling prices, Aman cultivators are in a fear of losing their investments in the current FY '20 too.
The harvest of Aman, the second-largest source of rice, will begin in the last week of October and continue until next January.
The Department of Agriculture Extension (DAE) and the Bangladesh Bureau of Statistics (BBS) jointly prepared the rice production estimate of 37.3 million tonnes.
It was above a growth rate of 3.0 percent from that of FY '18, they revealed.
Rice output was also a record 36.2 million tonnes in FY '18, according to BBS.
DAE director-general Dr. Md Abdul Muyeed said 5.6 million hectares have been brought under Aman farming this year, which is 99.97 percent of their target.
Aman yield might exceed their 14.0-million tonnes target amid suitable weather conditions, especially the continuing late monsoon rain, he cited on Thursday.
"The supply side is showing tremendous progress, but we are also in deep concern over the persisting low paddy prices," Mr. Muyeed said.
For surplus production and low prices, DAE has targeted to minimise Boro cropping land by 50,000 hectares this fiscal from that of the previous one.
Dr. Muyeed said Boro output surpassed 20 million tonnes for the first time while Aman also recorded an all-time high of 14.3 million tonnes in FY '19.
Paddy prices have been hovering between Tk 400 and Tk 650 a maund for the past one year against production costs of Tk 820-1,000 based on varieties and regions.
Department of Agricultural Marketing (DAM) director-general Mohammad Yousuf said paddy now sells at Tk 500-550 a maund in the Aus growing hubs of Sylhet, Chattogram, Barishal, Rangpur and Rajshahi.
If Aman farmers do not get fair prices of their produce this season, he fears, many will not go for Boro farming next season (December-January).
Despite losses in Boro season, Ahmed Sharif Swapan, a Nilphamari Sadar farmer, has cultivated Aman on his eight bighas of land in the hope of recouping losses.
"But there is no sign for a rise in paddy prices within two or three months amid existing supply of Boro crops," the man said to media.
He said only a few lucky farmers got a chance to directly sell paddy to the government, but that too was fixed through a lottery by local representatives.
Marginal farmers and sharecroppers are the worst sufferers as they have lost everything in the last Boro season, Mr. Swapan added.
Professorial fellow Dr. Md Asaduzzaman at the Bangladesh Institute of Development Studies said crops and vegetables comprise 70 percent of the agriculture sector where rice is a major crop.
The rural economy has been hit hard by falling paddy prices this fiscal, he said, adding that potato and onion prices also fell during the January-April harvest time.
The analyst said any trouble in the crop sector could discourage farmers from production as they have many alternatives now.
Policymakers should take it seriously from the perspective of national food security, he opined.
He suggested direct cash subsidy be given to farmers and the government buys at least 15 percent of crops directly from farmers under its procurement drive.
The minimum support price should be introduced to safeguard both farmers and food security, Mr. Zaman observed.
Unauthorized use or reproduction of The Finance Today content for commercial purposes is strictly prohibited.