Bank /
Bad loan recovery falls in Q2
---
Mehedi Hasan
Published:
2021-09-21 03:47:48 BdST
Bad loan recovery falls in Q2
---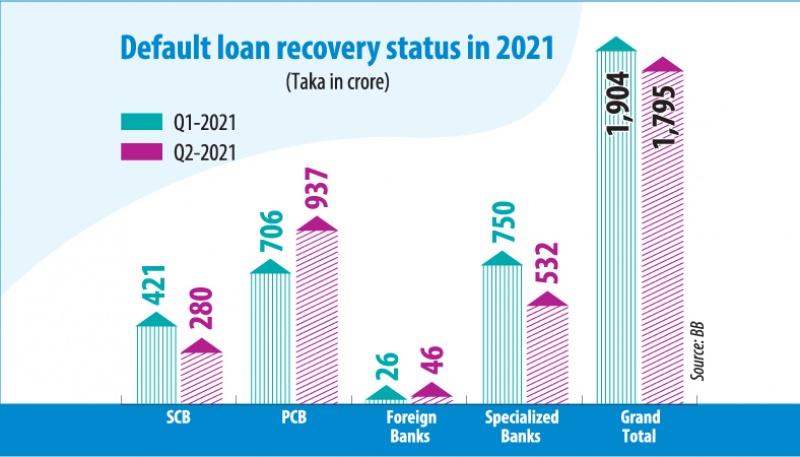 The banks' recovery of Non-Performing Loans (NPLs) fell by 6 percent in the second quarter (April-June) of this year compared to that in the first quarter.
During the three-month period, banks have recovered Tk 1,795.12 crore from NPLs, down from Tk 1,904 crore picked up in the first quarter (January-March), as per the latest data from the Bangladesh Bank.
The state-run banks, however, managed to collect Tk 279.84 crore from bad debts during the April-June quarter (Q2), which is 33.58 percent lower than what was obtained in the first quarter (January-March), as per the BB data.
The data shows that a Tk 531.80 crore was redeemed to specialised banks by debtors, down by 29 percent from what was made three months earlier in Q1.
However, the recovery of defaulted loans by private commercial banks rose by 32.69 percent to Tk 937.37 crore, and that from bad loans by foreign banks grew by 74.32 percent to Tk 46.11 crore.
Bankers opined that the raging pandemic hit the loan recovery efforts to a large extent that virtually came to a standstill.
"But we are trying our best to recover bad loans," they said.
Preferring to remain anonymous, chief executives of two banks said most industries were open during the pandemic and they attained good profit but did not repay banks loans as the central bank extended loan moratorium facility till December this year.
The borrowers enjoyed the facility on loan installments throughout 2020 and now they are also doing the same on condition.
The central bank on August 27 said if any borrower pays 25 percent of their installments for current year debts, then the loans would not defaulted till December 30 of 2021.
During April-June period, banks recovered Tk 180775.06 crore from unclassified loans and Tk 127.38 crore from written-off loans. Some bad loans have also been recovered through loan rescheduling.
Banks rescheduled Tk 2915.22 crore of defaulted loans during April-June quarter this year as part of their efforts to clean up the balance sheets amid the ballooning default loans.
Mutual Trust Bank Managing Director Syed Mahbubur Rahman said banks are rescheduling defaulted loans for their move to recover bad loans as future is very uncertain due to the ongoing pandemic.
Some banks reschedule their bad loans depending on cash flow, he added.
"Now borrowers are also interested to reschedule their bad loans by paying 20 to 25 per cent as down payment because the deferral facility on loan instilments is fixed for a period," maintained Syed Mahbubur Rahman, also former chairman of Association of Bankers Bangladesh.
At the end of June this year, NPLs stood at Tk 98,164.31 crore, 8.61 percent of total outstanding loans, as per the latest data from the central bank.
Unauthorized use or reproduction of The Finance Today content for commercial purposes is strictly prohibited.