Business /
Corruption still biggest barrier to business in Bangladesh: CPD
---
Shamiur Rahman
Published:
2023-01-29 19:53:05 BdST
Corruption still biggest barrier to business in Bangladesh: CPD
---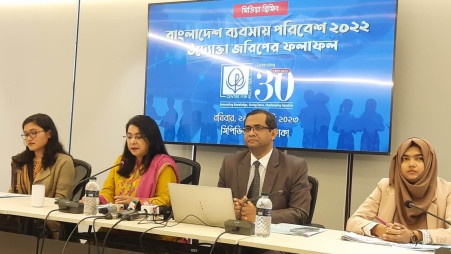 Businesses in Bangladesh still point to corruption as the biggest barrier to their activities, according to a study by the Centre for Policy Dialogue, a think-tank.
However, a number of new factors, such as inadequate infrastructure, inflation and foreign currency instability, global factors, and lack of sufficient long-term planning have also emerged as concerns, according to the survey of entrepreneurs on the state of business competitiveness whose results were released on Sunday.
Corruption remained the most problematic factor, with 64.6 percent of respondents complaining about its high level. The second biggest issue was inadequate infrastructure, cited by 44.6 percent of respondents, and issues of limited access to financing and inefficient government bureaucracy tied for third at 43.1 percent.
However, new factors have also reared their heads. These include inflation (38.5 percent), foreign currency instability (38.5 percent) and policy instability (35.4 percent).
The CPD suggested the need for comprehensive policy support to meet short, medium, and long-term challenges amid the uncertain post-COVID business environment.
On a more positive note, businessmen had fewer complaints about a high tax rate and the gradual reduction in top-tier tax rates may have contributed. However, complexity of tax regulations is perceived as more troublesome than the rate of the tax, the study said.
The study also found that entrepreneurs perceived the three biggest economic risks for Bangladesh in the coming years as rapid, sustained inflation (25 percent), a debt crisis (22 percent), and severe commodity price shocks and volatility (22 percent).
The three biggest social risks they noted were a cost-of-living crisis (51 percent), an employment and livelihood crisis (19 percent), and infectious diseases (8 percent).
They also assessed digital inequality and failure of cybersecurity measures as the top technological risks and human-made environmental damage and natural disasters as the biggest environmental risks.
The think tank urged the government to plan and implement a series of policies and strategies to address these risks and deliver long-term competitiveness, enhanced productivity and sustainability.
Despite sporadic improvements, institutional inefficiencies have also made things harder for businesses, the CPD said. It pushed for major reforms to public institutions for better transparency, accountability, and efficiency, and recommended that the major political parties should commit to such reforms in the upcoming election.
The government should also focus on improving the efficiency of infrastructure, which is showing some positive changes from the substantial investments in the past decade, the organisation said.
The finance sector must undergo a major overhaul, including amendments to the Banking Company Act, lifting the cap on the lending rate, transparency in outstanding loans and effective oversight by regulators, the CPD recommended.
It also suggested stronger regulatory oversight, proper corporate governance practices, and instilling of corporate ethics. Human capital development should become a mainstream activity of the government and it should evaluate its 'digital Bangladesh' initiatives thoroughly to identify its strengths, weaknesses, and issues, it said.
The CPD carried out the opinion survey from April to July 2022 in partnership with the World Economic Forum, discussing the issue with 74 senior officials of different private companies. A rapid assessment survey was also conducted alongside it to highlight domestic issues concerning business.
Unauthorized use or reproduction of The Finance Today content for commercial purposes is strictly prohibited.