Business /
Rice imports so far are lowest in two decades
---
SAM
Published:
2020-01-16 22:48:22 BdST
Rice imports so far are lowest in two decades
---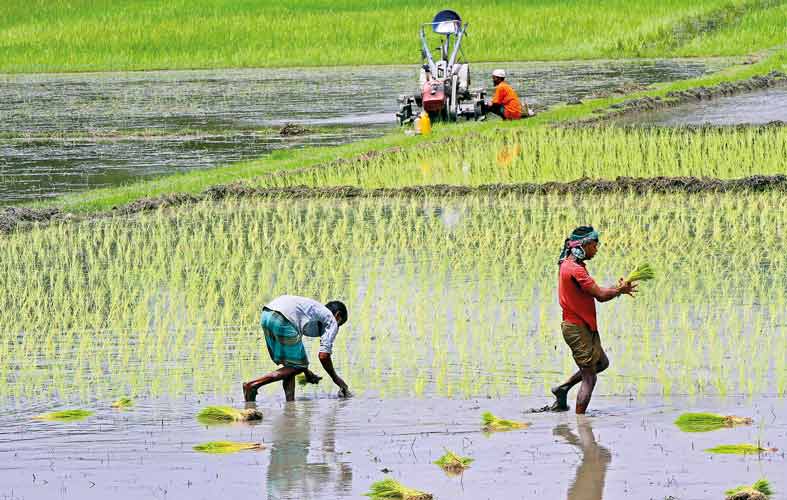 FT ONLINE
The country's rice import declined to a two-decade low in the current fiscal year (FY '20) thanks to persisting higher import duties and bumper local production, insiders have said.
But such low imports and higher output hardly could bring cheer for the growers as paddy prices fell notably in the domestic market during this Aman harvest season, experts said.
The private sector imported only 3,980 tonnes of rice during the period of July 1 to January 12 of FY '20, according to the Directorate General of Food (DGoF).
But the government so far did not import any rice this fiscal year amid plenty of supply in the domestic market, said DGoF deputy director (procurement) Alamgir Kabir.
He said Aman is witnessing a bumper production this season as per field reports, so there will be no shortage of rice until April this year in the country.
He said the lowest import this millennium was 0.04 million tonnes (40,000 tonnes) in FY '13.
If production of rice in the Boro season remains normal, a maximum of 20,000 tonnes might be required to be imported this FY, he said.
He said the government has a stock of 1.15 million tonnes of rice while another 1.1 million tonnes will be purchased within February under the Aman procurement drive.
However, the country imported a record volume of 4.0 million tonnes of rice in the FY '18 due to fall in local production amid natural disasters.
Rice prices hit a record high at Tk 60-Tk 85 a kg in September 2017 due to a fall in rice production in the Boro season, according to the Trading Corporation of Bangladesh (TCB).
Rice imports declined to 0.205 million tonnes in FY '19 thanks to bumper local production in that year.
The country produced a record volume of 37.2 million tonnes of rice in the FY '19, according to the primary estimates of the Bangladesh Bureau of Statistics (BBS).
Aman production is expected to be 14.7 million tonnes in FY '20, according to the Department of Agriculture Extension (DAE).
However, market insiders said imports also declined due to the persisting higher import duties, almost 55 per cent.
Md Sarwar Alam Kajol, a Naogaon-based importer, said the import of daily edible rice almost came to a halt following imposition of the duty from May, 2019.
He said the import cost of Indian Swarna variety now stands at Tk 38-Tk 40 a kg compared to Tk 27-28 a kg at the local mills.
He said last year private importers brought in only finer rice as the duty was 28 per cent.
He said now finer rice like Jeerashail, Miniket and Najirshail will cost Tk 57-62 a kg for the high duty and it is not economically viable.
He said the government should reduce the duty by a half so that they could import few finer varieties of rice the prices of which are still much higher in the domestic market.
Consumers Association of Bangladesh (CAB) Secretary Humayun Kabir Bhuiyan said government initiatives and bumper local production helped ease rice prices in the domestic market, especially in rural areas.
"But prices of medium and finer quality rice are still much higher in the city retail markets, thus affecting the consumers", he said.
He said despite having a good supply, the market monitoring should be continued to maintain a stable supply of the item.
Bangladesh Agrarian Research Foundation (ARF) Chairman Prof Abdul Hamid said high import duty, bumper local production and government procurement hardly could benefit the growers in last one and a half years.
"Most of benefits were pocketed by millers, big traders and their political affiliates," he said.
He said paddy prices fell to just Tk 550-620 a maund in the just ended Aman season when the production cost was ata minimum of Tk 800 a maund.
He said farmers should be compensated with cash subsidy based on their losses. Otherwise, they would give up farming.
"Keeping farmers in the farming profession is now the great challenge of this millennium and it should be prioritised from the food security context," he added.
Coarse rice prices were at Tk 35 to 40 a kg, medium quality rice Tk 43-48 and finer rice Tk 55-68 a kg in the city retail markets on Wednesday, according to the TCB.
Global prices of rice had been almost static between US $345 and $420 a tonne for the last two months.
Unauthorized use or reproduction of The Finance Today content for commercial purposes is strictly prohibited.