G7 countries should end support for LNG: CPD
---
Staff Correspondent
Published:
2023-05-11 22:37:27 BdST
G7 countries should end support for LNG: CPD
---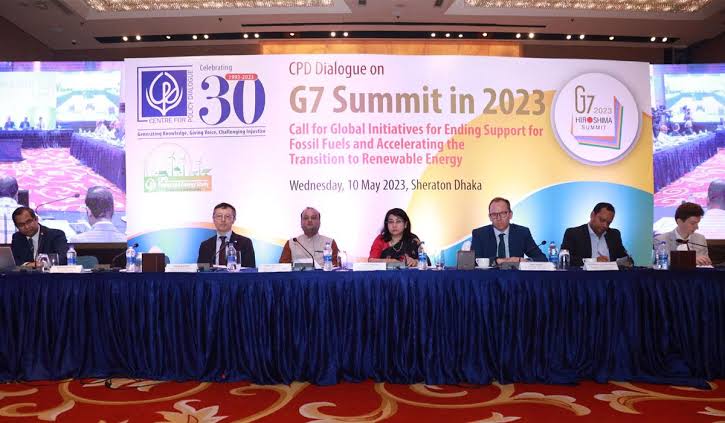 The Centre for Policy Dialogue (CPD) on Wednesday observed that in order to meet the fossil fuel phase-out by 2030, member countries of the Group of Seven (G7) should phase out all the direct and indirect support towards financing the liquefied natural gas (LNG) fuel and infrastructure in their own geographical territory and overseas including developing countries like Bangladesh.
Promoting liquefied natural gas as a transitional fuel will further disrupt the process of fossil fuel phase-out by the targeted time because LNG itself is a carbon-based fuel, the local think tank mentioned.
Group of Seven (G7) is an intergovernmental political forum consisting of Germany, Italy, Japan, Canada, France, the United Kingdom and the United States.
The group countries had committed to abandoning coal by 2030 and to end new direct public support for the international unabated fossil fuel energy sector.
But their plan failed as the group has emphasised the usage of LNG as a transitional fuel in their territory and overseas to the global net zero commitment, said Dr Khondaker Golam Moazzem, Research Director of CPD while presenting the keynote at a dialogue held at a hotel in the city.
Being the world's highest LNG exporter, USA now has two LNG regasification infrastructure in Cox's Bazar of Bangladesh while Japan is investing in LNG globally including in Bangladesh along with its own dependency on natural gas and LNG for next 10-15 years, he added.
He said from the upcoming G7 Summit due to be held on 19 to 21 May 2023 in Hiroshima of Japan, however, Bangladesh as a graduating developing country expects to receive proper guidance, assistance, support and funding to prevent, mitigate and adapt climate change to ensure the clean energy transition.
The dialogue titled "G7 Summit in 2023: Call for Global Initiatives for Ending Support for Fossil Fuels and Accelerating the Transition to Renewable Energy" was chaired by Fahmida Khatun, Executive Director of CPD.
In her opening speech, Fahmida Khatun said, "There are several studies which are indicating that if we go at this rate of current economic activity and rate of emission then we may not be able to fulfill the target which has been set by global leaders at the climate conference in 2015."
"So, standing at a significant time before the next G7 Summit, we would like to know what leaders from developed countries are going to offer us," she said.
Tanvir Shakil Joy, Member of Parliamentary Standing Committee on Ministry of Environment, Forest and Climate Change, said that there are various technologies for setting the energy mix.
"But before setting our energy mix, we first need to think from our perspective which suits us best as we need to ensure energy for all at an affordable cost. We should not take any technology that is not viable for us," he said.
Talking about the renewable energy target, Tanvir Shakil Joy said that there are several options to increase the renewable energy share. The idea of floating solar seems viable for us as it is possible without interrupting agriculture fields.
Unauthorized use or reproduction of The Finance Today content for commercial purposes is strictly prohibited.