Health /
Dengue robs many families of their Eid joy
---
FT ONLINE
Published:
2019-08-18 15:12:18 BdST
Dengue robs many families of their Eid joy
---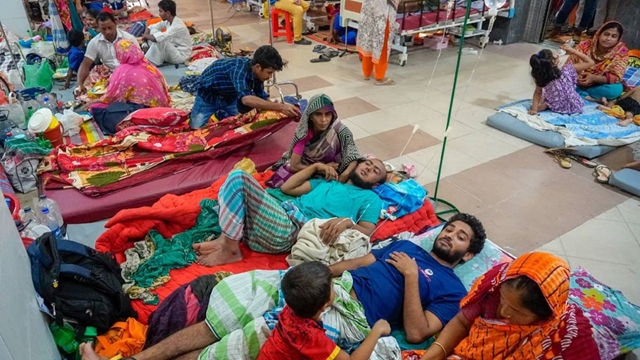 Unlike previous years, Eid joy eluded septuagenarian Ambia Khatun this time. She could not celebrate Eid-ul-Azha with her grandchildren as she is fighting against dengue lying on a hospital bed.
On Wednesday, two days after the second largest religious festival of Muslims, one of her grandchildren was also hospitalised with dengue, adding to her agony.
Ambia, a resident of Jinjira in Keraniganj on the outskirts of the capital, was admitted to Sir Salimullah Medical College and Mitford Hospital on the Eid day on August 12 as she was suffering from dengue.
She is not the only person of the family to be infected with the mosquito-borne disease but also her grandson Yasin Hossain, 9, granddaughter Sabina, 22, and Sabina's husband have had the disease.
Of them, Yasin was taken to the same hospital on Wednesday. Although the two others made recovery, they still have to visit hospitals for tests.
"We've been living in Jinjira for the last 50 years but never saw such a mosquito menace. The dengue outbreak has turned dangerous due to the negligence of the two Dhaka city corporations. The authorities concerned take rest in AC rooms but don't spray mosquito repellent or clean areas," she told UNB.
Ambia said she first complained of high temperature and stomachache on August 9. "I thought the temperature will subside before the Eid day but the physical condition was deteriorating day by day. When I was admitted to the hospital on the Eid day, my blood platelet count was 79,000. It has come down to 24,000 now."
She said doctors are giving her saline, and paracetamol thrice a day but she is yet to make recovery.
The elderly woman also accused some nurses and ayas of being rude. "They're rude. The environment at the hospital is not clean either…toilets are very dirty. How patients will recover?"
Another patient, Yasin Hossain, hailing from Dholaikhal in the capital said he was admitted to the hospital three days ago with dengue. "Although the fever subsided, I'm yet to recover fully. I'm taking medicines and rest here," he said expressing the hope that he will be discharged from the hospital soon.
Duty doctor Sharmin told UNB that they arranged spaces on different floors as there is a huge pressure of dengue patients at the hospital.
Besides, many patients go back after taking treatment, she said. "Generally, we keep patients here for 3-4 days. If patient's condition worsens and the blood platelet count comes down below 150,000, the duration might be increased."
Gayatri Debi Mondol, nurse supervisor of the hospital, said there were 379 dengue patients as of Friday noon. Of them, 72 patients were admitted on Friday. "The number of dengue patients is increasing here day by day. Many throng the hospital with fever but we allow only real dengue patients to get admitted after the blood test. We try to serve patients better here," she said.
She also said four people died of dengue at the hospital this week.
Mentioning that Aedes mosquitos are born within 48 hours from larvae, the nurse supervisor said the city corporations should spray repellant regularly to destroy the larvae.
Senior staff nurse Selina Khatun said she was serving at the Dengue Ward on the hospital's second building where 100 beds were installed for dengue patients but 112 are currently taking treatment there.
During a visit to Dhaka Medical College Hospital (DMCH), this correspondent found huge dengue patients lying on floors for lack of beds although Sheikh Hasina National Institute of Burn And Plastic Surgery is now being used as the dengue unit.
Sharifa Begum, 45, who came from Hazaribagh of the city, said she has been suffering from dengue for the last several days. "I'm on the floor as I didn't get any bed. Doctors and nurses come here and provide me treatment," she said.
A Dhaka Medical College student, Iti Akhter, told UNB that she was admitted to the hospital on August 8 with dengue. "I couldn't go to my village home in Pirojpur to celebrate Eid. I was infected with dengue when I was staying in a mess-house at Chankharpool."
She, however, said her condition is now better. "I'll be released from the hospital shortly."
According to the Directorate General of Health Services (DGHS), at least 1,460 patients infected with dengue were admitted to hospitals in last 24 hours till Saturday morning.
It said 51,476 people were hospitalised with dengue since January this year. Of them, 43,580 had made full recovery.
Currently, 7,856 patients are undergoing treatment at different hospitals and clinics.
The government has so far confirmed 40 deaths although unofficial estimates suggest the death toll is much higher.
Unauthorized use or reproduction of The Finance Today content for commercial purposes is strictly prohibited.