Health /
Number of dengue patients become half by one month
---
FT ONLINE
Published:
2019-09-03 13:23:27 BdST
Number of dengue patients become half by one month
---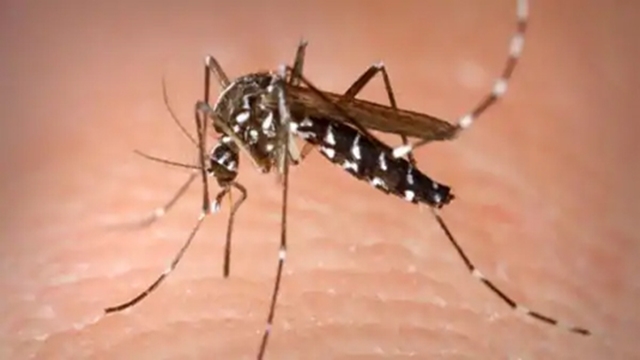 The number of patients being infected with the deadly virus 'dengue' is falling down gradually and the figure has became almost half in a span of month, according to a statement of Health Crisis Management and Control Room of DGHS.
The number of admission of the dengue patients is also reducing in a
remarkable way, the statement said.
According to the statistics of Health Crisis Management and Control Room,
7,398 patients were undergoing treatment in different hospitals and clinics
across the country while the figure is only 3,931 today.
On August 3, a total of 2,429 dengue patients were admitted to different
hospitals as it was only 865 in last 24 hours across the country.
"People are now more alert about the deadly disease and they not panicked
like earlier…It is not necessary that all patients diagnosed with dengue
have to be admitted in hospitals," Dr ABM Abdullah of Bangabandhu Sheikh
Mujib Medical University (BSMMU) told BSS.
"The panic has gone down among the people because of cleanliness and
awareness building programmes and it is one of the main reasons behind
decreasing the number of dengue patients across the country," said Director
General of Directorate General of Health Services (DGHS) Prof Abul Kalam
Azad.
Referring lesser amount of rainfall in recent days, Prof Azad said,
rainfall increases chance for Aedes breeding, thus less rainfall is a
blessing in disguise for us.
Awami League (AL) at a meeting on August 3 formed a monitoring cell
comprising specialized doctors for implementing effective steps to prevent
dengue disease and provide proper treatment to dengue patients.
In this regards, a five-point programme include forming monitoring cells
at 64 districts, gearing up mass awareness, praising the services of nurses
and other health workers, arranging necessary logistic support after
coordinating with the government and ensuring sufficient doctors, nurses and
other health workers at every district was decided at that meeting.
On July 27, the government issued a statement to make people aware of
taking certain steps to stop spread of dengue and measures to protect them
from being inflicted by the mosquito-borne disease.
People were asked not to allow accumulate water around their offices,
houses or in their neighbouring areas. Change all accumulated water in
containers within three days, it suggested.
As Aedes mosquito usually bites during the day, people were advised to
cover their body, as much as possible, with clothes and use mosquito nets
even while sleeping during the day time.
Dengue fever is a mosquito-borne tropical disease caused by dengue virus.
Symptoms typically begin 3 to 14 days after infection. The most common
symptoms are high fever, headache, vomiting, muscle and joint pain and a
characteristic skin rash.
Recovery generally takes two to seven days. Sometimes, the disease develops
into severe dengue, also known as dengue haemorrhagic fever (DHF), resulting
in bleeding, low levels of blood platelets and blood plasma leakage, or into
dengue shock syndrome, where dangerously low blood pressure occurs.
Unauthorized use or reproduction of The Finance Today content for commercial purposes is strictly prohibited.