Politics /
103rd Birthday and National Children's Day of Undisputed Leader Father of the Nation Bangabandhu Sheikh Mujibur Rahman
---
Dr. Muhammad Mahtab Hossain Mazed
Published:
2023-03-17 03:14:30 BdST
103rd Birthday and National Children's Day of Undisputed Leader Father of the Nation Bangabandhu Sheikh Mujibur Rahman
---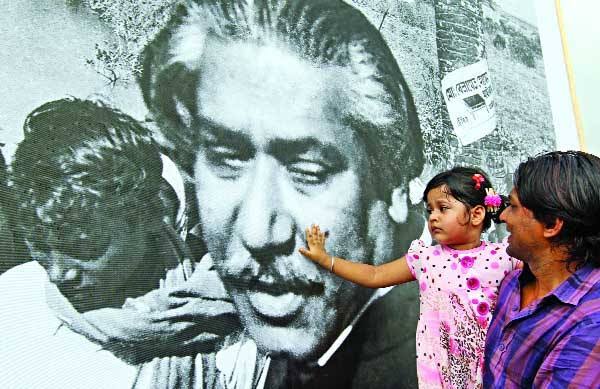 Today Friday March 17 is the 103rd birth anniversary of the Father of the Nation Bangabandhu Sheikh Mujibur Rahman and National Children's Day 2023.
The children of today are the backbone of tomorrow. There is a proverb in Bengali, the child's father is sleeping in the heart of all children. If we want to have a healthy nation in the future, then we must take care of children. Neglecting children means neglecting the entire nation.
Children are generally seen to be less valued in the rural areas of our country. They think that children will eat all their lives. So the good and the bad are fed to the elderly instead of to the children. This not only spoils the beautiful development of the child. Rather, all nations suffer from malnutrition-related diseases. So the right message can be sent to them by celebrating Children's Day.
Moreover, in our country many times many tasks are imposed on children. Which falls into the level of crime. It is not possible to stop child labor only by enforcing the law. I want social awareness. Children's Day can play an important role in this regard.
Many parents unknowingly impose extra studies on their children, which they cannot afford. Then when the child does not cope, the mental torture begins. Many times he has to sit on the reading table while going outside to play. As a result, the mental development of the child is disrupted. On the occasion of Children's Day, let everyone be aware, let the leaders of the future grow up healthy and strong.
The history of Bangabandhu's life means the history of independent Bangladesh. Everything he did in life he did for the country. He lived only 55 years. Although it was short in terms of time, the breadth of his work was vast in terms of his life span. If he was not born, we would not have got freedom today. Let's know about the brief biographical history of the great leader.
Birth identity and early life
Bangabandhu Sheikh Mujibur Rahman was born on March 17, 1920 in Tungipara village on the banks of the Baigar River in the then Gopalganj Mahakumar of Faridpur District (now District). His father's name is Sheikh Lutfar Rahman and mother's name is Saira Begum. Bangabandhu was the third of four daughters and two sons of Sheikh Lutfar Rahman and Saira Begum. His nickname was Khoka. Khoka spent his childhood in Tungipara.
Educational life
Bangabandhu Sheikh Mujibur Rahman's educational life began in Gimadanga Primary School in 1927 at the age of seven. He got his secondary education from Gopalganj Mission High School. Then in 1947 he passed BA from Calcutta Islamia College. The name of the hostel for Muslim students of Islamia College was Baker Hostel. Bangabandhu used to study from this hostel. He stayed in room number 24 of this dormitory from 1945-1946. Later he was admitted to the law department of Dhaka University.
Family life
Bangabandhu Sheikh Mujibur Rahman and Bangamata Begum Fazilatunnessa were officially married in 1938 at the age of 18. They have two daughters (Sheikh Rehana, Sheikh Hasina), and three sons (Sheikh Kamal, Sheikh Jamal and Sheikh Russell). Their daughter Sheikh Hasina is the current Prime Minister of Bangladesh.
Prison life
Bangabandhu Sheikh Mujibur Rahman spent a total of 4 thousand 682 days in prison in his political life. During the British period, he spent 7 days in prison as a school student. He spent the remaining 4675 years in prison under the rule of the Pakistan government. He went to jail for the first time in 1938.
A book with rare photographs was written about the memories of Bangabandhu Sheikh Mujibur Rahman's whole life. The book is called "3053 days".
Writing
So far three books written by Bangabandhu have been published. These are Unfinished Autobiography (2012), Jailgar Roznamcha (2017) and Aar Dha Nayachin (2020). Let's know a little about the three books.
> Unfinished Autobiography
Sheikh Mujibur Rahman's autobiographical book is Unfinished Autobiography. It was published in June 2012. Dhaka University English Department Professor Dr. Fakhrul Alam translated the book into English.
In 2004, four accounts written by Bangabandhu were suddenly handed over to his daughter Hon'ble Prime Minister Sheikh Hasina. After reading those notebooks, it was revealed that it was Bangabandhu's unfinished autobiography. Which he started writing in the middle of 1967 in Dhaka Central Jail but could not finish it. He managed to write his autobiography till 1955 but he did not dedicate the book to anyone.
The foreword of this book is written by his eldest daughter Sheikh Hasina and the cover is made by Samar Majumdar.
> Jail er Roznamcha
Bangabandhu's second book is Jail er Roznamcha. It was published in 2017. That is, on 17 March 2017, Bangla Academy officially published the book. Bangabandhu's younger daughter Sheikh Rehena named this book. It was translated into English by Dr. Fakhrul Alam.
This book was also written by Bangabandhu while in prison. The book highlights the star memories of the Bangabandhu period (1966-1968). Like the unfinished autobiography, it has also been published over many hurdles.
> Aar Dha Nayachin
Sheikh Mujib's third book Aar Dha Nayachin. It was released in 2020. Sheikh Mujib joined the Asian and Pacific Regional Peace Conference held in Peking, China in October 1952 as Pakistan's representative. The book was written in the light of the experience of seeing Nayachin at that time.
Bangabandhu Memorial
In 1997, the house of Bangabandhu Sheikh Mujibur Rahman located at Road No. 32 in Dhanmondi, Dhaka was converted into the Bangabandhu Memorial Museum.
Room No. 24 of Baker Hostel was preserved as "Bangabandhu Memorial Room" in 1998 at the initiative of West Bengal Government.
In 2011, the newly constructed extension building of Baker Hostel was declared as Bangabandhu Memorial Building.
In 2017, the name of Delhi Park Street in the capital of India was changed to Bangabandhu Sheikh Mujib Road. There are many more.
Politics
During his student life, he got involved in politics. He went to jail for the first time when he was an eighth grader for protesting against injustice. While studying at the Islamia College, Calcutta, he came into close contact with the eminent politician Hussain Shaheed Suhrawardy. He gradually progressed into active politics under his affection, favor and guidance. During his student life in Calcutta, he worked with organizations like 'Nikhilbanga Muslim Chhatra League', 'Nikhil Bharat Chhatra Federation' etc.
After the establishment of Pakistan in 1947, the exploitation and rule of the Pakistani rulers continued over the people of East Bengal. Liberation of East Bengal then became the main goal of his political life. He started his struggle against the oppression of the Pakistani rulers from the time he was studying law in Dhaka University. As a result, he was arrested by the Pakistani government on March 11, 1949.
When the then East Pakistan Awami Muslim League was born in 1949, he was elected joint editor. In 1953, he was elected as the party's general secretary in the council meeting of Awami League. In 1954, when the United Front won the general assembly elections, a new provincial government was formed. He joined the cabinet in 1956 as Minister of Commerce in the provincial government. But in 1958, when military rule was imposed in the country, he was imprisoned. After the death of Hossain Shaheed Suhrawardy, Sheikh Mujibur Rahman was elected as the president of Awami League. In 1966 he raised six point demands. He took the Bengali independence movement forward.
Meanwhile, Sheikh Mujibur Rahman also participated in the movement to demolish the Hollowell Monument in Kolkata. In January 1968, Sheikh Mujib was arrested in the anti-state Agartala conspiracy case. He was released in 1969 in the face of intense public agitation. His historic 7th March speech will remain as 'Meghna Carta' in the history of Bengal.
Surname of Bangabandhu
In the political history of this country, the nobles of the country have been awarded with different titles at different times. For example, Chittaranjan was given the title of 'Deshbandhu' and Fazlul Haque was given the title of 'Shere Bangla'. The word Bangabandhu means friend of Bengal. A friend can be said to be the one who understands the need, tries to meet it, stands by his side in danger. When East Pakistan faced great danger, Sheikh Mujibur Rahman guided the way out of that danger. He was then named Bangabandhu.
1970 elections and 1971 independence
In the 1970 general elections, the Awami League won 167 out of 169 seats in the National Assembly and achieved an absolute majority. But the western ruling group continued to weave a web of conspiracy without allowing the Awami League to form the government and brutal massacres started on the night of March 25, 1971. Bangabandhu was arrested and taken to West Pakistan.
Before his arrest, Bangabandhu wirelessly sent a declaration of Bangladesh's independence to Chittagong's Awami League leader Hannan Chowdhury.
This manifesto was broadcasted by Hannan Chowdhury from Kalurghat Betar Kendra. The war of independence began.
Why he is the father of the nation
At one time, the territory of Bengal was known as a colonial state of a foreign nation. A glance at the pages of history shows us every failure as a nation. Shocks, Tuns, Mugs, Portuguese, French, Dutch, British and Pakistanis have exploited us in different ways at different times. Divided our wealth. Only in the war of 1971 we were able to stop the foreign superpower. Behind it all was the contribution of Bangabandhu Sheikh Mujibur Rahman. He fought for the country, for the people of the country, completely sacrificing his own interests. This great Bengali has established us as a nation in the first world court. So he is the father of the nation.
Developing relations with the Muslim world
Bangabandhu Sheikh Mujibur Rahman was the original architect of Bangladesh's foreign policy. He dreamed of a world order of peace and harmony.
Bangabandhu was very active in developing international relations. Under the leadership of Bangabandhu, Bangladesh gained full diplomatic recognition from 121 countries of the world as an independent country.
In between, he gave great importance to the development of relations with the Muslim world and diplomatic relations with several Muslim countries were developed under his leadership. The presented picture shows Bangabandhu Sheikh Mujibur Rahman engaged in intimate conversation with the then Emirs of UAE and Saudi Arabia.
Bangabandhu's love for Islam
Bangabandhu was a person who loved Islam. He respected all religions including Islam and as a Muslim he participated in various rituals of Islam. Some pictures show Bangabandhu with his son Sheikh Russell praying at the end of the Eid congregation, chatting with Muslims at Namazante and praying while visiting religious buildings.
Bangabandhu Sheikh Mujibur Rahman has left an outstanding contribution in the expansion of Islam and the promotion and establishment of Islamic values.
Below is a list of some of his favorite contributions and roles in Islam
1. Establishment of Bangladesh Islamic Foundation. 2. Reorganization of Bangladesh Madrasa Education Board (previously there was no fully autonomous Madrasa Education Board). 3. Promotion of Quran recitation on radio and TV. 4. Additional space allocated for Kakrail Mosque. 5. Placement for World Ijtema in Tongi. 6. Abolition of travel tax for pilgrims. 7. Establishment of Bangladesh Sirat Majlis and celebration of Miladunnabi (PBUH) on Eid. 8. Announcement of public holidays on the occasion of Eid-Miladunnabi (S), Shab-e-Qadr, Shab-e-Barat. 9. Prohibition and punishment of alcohol and gambling in building a civil society. 10. Arrangements for sending the first Tabligh Jamaat to Russia. 11. Prohibition of horse racing in present Suhrawardy Udyan and erstwhile racecourse grounds. 12. Scheme of government subsidy for performance of Hajj. 13. Joining the OIC Conference and establishing diplomatic relations with the Muslim world. Besides, Bangabandhu had a good relationship with almost all the scholars of that time.
Medals
On October 10, 1972, the World Peace Council awarded Bangabandhu the Julio Curie Peace Medal. Bangabandhu received the medal on 23 May 1973.
Death
Sheikh Mujib's assassination was the murder of Bangladesh's former president Bangabandhu Sheikh Mujibur Rahman's family. In the early hours of August 15, 1975, a group of members of the Bangladesh Army staged a military coup and killed Bangabandhu Sheikh Mujibur Rahman and his family at his residence No. 32 in Dhanmondi.
Finally, any special event or auspicious day is celebrated as Children's Day. The most happy day for the people of Bangladesh is the birthday of Father of the Nation Bangabandhu Sheikh Mujibur Rahman. Bangabandhu was born alone in the thousand years history of Bengal. If he was not born, independent Bangladesh would not have been born.
That is why Bangabandhu's birthday is celebrated on March 17 as National Children's Day. Bangabandhu loved children very much. He used to talk and play with the children. He believed that the children of today will lead the country in future. The young generation gets inspiration from the ideals of this great leader to build the country.
Bangabandhu Sheikh Mujibur Rahman will live among those who believe in Bangladesh and hold the ideals of the liberation war. Deep tributes to this great leader who shaped independent Bangladesh on his birthday.
Author, columnist, researcher, political analyst and Founder Chairman, Jatiya rogi Kalyan Society
Unauthorized use or reproduction of The Finance Today content for commercial purposes is strictly prohibited.