Politics /
'India will ever remember Bangladesh for what it gave'
---
Nirmal Barman
Published:
2018-05-31 17:53:09 BdST
'India will ever remember Bangladesh for what it gave'
---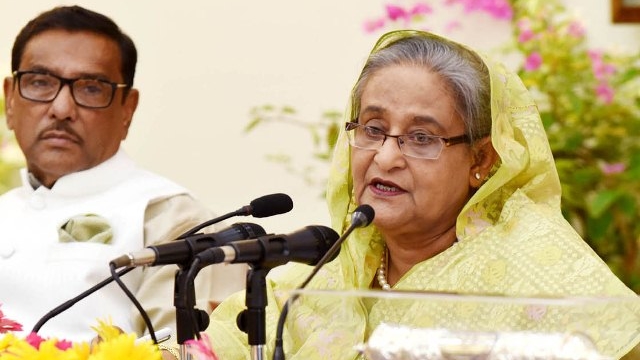 FT ONLINE
Mentioning that Bangladesh wants no return from India, Prime Minister Sheikh Hasina on Wednesday said the neighbouring country will ever remember Bangladesh for returning it peace.
"Bangladesh helped India get rid of daily bombing and shootout. We've returned them peace, they have to remember this," she said at a press conference at her official residence Ganobhaban in the afternoon.
The press conference was arranged to brief the media about her recent tour of Wes Bengal, India.
Sheikh Hasina said the present government does not want any return from India. "There's nothing to get return."
Responding to a question, the Prime Minister said the government does not depend on others to solve Bangladesh's water problem. "We're doing our job to mitigate the water problem in the country."
She also mentioned about the ongoing river and canal dredging, digging of old and new ponds in the country to solve the water problem.
Responding to a question on Teesta water-sharing issue during her visit to Kolkata, Hasina said she did not go there to discuss Teesta water-sharing issue. "The Joint River Commission is there to discuss it," she said.
She also mentioned that the present government works for the welfare of the country, not to ensure the interest of a particular person.
"I don't know whether India will bring me back to or not," she said while replying to a question regarding BNP's criticism that she went to India for ensuring her return to power in the next election.
Hasina said Khaleda Zia and Ziaur Rahman had also gone to India. "Didn't Khaleda Zia go to India …didn't Ziaur Rahman go to India in 1977? Why did they go there," she questioned.
Reiterating government's stance about the next election that will be held as per the constitution, she said the election will be conducted by the Election Commission. "If any particular party doesn't come to the election what can we do?" she questioned further.
Responding to a question over joining the election by cricketers Mashrafee Bin Moretaza and Shakib Al Hasan, Hasina said this is a practice around the world that celebrities contest elections and join politics. "There's nothing wrong in it," she said.
She also mentioned that giving the celebrities the party nominations does not mean that it will deprive the grassroots leaders.
Kolkata Tour Strengthened Ties
In her written statement, the Prime Minister said her recent visit to Kolkata, India has further strengthened existing relations between the two neighbouring countries.
Besides, she said, establishment of Bangladesh Bhaban at Shantiniketan would further enhance the cultural bondage between the two nations.
Hasina said she along with Indian Prime Minister Narendra Modi joined the convocation ceremony of the Bisva Bharati University at Shantiniketan in West Bengal. Later, the two leaders jointly inaugurated the newly constructed Bangladesh Bhaban at Bisva Bharati University.
The Prime Minister said the primary discussion on building Bangladesh Bhaban began during her previous visit to Shantiniketan in 2010.
The issue of building the Bhaban, financed by the Bangladesh government, was mentioned at the joint communique during the visit of then Indian Prime Minister Dr Manmohan Singh to Bangladesh in 2011, she said.
Later, an announcement was made in this regard during the visit of then Indian President Dr Pranob Mukherjee to Bangladesh in 2013, Hasina said.
In light of the announcement, she said, education and cultural ministries and Architecture Department of Bangladesh jointly constructed the eye-catching Bangladesh Bhaban spending Rs 25 crore.
She mentioned that a one-time corpus fund equivalent to Rs 10 core would be formed for the maintenance of the building and for conducting its activities.
From the dividend of the fund, fellowship would be awarded to 10 students of Bangladesh for doing MPhil and PhD research at Bisva Bharati University, Hasina said.
She said a memorandum of understanding was signed in this regard on May 25 last between Bangladesh's Secondary and Higher Education Division and Bisva Bharati University.
She said India will stand beside Bangladesh as a partner for materialising the dream of becoming a developed country. Besides, the Indian Prime Minister gave assurance of providing necessary cooperation in this regard.
About her meeting with the Indian Prime Minister at Shantiniketan, Hasina said, they discussed issues of bilateral concerns, including strengthening cooperation and water sharing of common rivers.
The Prime Minister said she had received honorary Doctor of Literature degree at a special convocation of Kazi Nazrul University on May 26 and dedicated it to the entire Bangalee nation.
Hasina said she visited Jorasanko Thakurbari of Poet Rabindranath and Netaji Shobhash Chandra Bose Museum in Kolkata.
Besides, West Bengal Chief Minister Mamata Banerjee and a number of members of Lok Sabha and Bidhan Sabha elected from the West Bengal also called on her at her place of residence, she said.
Unauthorized use or reproduction of The Finance Today content for commercial purposes is strictly prohibited.