2020-21 FYs budget placed in parliament
---
SAMI
Published:
2020-06-11 19:04:21 BdST
2020-21 FYs budget placed in parliament
---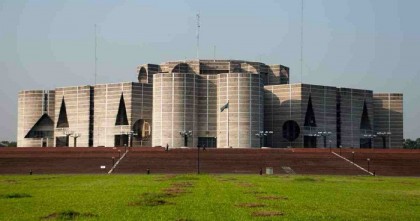 Finance Minister AHM Mustafa Kamal has presented the upcoming 2020-21 fiscal year's proposed national budget with a record outlay of Tk 5.68 trillion (Tk 568,000 crore), which is 17.9 percent of GDP, in parliament.
He presented the budget up by 448.10 billion, or around 7.9 percent, from the outgoing fiscal's Tk 5.23 trillion (Tk 5,23,190 crore) on Thursday afternoon, starting at 3:04 pm.
In the budget speech themed as 'Economic Transition and Pathway to Progress,' the Finance Minister targeted a GDP (gross domestic product) growth of 8.2 per cent for the upcoming fiscal year beginning in July next.
Mr Kamal set an average inflation target of 5.4 percent for the 2020-21 fiscal.
This budget is the businessman-turned-politician's second, while it is 49th of the country since Independence and 12th of the ruling Awami League in a row.
Of the Tk 5.68-trillion budget, Tk 3.78 trillion will come from the National Revenue Board (NBR), non-NBR and non-tax revenue altogether, while Tk 3.30 trillion of that amount will be from the NBR alone.
The budget deficit is estimated to be Tk 1.9 trillion.
In financing the deficit, over 800 billion (Tk 80017 crore) will come from external sources, including grants, and around Tk 1.01 trillion (Tk 109983 crore) from domestic sources.
Total allocation for operating and other expenditures is over 3.62 trillion (Tk 3,62,855 crore), and allocation for the annual development programme (ADP) is Tk 2.05 trillion (Tk 2,05,145 crore).
Before the budget's placement in parliament, it was authenticated by President Abdul Hamid after cabinet approval.
Economists consider this budget as crucial for the country now facing the Covid-19 pandemic-induced health and economic crisis.
Mr Kamal is scheduled to speak at a post-budget press conference through virtual platform Friday at 3:00 pm.
Unauthorized use or reproduction of The Finance Today content for commercial purposes is strictly prohibited.