Sampadak Parishad does nothing sans issuing anti-govt statements
---
Staff Correspondent
Published:
2021-07-29 20:41:26 BdST
Sampadak Parishad does nothing sans issuing anti-govt statements
---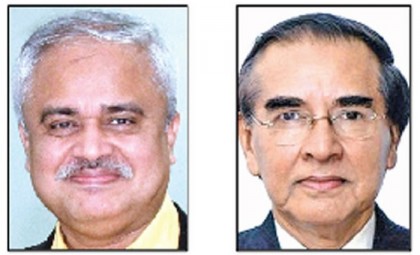 Bangladesh Pratidin Editor Naem Nizam has said Sampadak Parishad is not doing anything without issuing statements against the government.
Naem Nizam made the remarks on Wednesday, a day after he stepped down as general secretary of Sampadak Parishad in protest against the unethical activities of its president and The Daily Star Editor Mahfuz Anam.
He said, "Dear colleagues, I am informing everyone about the reason of my resignation. We wanted to work together in a positive way by maintaining unity. But the hard reality is that Sampadak Parishad is not working on anything without issuing statements against the government."
"An organisation of editors cannot only run with an anti-government sentiment. Sampadak Parishad is not able to play a role in improving the quality of the profession. The organisation is running only as per the desire of the president. The interest of Prothom Alo and The Daily Star cannot be the job of the Sampadak Parishad," he also said in a statement.
He further said, "All these activities can't bring good for the media. It's not acceptable to run news against any media owner before proving any crime. Despite repeated suggestions, he (Mahfuz Anam) didn't move from his position. So, I had no choice but to step down from Sampadak Parishad. I wish you all the best."
Sampadak Parishad general secretary Naem Nizam submitted his resignation letter on Tuesday.
"I've decided to resign as general secretary of Sampadak Parishad following a discord with its president about some policy matters," the resignation letter reads.
Sampadak Parishad President Mahfuz Anam took an indecent stand against owners of some newspapers, planted fabricated and motivated allegations against them and spread hatred, the sources said.
Mahfuz Anam took the hostile stand against newspaper owners, defying majority views of Sampadak Parishad.
The issue has created a distance between Mahfuz Anam and Naem Nizam.
In the circumstances, Naem Nizam hinted at taking a bold stand against Mahfuz Anam in the given.
Naem Nizam tried to dissuade Mahfuz Anam from carrying out unethical activities, but his move went in vain. Finally, Naem Nizam has tendered his resignation.
In a statement, Mahfuz Anam said, "I am shocked and saddened by the news of Naem Nizam's resignation from the post of general secretary of Sampadak Parishad about which he informed me on Tuesday night over phone from New York, but I am yet to receive his resignation letter."
"I will consult with members of Sampadak Parishad to formulate our response," he added.
Unauthorized use or reproduction of The Finance Today content for commercial purposes is strictly prohibited.