Tech /
Telecom services emerge as 2020 saviour in Bangladesh as well
---
Special Correspondent
Published:
2021-01-01 18:27:00 BdST
Telecom services emerge as 2020 saviour in Bangladesh as well
---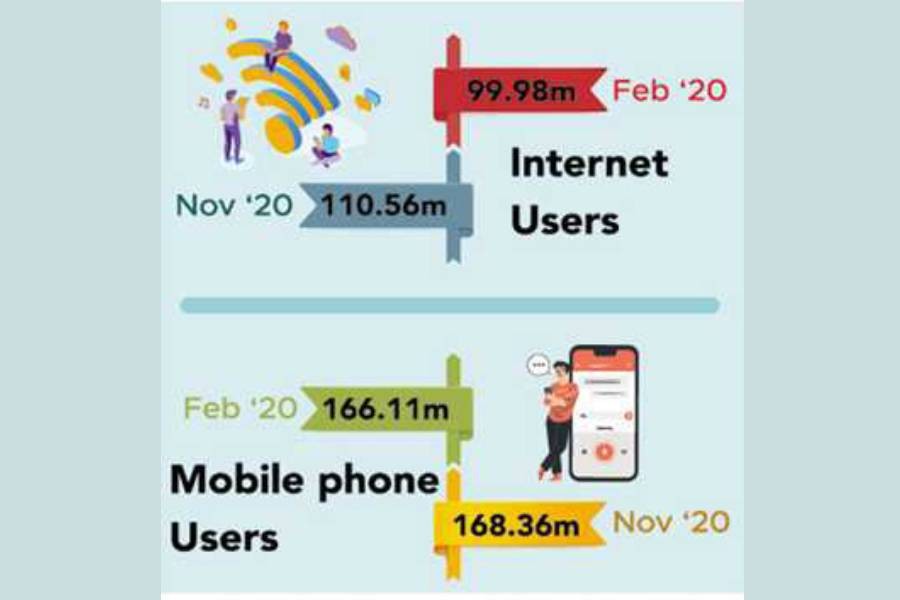 Telecommunication and internet services emerged as the 'saviour' in 2020, as the Covid-19 pandemic restricted mobility of people to avert spread of the deadly virus, and subsequently life had to go on virtually.
Experts and industry insiders said due to the pandemic, people were gradually learning to live in a new way depending on internet, which is still continuing.
The government declared internet and telecommunication emergency services in March last amid heightened fear of the coronavirus outbreak in the country.
The numbers of both internet and mobile phone users increased significantly mainly due to the Covid-19-induced lifestyle. Various essential services like commerce, education, healthcare and other government services went online to cope with the 'new normal'.
But it hindered the life quality of those who could not afford to stay online.
According to a Unicef study last year, only 8.7 percent of the poorest 20 percent households in Bangladesh had internet access at home compared with 75.3 percent of the richest 20 percent households, attesting to the deepening digital divide in the country.
Bangladesh's tele-density is on the verge of achieving the cent percent milestone, as both voice and internet subscriptions reached 99.68 percent across the country at the end of November last.
According to the Bangladesh Telecommunication Regulatory Commission (BTRC), there were some 99.98 million internet subscribers in February, just before the virus outbreak, while the number reached 110.56 million at the end of November 2020.
The total number of mobile phone subscribers reached 168.36 million at the end of November from 166.11 million in February.
Nearly 4.0 million mobile subscribers stopped using mobile phones in the earlier months of the pandemic. But they resumed using mobile technology in the recent months, as they had to accept the new reality, according to industry insiders.
"Internet and telecommunication services saved us during the Covid-19 outbreak," Post and Telecommunication Minister Mustafa Jabbar said, giving the credit to his ministry, mobile phone operators and developed digital infrastructure.
The minister said he convinced the government high-ups to declare internet and telecommunication emergency services as early as possible when the virus started spreading across the country.
In Bangladesh, more than 90 percent people now have access to mobile phone and internet, which made living possible in the Covid-19 'new normal'.
Around 70 percent of the Covid-19 patients took medical services through mobile phone or online, thanks to the infrastructure focusing on 'Digital Bangladesh', he added.
However, mobile phone operators said much of the benefits of the increased internet use did not go to their pockets due to reduced data prices.
"There was a huge upsurge in data usage during the pandemic. But, it didn't turn into higher revenue (for us). We had to reduce data prices, considering the economic hardship endured by a large segment of our customers during the time," Shahed Alam, Chief Corporate and Regulatory Officer of Robi Axiata Ltd, said.
He noted that like all other businesses, telecom services were also badly affected by the pandemic, especially during the second quarter when the economy suffered setback, as people were locked in their homes.
"In a multi-SIM-driven market like Bangladesh, we had to lose nearly 4.0 million subscribers from our network."
Amidst all the doom and gloom of the pandemic, Robi continued to invest heavily on their network, which resulted in the largest 4.5G network of the country with over 12,000 4.5G sites.
"Joining of around 70 percent of MNP users in our network from other operators clearly showed that the users are appreciating our customer-centric innovative digital services," he added.
Robi crossed the 50-million subscriber landmark in 2020.
"Getting listed in the country's capital market was perhaps the biggest highlight of the year for Robi. With tremendous response from thousands of investors, we are confident that we will be able to make good progress with our network expansion plans in 2021," he added.
Erik Aas, CEO of Banglalink, said throughout 2020, they focused on improving service quality further.
As a result of the efforts, Banglalink has been able to maintain a satisfactory performance despite facing several operational challenges caused by the pandemic, flood, storm, etc.
He opined that introduction of the Towerco regime was a big step in 2020, which would play a key role in network expansion across the country.
"We are looking forward to bringing more innovative digital services leveraging the insights we got this year (2020). We want to operate in a favourable and predictable regulatory regime that supports our endeavors and benefits our customers."
"As we are ushering in 2021 with new enthusiasm and fresh approaches, it feels good to see that Bangladesh's economy is recovering fast from the pandemic effects," he added.
Unauthorized use or reproduction of The Finance Today content for commercial purposes is strictly prohibited.