Tech /
Online cattle sale gains momentum
---
Staff Correspondent
Published:
2022-07-07 13:46:13 BdST
Online cattle sale gains momentum
---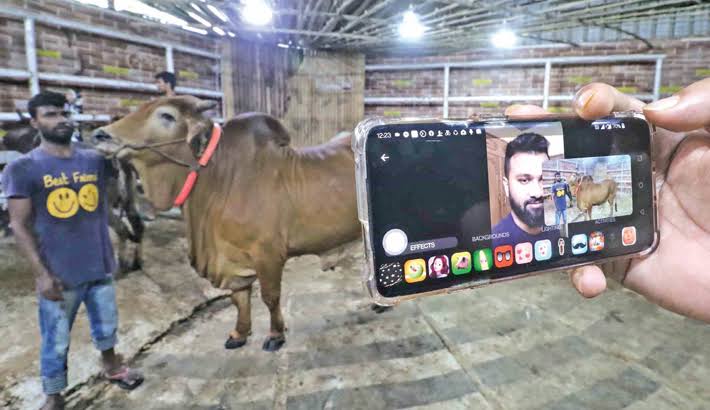 Online cattle markets have been gaining popularity among buyers and sellers ahead of Eid-ul-Azha as the digital platforms offer hassle-free facilities for buying and selling sacrificial animals.
Different online marketplaces operated by the government and private organizations and social media-based e-commerce portals have started selling sacrificial animals ahead of Eid.
The country has sufficient sacrificial animals available for the Eid-ul-Azha this year, according to the Fisheries and Livestock Ministry.
There is a stock of around 12,124,389 sacrificial animals against the demand for around 97, 75,000, according to data from the Fisheries and Livestock Ministry.
Many of the digital platforms are already offering discounts and vouchers. Some are offering free deliveries at the buyers' preferred date and time.
Some 700 marginal farmers in some Northern districts have raised cattle targeting this Eid under their supervision.
The demand for cattle has declined from the previous year as many potential buyers decided to observe Eid in their home districts.
Price increased to Tk 450 per kg of live weight of the cow and Tk 650 per kg live weight of goat at Amarfood.com this year.
Last year, the price was Tk 390 per kg of live weight cow and Tk 550 per kg of live weight goat.
The fee for cow processing including delivery is Tk22, 000 and Tk 3,500 for goats at the platform.
Amarfood.com, an online platform, is providing all kinds of sacrificial animal sales, processing and packaging facilities for the customers.
Fisheries and livestock minister SM Rezaul Karim virtually inaugurated an online market named digitalhaat.gov.bd, during an event on Sunday.
The government launched the digital cattle market for the third time across the country. This is not just for the Eid-ul-Azha, instead it will be operating permanently and cattle can be bought from this market throughout the year.
This market will be operating under the management of ICT division, Ekshop-a2i, e-CAB along with fisheries and livestock ministry.
Commerce ministry, Dhaka North City Corporation (DNCC) and Bangladesh Dairy Farmers' Association (BDFA) will assist in running the online market.
This virtual market is being organised, centring the Eid-ul-Azha since 2020. Farmers from across the country will be able to sell their cattle on this platform.
In addition to the website, there will be a mobile app for the digital cattle market as well. Customers will be able to lodge their complaints on the website.
There will be an online payment option along with 'Escrow' method, available for financial transactions. Alongside the home delivery system, there will be butchers for dressing the animals - though only in Dhaka, Chattogram, Rajshahi and Jashore. Fisheries and livestock minister SM Rezaul Karim said, there are more sacrificial animals available in the country compared to the actual demand.
"Customers can return their cattle on this virtual market if they don't like it. There are no risks either, as the transactions will be done online," he added to keep an eye on the issue that no one is being cheated.
Social media is full of advertisements of sacrificial animals including pictures, weight and price of the animals.
Unauthorized use or reproduction of The Finance Today content for commercial purposes is strictly prohibited.