Tech /
Local ships to use Bangabandhu satellite services
---
SAM
Published:
2018-07-09 16:28:28 BdST
Local ships to use Bangabandhu satellite services
---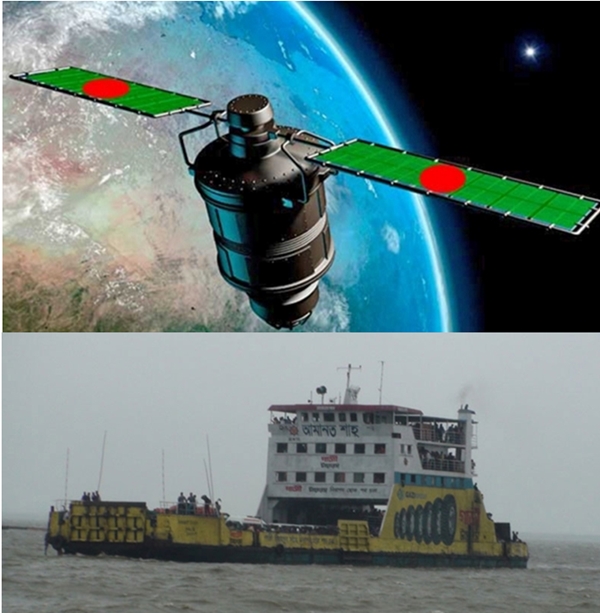 FT ONLINE
The local ships and other types of vessels will use the services of the Bangabandhu-1 satellite for safe navigation.
The Ministry of Shipping (MoS) and the Bangladesh Communication Satellite Company Ltd (BCSCL) signed an agreement to this effect on Sunday.
MoS Secretary Md Abdus Samad and BCSCL Managing Director Md Saiful Islam signed the agreement on behalf of their respective sides at the ministry.
Shipping Minister Shahjahan Khan and Posts, Telecommunications & Information Technology (ICT) Minister Mustafa Jabbar, among others, were present.
The satellite service will help ships and other types of vessels navigate the country's rivers and sea areas maintaining communication with each other.
Besides, it will also help prevent accidents and gain access to television, internet and other telecommunication facilities uninterruptedly.
The shipping secretary said around 4,000 international vessels enter Bangladeshi waters annually. Besides, 35,000 local vessels navigate throughout the country annually.
"The services will help the vessels maintain uninterrupted communication with each other and thus prevent collisions and enable their access to internet and many more facilities," he added.
The satellite services will be provided at a rate which will be cheaper or less than international charges, according to the Ministry of Posts, Telecommunications and ICT.
The services are expected to be available from September next. However, the actual contract value was not disclosed.
Unauthorized use or reproduction of The Finance Today content for commercial purposes is strictly prohibited.