Tech /
BUET simulator to study drivers' behaviour
---
SAM
Published:
2019-12-01 16:18:55 BdST
BUET simulator to study drivers' behaviour
---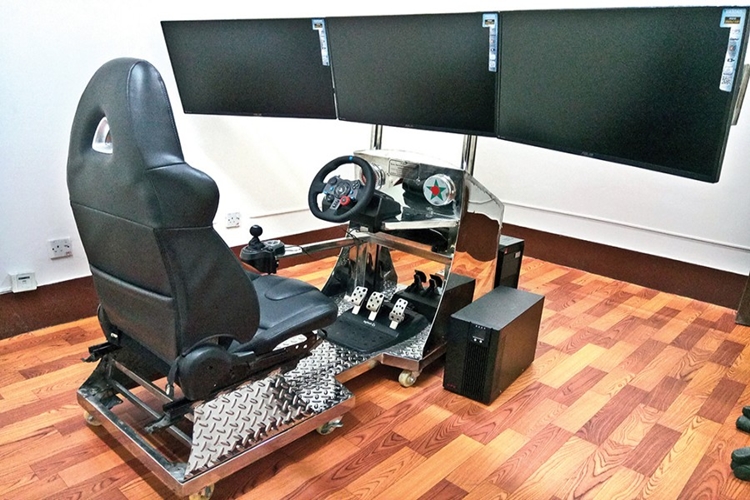 FT ONLINE
Bangladesh University of Engineering and Technology (BUET) has introduced a lab-based facility to assess behaviours of drivers in order to address growing road accidents in the country.
This is part of a global road safety initiative made by the University of Southampton and funded by the UK National Institute for Health Research.
BUET's civil engineering department has been equipped with a 'driving simulator' to do a study of drivers before and after any proposed road interventions.
It has been working under the Socio-Technical Approach to Road Safety (STAR) project.
"This never-done-before initiative will certainly help policy-makers come up with appropriate interventions needed to decrease road fatalities," said Prof Mohammad Shamsul Hoque.
China, Kenya and Vietnam have already launched this move to develop countermeasures to prevent road accidents and resultant casualties.
BUET, Accident Research Initiative (ARI) and International Training Network (ITN) co-hosted week-long extensive training to this end in Dhaka city last week with the participation of all partner countries.
Prof Neville A Stanton, the chief investigator of the project from the University of Southampton, conducted the training held at ARI-ITN building.
As a follow-up study, BUET will create virtual scenarios of some real road intersections here and run several simulation trials with the participation of drivers from different age and income groups.
Dr. Hoque, also principal investigator of the Bangladesh chapter of this global initiative, made this disclosure.
The government has taken measures like a solution to black spots on highways, tunnels and overpasses as interventions to reduce the number of road accidents.
Although the interventions are based on feasibility studies and expert opinion, transport experts said many interventions cause new problems in the streets.
But Dr. Hoque said simulation results are likely to help understand the efficiency of such measures and propose countermeasures as drivers will sit on driving simulators under similar environments.
The data to be collected from the laboratory will help develop countermeasures and find local solutions from the philosophy of "local solutions for local problems".
It will certainly help shape up policy, interventions, policy and regulations to reduce road crashes and associated public health trauma, he added.
Road traffic accidents are now a global phenomenon claiming thousands of lives every year globally, making it the ninth leading cause of deaths.
The World Health Organisation (WHO) estimated in 2015 that low- and middle-income countries have more than twice as many road traffic fatalities (per head of population) compared to high-income countries.
These countries represent 82 percent of the global population but they only represent 54 percent of registered motor vehicles, it stated.
WHO said these countries have a disproportionate number of deaths relative to their level of motorization.
According to the BUET workshop, road accident death per 100,000 population is 13.6 in Bangladesh, 18.8 in China, 29.1 in Kenya and 24.5 in Vietnam.
It is 2.9 in the United Kingdom.
The global road safety initiative has been make with an eye to finding local solutions to local problems through a 3E solution (engineering, enforcement and education) and 7E approaches.
These include economics, emergency response, enablement and ergonomics.
Unauthorized use or reproduction of The Finance Today content for commercial purposes is strictly prohibited.