States' steps insufficient to protect people from climate change: Hasan
---
Staff Correspondent
Published:
2021-12-14 03:31:08 BdST
States' steps insufficient to protect people from climate change: Hasan
---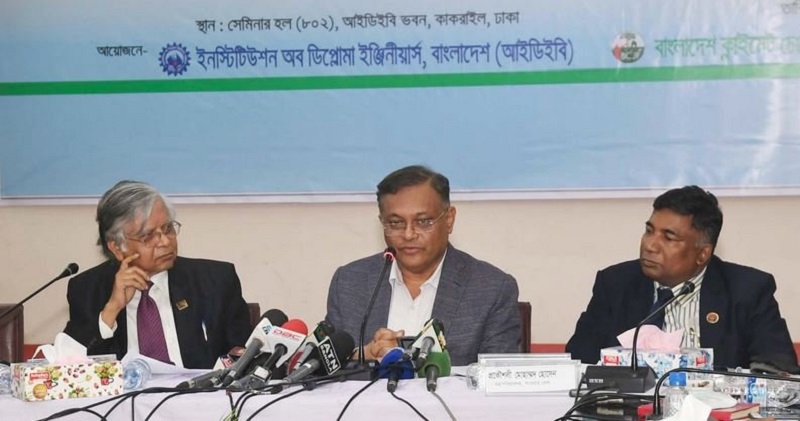 Information and Broadcasting Minister Dr Hasan Mahmud said steps undertaken by the human communities and the states are not sufficient to protect human beings for the long term.
"Developed countries, especially those are emitting more greenhouse gas, should come forward in this regard," he told, addressing a seminar titled 'COP 26: Outcome and Future Way Forward' at the Institution of Diploma Engineers, Bangladesh (IDEB) .

Bangladesh Climate Change Journalists Forum (BCCJF) and IDEB organized the seminar with IDEB president Engineer AKMA Hamid in the chair.
Deputy Minister of Environment, Forests and Climate Change Ministry Habibun Nahar and Power Cell director general Engineer Mohammad Hossain addressed the seminar as special guests while Department of Environment director Md Showkat Ali presented a keynote paper.
Hasan said, "We could not describe the COP 26 as a successful one. We also could not term it as a failure. We have so many expectations regarding the COP. But, all expectations have not been fulfilled. The positive aspect of the COP 26 is that consensus has been established on some issues, as 141 countries have agreed to increase afforestation and decrease the production of power from coal."
"But the steps taken by the states are not sufficient to free the people from the risk of climate change," he continued.

In this perspective, he said, the measures taken by Bangladesh under the supervision of Prime Minister Sheikh Hasina have shown pathways to many countries. Bangladesh is one of the innocent victims of climate change as the country is not responsible for climate change, he added.
The minister said per capita greenhouse gas emissions of the country are negligible compared to the developed states though Bangladesh is now a developing country.
"The Premier (Sheikh Hasina) is the chairperson of Climate Vulnerable Forum and she has already declared that 40 percent of our energy production will be in green technology by 2041 though there has no obligation on Bangladesh. The Premier has made the announcement on her own initiative. And we have a dream to reduce greenhouse emissions to zero percent by 2050," he added.
Hasan, also Awami League joint general secretary, said it must be understood that the United States has failed to realize the risk of climate change as they withdrew their support from Paris Agreement.
"It is really very unfortunate that the USA came out from the Paris Agreement," he added.

Urging the journalists, who joined the world climate conference, to be more aware of the adverse impact of climate change, the minister said over 200 journalists went to the conference this time. "But, most of them could not be found. Everyone should remain alert as they have responsibility for collecting information and publish those," he added.
Habinun Nahar extended thanks to the BCCJF for organizing such a seminar.
Center for Climate Justice of Bangladesh director Hafizul Islam Khan, Stamford University Professor Dr Ahmed Kamruzzaman Mazumder, Md Faruk Rahman Rumi, and BCCJF general secretary Motahar Hossain, among others, addressed the seminar while its president Kawsar Rahman conducted the event.
Unauthorized use or reproduction of The Finance Today content for commercial purposes is strictly prohibited.