Natural reservoir runs dry
---
Siyam Hoque
Published:
2020-03-22 10:12:09 BdST
Natural reservoir runs dry
---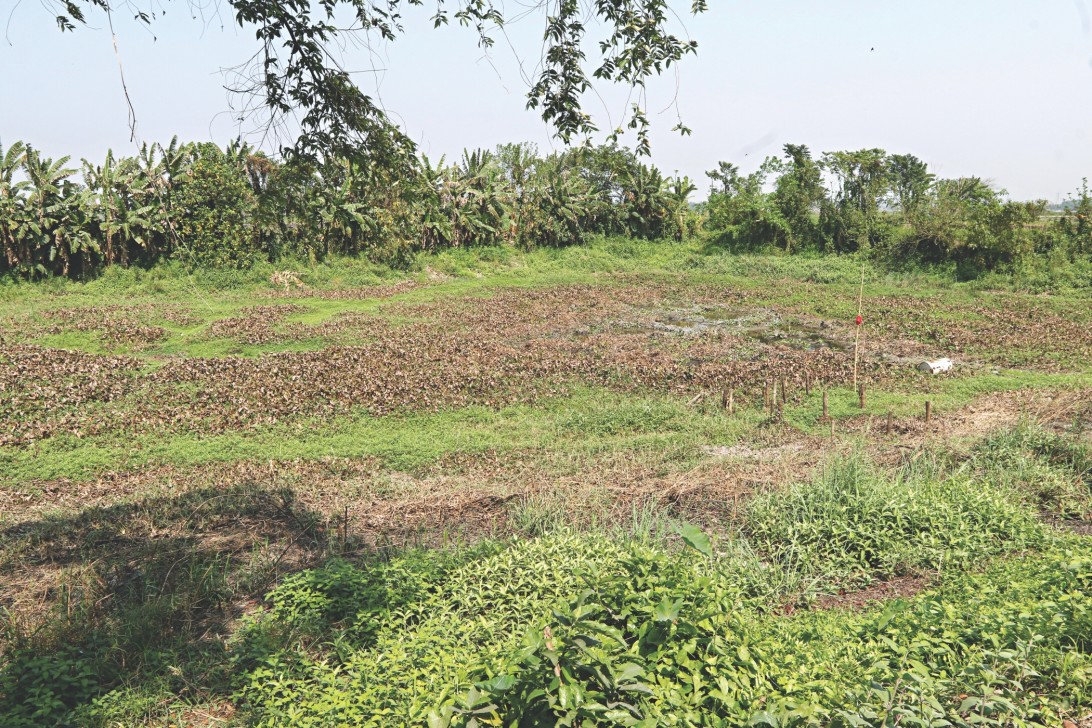 Five years ago, Dhaka Wasa announced the discovery of a natural underground water reservoir in Savar's Bhakurta.
It stated that water was accumulating there from an underground Himalayan channel and it would not deplete in 30-40 years as the aquifer would be naturally refilled by water from the Himalayas.
But something started to go very wrong when Dhaka Water Supply and Sewerage Authority (Wasa) started pumping out water from the reservoir with deep tube wells.
Since January last year, several lakh residents of Bhakurta and Tetuljhora unions in Savar and Taranagar union in Keraniganj have been experiencing severe water crisis.
Almost all the hand-driven tube wells in the areas went dry while farmers could not cultivate paddy due to irrigation water shortages.
Wasa could not give any exact reason but it primarily thinks that extracting water from the deep aquifer is causing a problem in the upper aquifer. Therefore, people are not getting water from shallow tube wells.
In March last year, Taqsem A Khan, managing director of Dhaka Wasa, said, "We are working to find out a solution."
Anwar Zahid, a hydrologist from Bangladesh Water Development Board (BWDB), said a large-scale extraction from such aquifers may cause a permanent depletion of water level.
"If the water discharge is higher than the annual recharge in Bhakurta aquifer, there is every possibility of continuous decline in groundwater level," he said.
Under the "Well field construction project at Tetuljhora-Bhakurta in Savar Upazila (Phase-1)" project, Wasa has already installed 46 deep tube wells in the areas to extract water from a 250-metre deep aquifer to supply 15 crore litres of water per day to the capital's Mirpur, the area that saw fall in water level more than any other areas in the city.
In 2015, Wasa took up the Tk 573 crore project, under which 48km water transmission lines were also set up to supply water to Mirpur. Of the 46 deep tube wells, 15 are already operating, supplying some 5 crore litres of water, said Wasa.
But it all caused serious trouble to the people of Bhakurta, Tetuljhora and Taranagar.
Around 15,000 hand pumps in the three unions have become almost useless as those could not pump out water since the beginning of Wasa's operation, alleged locals in March last year.
"The situation has been very bad. We cannot get a jar of water from our tube wells even after pushing the handles 100 times," Nazrul Islam of Bhakurta Bazar, told this correspondent.
Shova Rani Das, 70, a resident of Hindu Bhakurta, said she needs to fetch water every day from a mosque where there is a deep tube well with its tube more than 600 feet into the ground.
"It is really very difficult for me to fetch water at this age but I have no other choice," said Shova, while carrying a pitcher.
Priyanka Sarkar, another resident of the area, said, "We do not get any water at all when Wasa's pump remains operational, and the rest of the time we get a very small quantity of water.
"How can Wasa supply water to other areas taking our water and leaving us in severe crisis?"
Revisiting the area on Monday, this correspondent found that the situation had not improved much.
The initiative of Wasa setting pumps replacing hand pumps did not work properly. Many residents who were using the Wasa's pumps have also been suffering.
Besides, the condition of those who are still using hand pumps are the worst.
Krishna Rani Das, resident of Hindu Bhakurta, said, experts were advising everyone to wash hands repeatedly at the time of coronavirus outbreak but they were unable of following the instruction due to scarcity of water.
She said they still had to fetch water from other houses every day to meet their need.
Baby Das, another resident of the area, said they had set up pump, with the help of Wasa, replacing their hand push pump. But they were still suffering as very less amount of water comes through the pump.
AGRICULTURE TOO IN TROUBLE
Farming in the area has also suffered a serious setback due to the crisis.
Many farmers alleged that they had to stop cultivation of IRRI paddy this year as the water pumps operating since 1985 are now of no use.
"I could not cultivate paddy in my two-bigha land this year due to water crisis. The situation was not like this last year," said Nilu Ratan Das, a farmer of Hindu Bhakurta.
Dhiren Chandra Das, operator of an irrigation pump in Hindu Bhakurta, said both the water pumps in his area are now running dry.
"I could supply water to 350 bighas of farmland for IRRI paddy last year but not to a single bigha this year," he said.
Dhiren used to get Tk 50,000 yearly as an operator but now he has nothing left to do as his water pump is out of use.
He said the owner of the pump got the deep tube well from Bangladesh Agricultural Development Corporation in 1985. It was around 300 feet deep and could supply water to around 500 bighas initially.
"We have stopped cultivating paddy over the last two years due to the water crisis, eventually our three bighas of land remained useless since then," said Shuchitra Rani Malo on Monday.
Anwar Zahid said the groundwater level starts to decline in March and reaches its lowest in April-May due to huge extraction of water for irrigation. And Wasa's operation further worsened the situation.
Contacted, Project Director Nurul Islam declined to make any comment and suggested talking to the Wasa MD instead.
Taqsem A Khan said they have already involved the Institute of Water Modelling (IWM), the consultant of the project, to find out the problems and the way-out.
Once they get suggestions from IWM, they would take measures accordingly, said the Wasa MD.
An official of IWM, wishing anonymity, said they are doing this as a consultant and that was why they could not talk to the media without the consent of Wasa. "It is the Wasa which will comment on it."
Besides, IWM's senior groundwater specialist Mizanur Rahman, who could have talked about it, passed away recently, added the official.
Asked about the possible options for improving the situation, Anwar Zahid said many countries around the world have installed well fields for potential aquifers 20-25km away from the cities.
But proper study on the aquifer system including determination of hydraulic connectivity between upper and deeper aquifers is necessary before implementing any such project.
By estimating annual potential recharge in Bhakurta aquifer, it is necessary to keep annual discharge less than the recharge, along with maintaining proper well spacing, he said.
WHO WILL SOLVE THE ISSUE?
Citing that Bhakurta is out of Dhaka Wasa's distribution network, the Local Government Division on February 3 this year issued a letter to the Department of Public Health Engineering (DPHE), seeking opinion on developing a Bhakurta-based water distribution network by the department.
Dhaka Wasa also sought help from the DPHE to develop a water distribution network at Bhakurta through LGD. However, the department has shunned the project, refusing to take any responsibility.
Chief Engineer of DPHE Md Saifur Rahman told the Daily Star on Monday that they had given a negative response to the LGD saying that it was not possible for them.
He said as Wasa had already taken a huge project for which it was not possible for them to take another same-level project to set up pumps in the same area.
Wasa can provide water from their deep tube-wells to meet the demands of the people in the area, he said.
Currently, the Tetuljhora-Bhakurta water well supplies water with a 13km pipeline to Mirpur Mazar Road, Ahmadnagar, Uttar and Dakkhin Bishil, Rupnagar, Monipur, Senpara, Mirpur-1, -2, -6, -7, -10, -11, -12, Pallabi and Mirpur DOHS.
Wasa MD Taqsem said they had set up shallow pumps at different houses last year as temporary solutions but they would have to take action for establishing a permanent solution.
He said there is a proposal at LGD to construct a supply network for the area with the help of DPHE to solve the problem permanently.
While informed that DPHE denied to do this, Taqsem said, they would do it on their own if necessary.
Unauthorized use or reproduction of The Finance Today content for commercial purposes is strictly prohibited.