Use of airflow machines in storage transforming onion farmers' fortunes in Faridpur
---
Staff Correspondent
Published:
2022-09-10 05:39:48 BdST
Use of airflow machines in storage transforming onion farmers' fortunes in Faridpur
---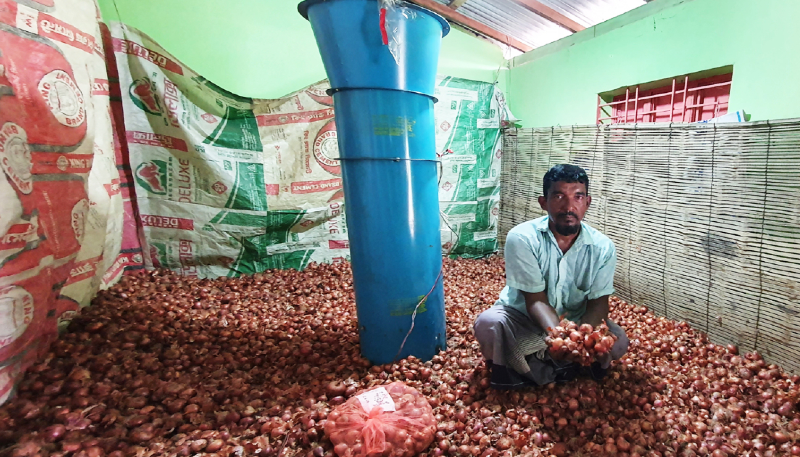 Every year, it is said that almost a quarter of the country's total output of onions - which in 2020-21 stood at 3.3 million metric tonnes - ends up wasted, going rotten due to bacterial infection, or exposure to excessive heat and vapour.
That would equate to 825,000 MT of wasted onions in 2020-21.
But this year, farmers in the country's southwest have started reaping the benefits of using new technology in the preservation of their perishable crops.
An airflow machine, already being dubbed the 'Air Conditioner (AC) for Onions', - although the technique can be and is used in storage of other items as well - is helping Faridpur's onion farmers to prevent a significant portion of their produce from going rotten.
For the last couple of years, Bangladesh has been increasing its annual output of onions. But the country still has to import huge amounts of onion every year to meet demand. Both the importers and the local farmers incur losses due to surplus onions in the market, as prices come down and the product starts to rot.
The airflow machine has arrived as a solution to this two-pronged problem.
The cost-effective innovation, long in use in other parts of the world, is being championed in Bangladesh by a team of Southwestern Coordinated Water Resources Planning and Management Project-Phase II. The cost of setting up an Air Flow Machine is only Tk 15,000-Tk 20,000.
To set up the machine, farmers need a tin shed or concrete room with a roof where an elevated platform is created on the floor with bricks. The platform is then covered with a blanket and 6.5 feet/14-inch vertical cylinder is set up. Finally, a one-horsepower motor adjusted with an electric fan is used to contain and control the air within the storage room so that it circulates around the preserved onion.
In this way, around 300 maunds of onion, or almost 12,000 kilograms, can be preserved in only 100 square feet of space. The machine is 'super-efficient', as farmers only have to spend Tk 500- Tk 600 on electricity bills per month.
Md Ohiduzzaman, an onion farmer from Faridpur's Nagarkanda upazila, said that the Air Flow Machine is letting him preserve onions for much longer than usual.
"Previously, I used to make Tk 1,200 per maund of onion. Since starting to use the new machine, I'm making Tk 1,500 per maund. This has been possible due to an increase in onion quality thanks to the Air Flow Machine," said Ohiduzzaman.
Abdur Rahim Sheikh, another onion farmer from the district's Sadar upazila, said that he too has started getting better results since starting to use the new machine.
"I've cultivated around 300 maunds of onion this year. Previously, a large segment of the produce used to rot due to traditional preservation methods. But this year I've been able to prevent wastage through using the Air Flow Machine," said Rahim.
Abzal Hossain, an onion farmer from the district's Saltha upazila, explained the many benefits of using the machine.
"The seeds and the colour of the onion remain as desired, indicating high quality if onion is preserved through the Air Flow Machine. In the past, I used to get 3-4 kg of rotten onion in each maund. But this year I've found the same number of rotten onions from 300 mounds. Besides, there weren't any spots on the onions. Such is the effectiveness of the new machine," said Abzal.
Gazi Md Abdullah Mahdi, Value Chain Specialist of the Water Resources Project, said that while 40 to 50 percent of onions preserved in the traditional method used to rot away in the past, the rate has come down to only 10 percent since the introduction of the new method.
According to Abu Saleh Mohammad Tofayel Chowdhury, an Executive Engineer of the Water Development Board in
the Faridpur Region, onions can be preserved for upto eight months a year using the Air Flow Machine.
"Weight loss of the preserved onion can be brought down to 30 percent and rotting to zero percent through using the machine. The machine will let farmers meet the country's onion demand through local production and save much-needed foreign currency from being spent on imports from abroad," said Tofayel.
This freedom from dependence on foreign supplies would also spare households the sort of rude shocks they have endured in recent years, when India has been forced to suddenly ban exports of its onions, in order to cope with its own domestic demand first.
Unauthorized use or reproduction of The Finance Today content for commercial purposes is strictly prohibited.