Malta-farming brings sweet smell of success for Shimul
---
FT Online
Published:
2019-07-08 15:21:12 BdST
Malta-farming brings sweet smell of success for Shimul
---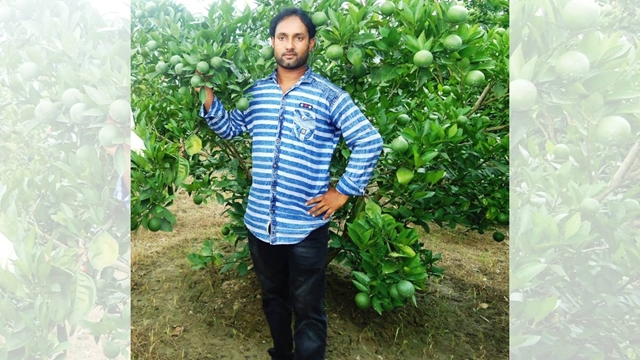 Educated youth Shimul Hossain has attained much success by cultivating malta, a small and highly-coloured variant of the common orange that is thought to have originated in Italy, for commercial purposes.
Shimul was interested to grow high yielding varieties of various fruits including guava and mango. The only son of late Matiur Rahman of village Bakshipur of the upazila, he had gone to Dubai in 2008 after completing education in 2007.
After coming back in 2016, he started cultivating malta on his small piece of land after collecting sapling from Mymensingh Agricultural University and Pirojpur.
Agriculture Office sources said, coloured malta of BARI-1 'Kashmiri Poisha' variety was grown on about 10 hectares of land at Bakshipur, Patibila, Badekhanpur, Hakimpur, Shishutola, Shahjadpur, Narayanpur, Guatoli, Debipur, Hijli and village Ichhapur of municipal area.
Currently Shimul is growing malta on 4 bighas of land. After meeting the local demand for tasty malta everyday it is being sent to various districts including Khulna, Chattagram, Barishal, Rajbari and capital Dhaka.
Shimul said, "After getting information from owner of ideal nursery of Chawgachha Bazar Habibur Rahman, I have collected saplings from Pirojpur and Mymensingh Agricultural University. The malta tree bears fruit within one and a half year after sowing of its seed. Huge quantity of malta was cultivated this year due to favourable weather. At present, there are about two maunds (1 maund = 40 kg) on each tree of the four-bigha land. The tasty fruit malta can be sold at Tk 100-120 per KG."
"I sold 50-60 maunds of malta during the current season market price of which earned me about Tk 2 lac," he added.
There are three labourers working on monthly basis. Besides, 4-5 labourers are working everyday. Being encouraged, many in the upazila are coming forward to cultivate malta.
It was known that excessive use of pesticide is not needed as the fruit is being cultivated through modern methods. One hundred saplings can be sown on one bigha land. Fruits worth Tk 1-1.5 lac can be grown by spending Tk 50-60,000.
Farmer Habibur Rahman informed that the cuttings (a piece of branch or root) of malta tree has to be sown during the Bengali month of Ashar (starts June 17 in Gregorian calendar). The fruit starts ripening after 18 months. It can give fruit for 10/15 years if proper care is taken. Besides, cuttings worth around Tk 5-6000 can be sold from a tree in a year."
Regarding its health benefits, Resident Medical Officer of Chawgachha Model Hospital Dr Nahid Siraj said, "malta reduces the risks of diabetes and heart disease as there are very few calories in it. Besides, it contains huge quantity of vitamin C and iron which helps check various diseases including reducing fat and blood cholesterol in the body."
In this regard Chawgachha Upazila Agriculture Officer Roich Uddin said, "Malta is a very tasty fruit and its cultivation has great potential in the agricultural sector. The soil of Chawgachha area is very suitable for malta cultivation and so the farmers are being encouraged for its commercial cultivation."
Unauthorized use or reproduction of The Finance Today content for commercial purposes is strictly prohibited.