Solar-powered incubator cuts cost, boosts production
---
SAM
Published:
2019-12-01 17:57:35 BdST
Solar-powered incubator cuts cost, boosts production
---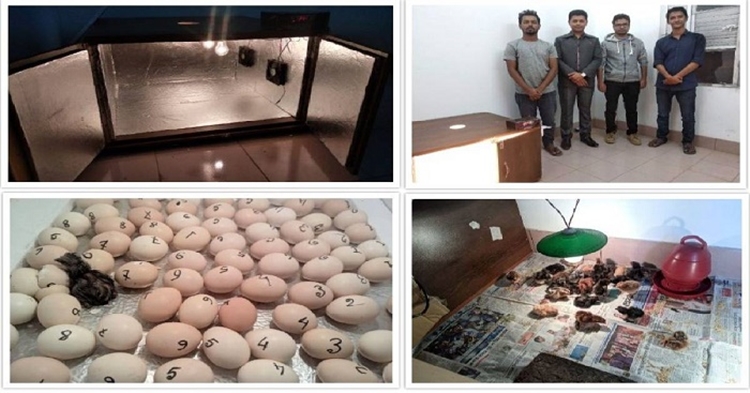 FT ONLINE
A group of researchers of Sylhet Agricultural University made a solar-powered incubator that is affordable and guarantees a higher percentage of hatching at the same time.
Associate Professor Dr. Muhammad Rashed Al Mamun, Chairman of Agricultural Energy and Mechanisation Department of Agriculture Engineering and Technical Faculty, Lecturer Md Janibul Alam Shoeb, and two students of the same department – Minhaz Uddin Noyon and Rukon Ahmed Emon – built the incubator.
Generally, rice bran is used to incubate eggs in haor areas and villages. But this system requires more than 21 days for an egg to hatch and the rate is less than 55 percent.
Besides, the chicks are infected with diseases due to an unhygienic environment. In this conventional method, appropriate temperature and humidity needed for incubation cannot be controlled, they said.
More importantly, invented incubator is safer. This incubator has been built with sustainable plywood and its construction cost is relatively low.
An electric circuit was made in the box with better light-resistance and it was wrapped by aluminum foil paper 'thermocol' sheet.
The research said healthy and strong chicks can be hatched from 80 percent eggs within 21 days by using this incubator. The rate is 25 percent higher compared to the conventional rice bran system.
"A micro-controller based smart automation and automatic egg rotation systems have been added to this incubator to help boost production," said Dr. Rashed, the chief researcher.
"We've designed it to run on solar power to ensure that the incubator can be used by people in remote areas with no access to electricity and in areas hit by power deficit," he said.
Unauthorized use or reproduction of The Finance Today content for commercial purposes is strictly prohibited.