Heavy fog affects Robi crops
---
SAM
Published:
2019-12-25 17:53:28 BdST
Heavy fog affects Robi crops
---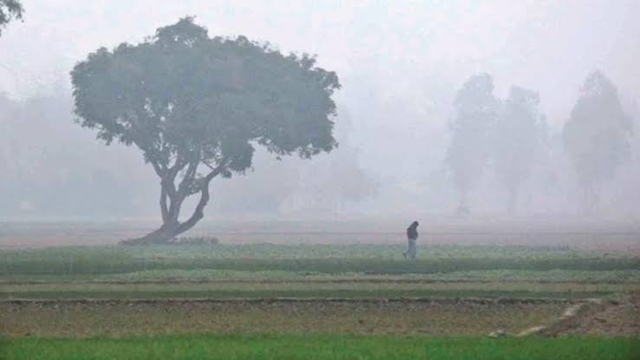 FT ONLINE
Extended foggy weather, which has arrived much earlier this year, is severely affecting seasonal Robi crop farming, putting farmers in peril.
The farmers, now taking care of seed-beds for transplanted Boro cultivation, are also shocked, as they see their seedlings are getting discolored.
Heavy fog has been prevailing in the country's northern and north-western regions for the last two weeks.
The farmers in these areas said paddy seedlings, mustard seed plant, moong, lentil, wheat, onion, garlic, potato and vegetables etc are witnessing poor growth due to fog.
However, the Department of Agriculture Extension (DAE) officials said the crops will recuperate, if sunny weather prevails.
Rabiul Islam Manik, an onion grower in Sujanagar under Pabna, said that his onion plants (seasonal) are affected and top of their leaves have started turning yellow.
The fog of early hours mostly affects the crops. If the foggy weather prevails for some more days, crop production might fall notably, he added.
Wheat and potato farmers in Thakurgaon, Dinajpur, Nilphamari, Rangpur, Rajshahi and other districts also shared the same experiences.
Wheat growers are concerned of fungal attack, while potato producers are worried over late-blight disease.
However, the situation might deteriorate further, as the met office said the mercury might drop again, as rainfall is likely to occur in some parts of the country by Thursday.
Assistant director of the met office Dr. Sadequl Alam said after the rain a mild to severe cold-wave may sweep the country.
Its 24-hour forecast said moderate to thick fog may occur over the country today (Wednesday). Besides, foggy weather may persist for the next few weeks.
The lowest temperature was recorded at 9.2 degrees Celsius in Tentulia of Panchagarh on Tuesday, while it was 13.2 degrees Celsius in the capital.
The DAE Field Services Wing Director Chaitanya Kumar Das said foggy weather came to the country much earlier this year, which is a matter of concern for seasonal Robi crops (winter).
He also said the DAE personnel are advising the farmers to use shades over paddy seedbeds and potato fields. Other necessary precautions have been taken to combat such foggy weather. The condition will improve with the beginning of sunny weather.
Mr. Das further said a total of 0.1 million hectares of land have been used for paddy seedbeds so far. Besides, more than 0.08 million hectares of land have been brought under wheat farming.
Onion has been planted in more than 0.15 million hectares of land, while the target is to make it 0.211 million hectares, he added.
Unauthorized use or reproduction of The Finance Today content for commercial purposes is strictly prohibited.