Bank /
Merchant bankers seek fiscal incentives to revamp stock market
---
Abu Taher Bappa
Published:
2020-02-16 17:00:23 BdST
Merchant bankers seek fiscal incentives to revamp stock market
---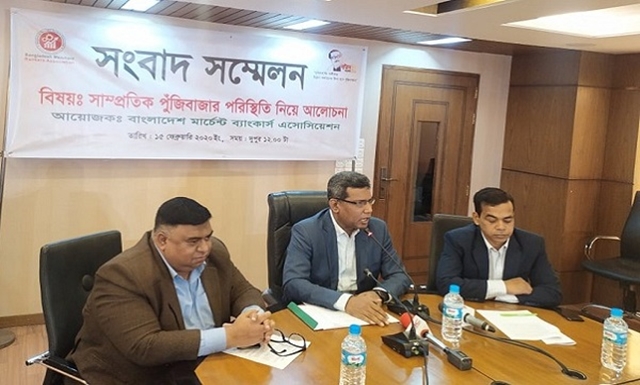 FT ONLINE
Merchant bankers have suggested offering special fiscal incentives, including tax and VAT waivers, to help woo large and renowned companies to the stock market.
They felt since mobilisation of funds from banks were easier than stock market, businesses tend to avoid going public.
Leaders of Bangladesh Merchant Bankers Association (BMBA) said these while placing an eight-point recommendation on Saturday. The recommendations include increasing the supply of good shares and ensuring strong coordination among stakeholders.
BMBA at a press conference at a city hotel also described the bailout package extended by Bangladesh Bank (BB) as a historical move to increase liquidity supply to the capital market.
"We want to see a strong capital market for the sake of industrialisation in the country," said BMBA President Md Sayadur Rahman.
The recommended measures also include listing of profitable government and multinational companies for IPO, necessary steps for investment education, strong coordination among policymakers and stakeholders, updating necessary legal frameworks, protecting interest of foreign investors and expansion of capital market by enlisting good companies.
Rahman said BB's supportive measures would help rise a Taka 100 billion fund for investment in capital market and they are working with the government to this end.
He said the capital market is witnessing development following the initiative of Prime Minister Sheikh Hasina as the BB circular has already helped the investors gain confidence for investment.
In reply to a question Sayadur Rahman said that merchant bankers cannot avoid their responsibilities if a company is listed by presenting window-dressed or fake financial statements.
"Questions were raised about the quality of audit reports in the past," said the president of BMBA. "Now, it will be really shocking if a company submits an IPO (initial public offering) proposal with a fake audit report."
Many companies allegedly submit fake audit reports to raise capital from the stock market.
Mr. Rahman said his association is determined to stay above criticism labelled against merchant bankers, pledging to boost the supply of quality shares.
"We will sit with all chief executive officers of merchant banks next week to strengthen the role of issue managers for the sake of quality IPOs," he said.
He also hit out at the investors who do not go through the draft IPO prospectus, which is available on the companies' websites before approval from the securities regulator.
"A company could not reach the stage of listing if investors raised questions in time going through the prospectus," the BMBA chief said.
The draft IPO prospectuses were not available on the websites of bourses until recently.
In a written speech, Mr. Rahman said a company gets the IPO approval after publishing around 400 kinds of information.
Then reporters wanted to know how a company got the IPO approval with a flawed audit report escaping intense scrutiny.
The merchant bankers usually provide due diligence certificates to the companies, which submit IPO proposals.
In his response, the BMBA chief said merchant bankers work on written documents where it is not written that a company is 'good' or 'bad'. "Merchant bankers cannot scrutinise the documents like the auditors."
He said the association will take some steps for the long-term development of the capital market.
The BMBA president said the association will hold discussion meetings with the Institute of Chartered Accountants of Bangladesh and the Financial Reporting Council to ensure that companies willing to go public present quality audit reports.
The BMBA will maintain coordination with large companies having good fundamentals so that those can be encouraged to offload shares.
It will also lobby with policymakers to recommend legal reforms.
BMBA general-secretary Riyad Matin, vice president Md. Moniruzzaman, and executive members Mahbub H Mazumdar, Nur Ahamed and Md. Hamidul Islam were present at the news conference.
Unauthorized use or reproduction of The Finance Today content for commercial purposes is strictly prohibited.