Business /
Government to keep eyes on onion importers
---
Abu Taher Bappa
Published:
2020-09-24 11:48:50 BdST
Government to keep eyes on onion importers
---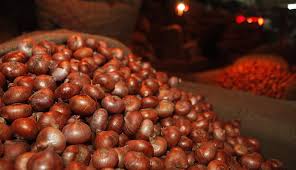 The government has decided to keep onion importers under surveillance to prevent them from manipulating its prices and intensify consumer sufferings.
Several major industrial groups have begun to import onions on request of the government, but issues such as actual import amount, number of letters of credits (LCs) opened, import/selling prices and others are not monitored properly.
In light of these issues, the Commerce Ministry recently sent a letter addressing the governor of Bangladesh Bank Fazle Kabir to provide information of around 60 onion importers and their related paperwork.
Off-season and supply scarcity are usually the main reasons behind onion price hikes in August-September almost every year. But in 2019-20, matters were made worse as India twice banned export of onion to Bangladesh, in September 14 this year and September 29 last year (which was later lifted on March 15 earlier this year).
Last year's ban fuelled up onion prices in Bangladesh almost overnight, skyrocketing to Tk250 per kilogram.
Even this year, onion prices shot up by Tk30-50 per kg on September 15, after the export ban was announced the day before. Local onions sold for as high as Tk120 per kg, even though it retailed below Tk35 per kg even in August.
The ministry formed various monitoring teams following the government decision to keep close eyes on the volatile market. The teams visited several districts, including Pabna, Rajbari, Faridpur and Manikganj.
According to government statistics, the demand for onions every month is 200,000 tons. But the monitoring teams found more than 600,000 tons in stock at those districts which can meet the national demand for at least three more months.
But visiting the local markets in those districts, the supply of onions were not adequate, even more so when onion prices kept increasing.
Abdul Latif Bakshi, public relations officer of the Ministry of Commerce, said that the government will now monitor who imports onions, who are stocking, how many LCs are opening, and whether they are taking any undue benefits or not.
The central bank recently allowed onion importers to open LCs on credit for 90 days.
When asked, Bangladesh Bank governor Fazle Kabir declined to reveal how many importers were kept under surveillance.
Sirajul Islam, spokesperson and executive director at the central bank, said that at least 548 LCs for importing 194,558 tons of onions, valued at $32,983, opened from July to August this year.
Till date, 510 out of those 548 LCs have been settled so far, from which 187,275 tons of onions worth $31,846 have been imported.
Commerce Minister Tipu Munshi recently said: "We want to know at what price LCs are being opened for onion imports. I spoke to Bangladesh Bank about the matter. They will give us all the information. We did not let the price go up like last year. I hope everything will be fine in 15-20 days."
After multiple initiatives and constant market monitoring, prices of local onions in retail came down to Tk80-90 per kg, while Indian onion prices also reduced to Tk65-70 per kg.
Unauthorized use or reproduction of The Finance Today content for commercial purposes is strictly prohibited.