Business /
No internet for 3hrs from OCT 18
---
Abu Taher Bappa
Published:
2020-10-13 02:52:12 BdST
No internet for 3hrs from OCT 18
---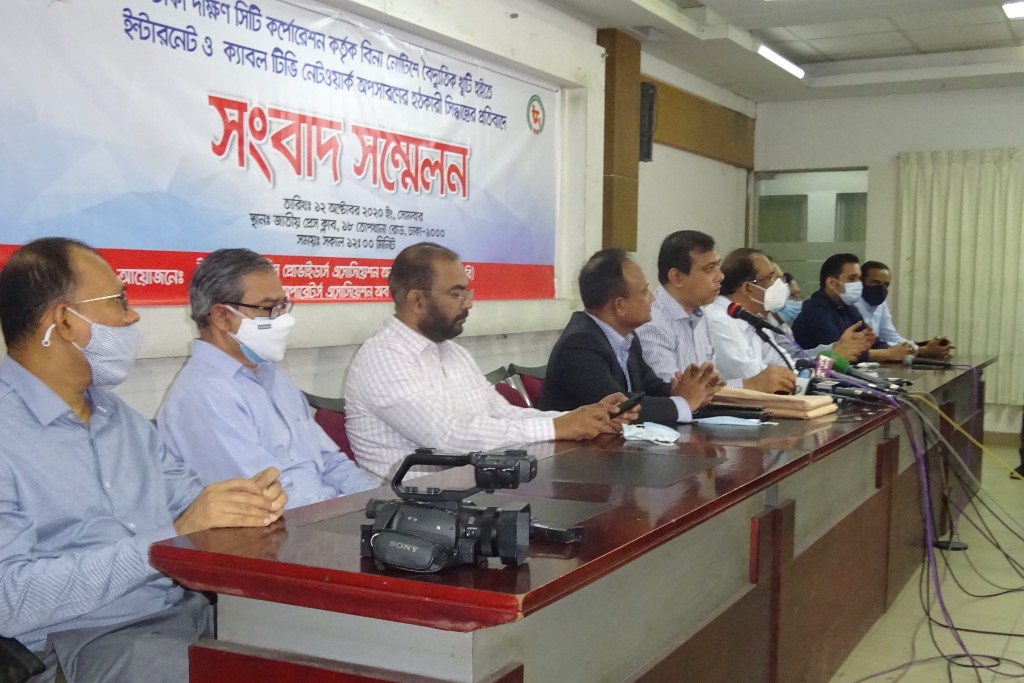 The Internet Service Providers Association of Bangladesh (ISPAB) and Cable Operators Association Of Bangladesh (COAB) on Monday warned of shutting down internet connectivity and cable TV from October 18 if the overhead cable removal drive continued.
They declared deactivating their services from 10:00am until 1:00pm every day, for all residential and commercial connections.
The announcement came out of a press conference at the National Press Club organized by both the organizations.
During the press briefing, they also said that Dhaka South City Corporation's (DSCC) recent drive to remove illegal overhead cable connections without setting up the underground cable management system had forced them to incur an estimated loss of Tk20 crore in August and September.
Without ensuring alternative measures, it was not a logical decision by the authorities to remove the overhead cables, the organization officials said.
MA Hakim, president of ISPAB, said: "We welcome DSCC's decision to remove the overhead cables to enhance city beautification. But scores of internet and TV subscribers will be deprived of the services, as well as millions of students will be deprived of their online classes amid the Covid-19 pandemic for this decision without taking alternative measures. Besides, online health services including hospitals and clinics will also be disrupted in those areas."
Due to the abrupt disconnection, more than 100,000 employees and journalists working in 33 satellite TVs, from at least 1,000 legitimate internet service providers (ISPs) and COAB members would lose their livelihoods, Hakim feared.
An annual registration fee of Tk25 lakh has been fixed for each ISP without setting up the underground cable management system, which is outright illogical. As a result, genuine ISPs will incur huge losses, he warned.
The operators placed 5-point demands, including not to remove overhead cables until a credible solution is found, and also to fix the prices of cable TV and internet services from the relevant ministry.
Unauthorized use or reproduction of The Finance Today content for commercial purposes is strictly prohibited.