Business /
Super shop owners, customers for holding off VAT for now
---
Md Nahian
Published:
2021-04-07 20:22:06 BdST
Super shop owners, customers for holding off VAT for now
---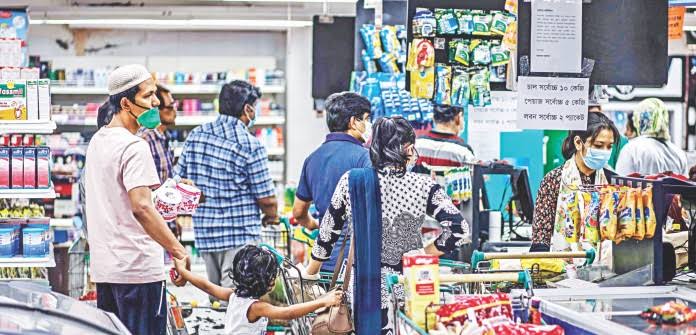 Amid the second wave of the COVID-19 pandemic, businesspeople and consumers want temporary suspension of VAT so that both groups get respite from high prices.
Supermarket authorities and customers urged the government to reduce Value Added Tax (VAT) during the pandemic.
On the third day of a week-long nationwide lockdown super shops experienced a low customer turnout, decreasing their sales in different outlets in the capital.
"Previously customers had to pay 2 per cent VAT over their purchases but now they are forced to pay higher up to 5 per cent VAT, creating a burden on low-income customers," said Harun Or Rashid, Assistant Manager of Prince Bazar in Mirpur 1 in the capital said.
"That may be another reason for low turnout of customers during the pandemic," he said adding that most of the time we received complaints regarding VAT from the customer.
"In the last couple of days, people also bought the extra groceries and essential commodities from our shop due to the fear of lockdown," he added.
"For this seven-day lockdown, we have made the same preparations like before to sell our merchandises to our customers. We are following proper health guidelines for our staff and others as well. Our products are available in super shops and stocks too," said Meena Bazar Chief Executive Officer (CEO) Shaheen Khan said.
"I urge the government to hold off VAT for now during this pandemic. Not all income groups people can come and buy products due to this VAT. VAT exposes discrimination as well between the rich and the poor," he added.
He also claimed that if VAT can be reduced during this lockdown, more customers will come to buy products from the shopping malls.
Bangladesh Shop Owners Association (BSOA), Helal Uddin told the correspondent that only the high-income people, who afford to give VAT, go to buy product in the super shop.
Opu Ahmed Arman, a customer, who came to buy items from the Agora outlet at Mirpur said that I buy necessary things from here as this supermarket maintains better hygiene facilities.
While visiting several other super shops in the capital city, a few customers were found buying their necessary products though they grudged against VAT.
Earlier on April 3, the Bangladesh government decided to impose a weeklong nationwide lockdown from Monday as COVID-19 cases and deaths surged across the country.
Unauthorized use or reproduction of The Finance Today content for commercial purposes is strictly prohibited.