Business /
'Diversify export basket, lower import to stabilise currency'
---
Staff Correspondent
Published:
2022-08-01 17:41:27 BdST
PM's Private Industry and Investment Adviser Salman F Rahman suggests'Diversify export basket, lower import to stabilise currency'
---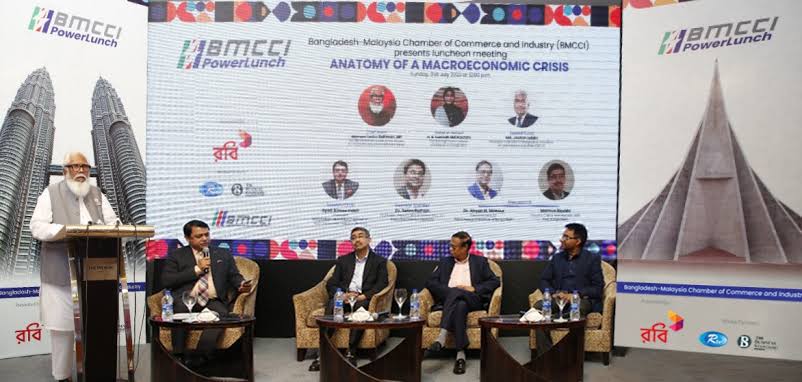 Prime Minister's Private Industry and Investment Adviser Salman F Rahman on Sunday stressed the need for diversifying the export basket and lowering imports to stabilise the currency.
He said the austerity measures taken by the government and the central bank to contain the rising trend of import since early this year are paying dividends as import costs have already shrunk to US$6 billion from over $8 billion a month.
Mr Rahman was addressing a business luncheon meeting titled 'BMCCI PowerLunch' organised by Bangladesh-Malaysia Chamber of Commerce and Industry on recent macroeconomic issues at a city hotel, said a press release.
He said the import bill used to be $8 billion a month, which came down to $7 billion last month and $6 billion this month. "I believe our issues will be resolved pretty soon."
Mr Rahman said the prime minister took proactive initiatives to protect the economy in pandemic times and she did the same when the dollar prices began skyrocketing.
Also, Bangladesh Bank has taken initiatives to reduce imports at the right time, he added.
"When this government came to power we had about 4,000 MW capacity in electricity, but now it rose to 22,000 MW which reveals our potent energy situation."
Federation of Bangladesh Chambers of Commerce & Industries (FBCCI) President Jashim Uddin at the event opposed a proposal for withdrawing the interest cap on deposits and loans which at present is 6.0 per cent and 9.0 per cent respectively.
He said removing the cap will increase the rates to the tune of 16 per cent to 17 per cent and lower down private sector investment flow.
Executive Director of the South Asian Network on Economic Modeling (SANEM) Dr Selim Raihan in his keynote speech, titled 'Anatomy of a Macroeconomic Crisis,' said the present situation is a challenge rather than a 'crisis'.
"Yes, our foreign reserves have some pressure but we need not to be compared with other countries like Sri Lanka and Pakistan as our economic base is more stable and stronger," he said.
Speaking on the occasion, BMCCI President Syed Almas Kabir said 'BMCCI PowerLunch' aimed for macroeconomic analysis which broadly focus on current economic situation and inform the overall health of economy, a comprehensive view of the recent global financial crisis within a framework and the factor concerning monetary and fiscal policy for crisis management.
Malaysian High Commissioner to Bangladesh Haznah Md Hashim and acting CEO of Robi Axiata Ltd Riyaaz Rasheed also spoke, among others.
Unauthorized use or reproduction of The Finance Today content for commercial purposes is strictly prohibited.