Business /
Truck strike leads to price hike
---
SAM
Published:
2018-10-09 14:18:25 BdST
Truck strike leads to price hike
---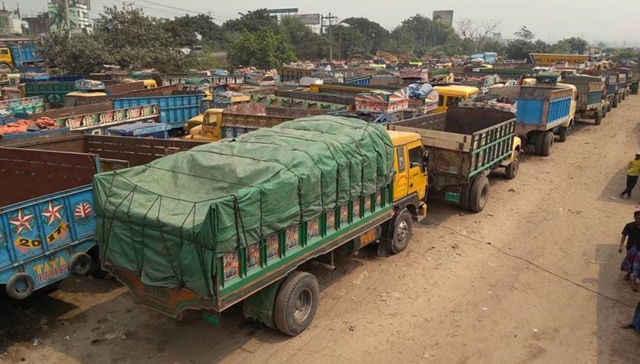 FT ONLINE
The indefinite strike enforced by truck owners and workers continued to disrupt goods transportation throughout the country. It has resulted in a hike in the prices of some commodities.
The strike stepped into its second day on Monday.
It is aimed at pressing for a seven-point demand, including amendments to the recently enacted Road Transport Act (RTA) 2018.
The truckers, under the platform of Bangladesh Goods Transport Owners Workers United Association, went on stoppage, particularly in Dhaka division, from Sunday.
On Saturday, they rallied at Tejgaon truck stand in the capital and declared to go on strike the next day.
Md Mokbul Ahmad, convener of the platform, said they were invited to a dialogue to break the strike.
"The home minister called us to his residence. We're going to meet him to resolve the problem (strike) today (Monday)," he said the same day.
"We are not demanding abolition of the Road Transport Act 2018. We just want some amendments," he uttered.
Mr Mokbul, also president of Bangladesh Covered Van Truck Goods Transport Owners' Association, said a poor driver cannot pay Tk 0.5 million in fines for a crash.
Even death penalty for truckers is not fair, as they provide necessary goods transport services, he added.
Mr Mokbul hoped for an amicable solution to this crisis during their meeting with the home minister.
The meeting started at 7:30 pm and it was going on till the filing of this report at 9:00 pm.
Many truckers said the harsher punishment enshrined in the new law is too much for the drivers, as they argued that nobody wants to kill an individual intentionally.
They said drivers are not always responsible for accidents on highways; pedestrians are also sometimes reckless in crossing the roads.
Visiting different kitchen markets on the day, we found brinjal being sold at Tk 55 to Tk 60 a kilogramme.
Green papaya sold at Tk 30 to Tk 40, cucumber at Tk 50 to Tk 60 and green chilli at Tk 100 to Tk 120.
There was transport-related activity at Dayaganj and Tejgaon truck stands the same day as truckers and helpers refrained from their usual work.
Dhaka Chamber of Commerce and Industry (DCCI) former president Asif Ibrahim said, "The truckers' strike must end as soon as possible so that normal business transportation activity can resume."
Due to the strike, he said, the exporters are suffering because of lead time constrains. So, it must stop.
Preferring anonymity, an exporter said that they are suffering for no shipment of goods to the ports.
Strikers stopped vans, covered vans, mini-trucks and trucks from plying roads at major exit and entry points like Jatrabari, Postagola, Gabtoli and Basila.
Their demands include an end to police harassment and frequent checks on highways, building truck terminals and stands at suitable spots with resting and dining facilities adjacent to highways.
They also demanded a halt to truck overloading and return of driving licences without imposing fines.
They demanded that licences to drive heavy vehicles be issued to drivers of such vehicles and they be allowed to drive trucks with light vehicle-driving licences until they get licences to drive heavy vehicles.
The strikers also demanded unconditional release of driver Hasmat Ali of Tangail Truck Owners Association and other workers linked with accident cases.
The Road Transport Act 2018 was passed in parliament on September 19.
The new law stipulates that if a driver commits an accident for reckless driving and kills or injures anyone seriously, he will face a maximum of five years' imprisonment or a fine of Tk 0.5 million or both.
If it is proved that a driver has intentionally killed anyone, the incident will fall under either section 302 (murder) or section 304 (culpable homicide) of the penal code.
The maximum punishment under section 302 is death penalty while it is life term under section 304.
However, road safety activists criticised the act, saying punishment for death caused by reckless driving is not enough.
Unauthorized use or reproduction of The Finance Today content for commercial purposes is strictly prohibited.