Business /
REHAB to build affordable flats for low income people
---
FT online
Published:
2019-02-07 11:43:58 BdST
REHAB to build affordable flats for low income people
---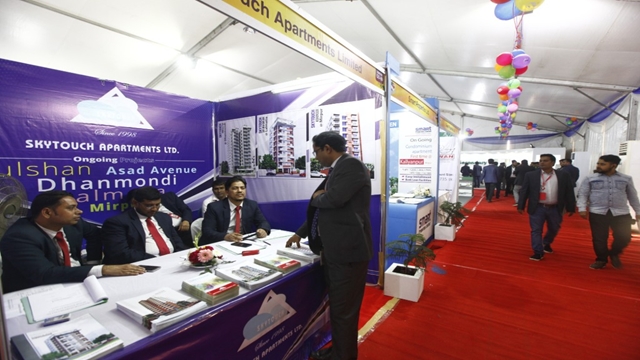 President of Real Estate and Housing Association of Bangladesh (REHAB) Alamgir Shamsul Alamin said yesterday that realtors have the capacity to build affordable flats for low income people, if the government offers plots to their organization.
Speaking at the inauguration of REHAB Fair 2019 at Bangabandhu International Conference Centre (BICC), the fair was inaugurated by Housing and Public Works Minister SM Rezaul Karim.
Chairman of National Board of Revenue (NBR) Md Mosharraf Hossain Bhuiyan, senior vice president of REHAB Md Nurun Nabi Chowdhury, first vice president Liaquat Ali Bhuiyan and other top REHAB officials were also present at the ceremony.
168 developer companies are participating, while 20 building materials and 14 money lending companies are also taking part.
Housing and Public Works Minister SM Rezaul Karim promised state support for REHAB's construction plans, while also warning unscrupulous developers that committing fraud with real estate customers will not be tolerated.
"Many businessmen are entering the real estate business, who are not members of REHAB," said NBR Chairman Mosharraf, "They take money in advance while booking flats but fail to deliver as promised afterwards. Many have complained to me of paying for flats 5-6 years back, but still have not received those, as the real estate companies never constructed the buildings in the first place. Due to this image crisis, people are afraid to buy flats ."
He also added the new VAT Act will be effective from this year, which will then prevent a uniform 15% VAT imposition on everything. The sectors focusing on public welfare will face lower VAT rates.
REHAB president Shamsul Alamin also remarked that REHAB members have handed over 270,000 flats to their clients till date. "Land prices have shot up in recent times, which is why no members are willing to build low cost flats at this moment," he added.
But they will work on it if the government offers them land for the cause, Shamsul said.
Md Nurun Nabi Chowdhury, senior vice president of REHAB, said a refinancing fund worth Tk20 crore is needed to enable long term home loans for low income people, as well as reducing registration fees.
Other REHAB members said scores of ready and half-ready flats will be showcased in the ongoing fair, slated to be held till February 10.
The fair will remain open from 10am to 9pm everyday where a single entry ticket will cost Tk50 and multiple entries Tk100.
The multiple entry tickets can be used for five times entries. Visitors will receive various offers at the fair venue. Also, there will be raffle draw which will gift private cars, motorcycles, refrigerators, televisions, and mobiles via raffle draw.
REHAB has been organizing the housing fair since 2001 to attract customers to the real estate sector.
Unauthorized use or reproduction of The Finance Today content for commercial purposes is strictly prohibited.