Business /
Textile makers in tight corner as imports inundate
---
FT Online
Published:
2019-04-11 10:43:47 BdST
Textile makers in tight corner as imports inundate
---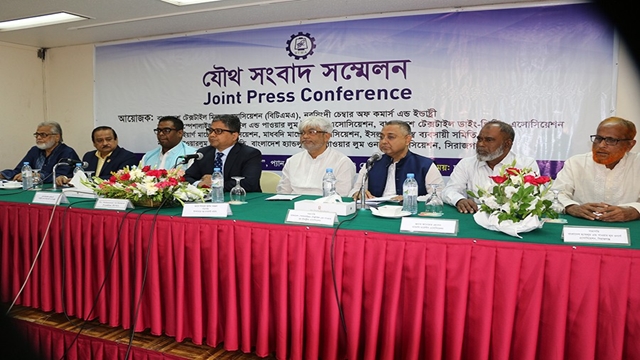 Local spinners, weavers, and processing millers alleged that illegally marketed textile goods are taking a heavy toll on local manufacturers ahead of Eid-ul-Fitr.
They said the local market is flooded with imported yarn, fabric, clothes and other materials through misuse and misdeclaration of the duty-free benefit.
The government now plans to raise gas and power prices by 96 per cent and 208 per cent respectively and bring the textile goods under VAT (Value Added Tax) net.
They made the observations and demands at a joint press conference convened by Bangladesh Textile Mills Association (BTMA) at a city hotel on Wednesday.
The manufacturers urged the government to strictly monitor the bonded warehouse facility to stop its misuse and misdeclaration.
They also called for operating mobile courts in the areas where locally manufactured textile products are sold.
Narsingdi Chamber of Commerce and Industry acting president Rashedul Hasan, Islampur Cloth Merchants Association president Samsul Alam Sabjol, Bangladesh Yarn Merchants Association president M Solaiman were present at the event.
Bangladesh Textile Dyeing-Printing Association president Badrul Huda and leaders from Madhabdi Merchants Association, Narsingdi Powerloom Owners Association and Bangladesh Handloom and Powerloom Owners Association, Sirajganj, also attended it.
The size of the local textile market is about $9.0 billion and 60 per cent of the products are sold during Eid-ul-Fitr and Eid-ul-Azha, said BTMA president Mohammad Ali Khokhon.
The rest is sold throughout the year, he added.
"Spinning, weaving and processing mills are in dire straits for easy availability of imported yarn, fabrics and other materials under duty-free facility and misdeclaration," Mr Khokhon said.
Around 60 per cent out of more than 0.1 million powerlooms at mills in Narsingdi, Madhabdi, Baburhat, Rupganj, Araihazar, Pabna and Sirajganj are closed for this reason, he explained.
Some 4,000 out of 10,000 looms remained idle only in Sirajganj, forcing weaving and dyeing mills to cut their production capacity to below 40 per cent.
The spinners who produce yarn for the local fabric market are also forced to cut production and are selling yarn and fabric lower than production costs.
"All these factors have put the primary textile sector at risk," Mr Khokhon mentioned.
The leader said 600 out of 1,500 BTMA-listed textile mills produce items for the local market. Besides, 1000 more mills produce textile goods for the local market.
There is less activity in the textile belt ahead of Eid-ul-Fitr, he said apprehending the closure of a good number of mills if such situation prolongs.
Thousands of workers would be unemployed that might deteriorate the law-and-order situation, he stated.
In this situation, if gas and electricity prices rise, the cost of producing a kilogramme of yarn and fabric would double, Mr Khokhon said.
The price of yarn would rise further if VAT is imposed. So, he urged the government keep primary textile goods, including yarn and fabric, out of the VAT net.
The BTMA leaders said 12-13 per cent bank interest rates have raised the processing cost of yarn and fabric and called for fixing the rate at 7.0 per cent.
They exhorted the government to increase the loan repayment duration by an additional 12 years.
Terming the stakeholders 'partners in progress', Mr Khokhon urged the government to fix income tax at 12.50 per cent and continue it until 2028.
He also sought an increase in cash incentive to 15 per cent from the existing 4.0 per cent.
The BTMA requested the government to ban the sale of foreign sari, lungi, salwar kamiz and other clothes at border haats until Eid-ul-Azha and ensure regular monitoring of this
Unauthorized use or reproduction of The Finance Today content for commercial purposes is strictly prohibited.