Business /
'Loan terms mismatch leads to NPL buildup, liquidity crunch'
---
FT Online
Published:
2019-07-07 11:37:56 BdST
'Loan terms mismatch leads to NPL buildup, liquidity crunch'
---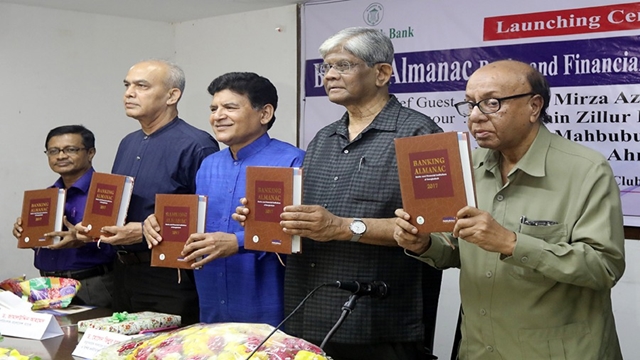 The banking sector in the country is now trapped into "loan terms" as banks take short-term deposits from clients, but provide long-term loan to industries, speakers said on Saturday.
They said the loan term gaps in banks have led to a substantial amount of non-performing loans, liquidity crisis and higher interest rate, which are inter-linked, standing in the way of a healthy banking sector.
They also said the country needs to develop and strengthen sources of long term financing other than banks to facilitate sustainable funds for robust industrialisation.
To do so, they said the policy makers should focus on strengthening the capital market, setting up robust bond market and developing financial institutions that can provide long-term financing to industries.
They were speaking at the launching ceremony of a book titled 'Banking Almanac: Banks and Financial Institutions of Bangladesh 2017" at the National Press Club in city.
Speaking as the chief guest, former finance advisor to caretaker government, Mirza Azizul Islam said since the country's capital market has not been functioning properly for a long time, the bulk of the industrial borrowing comes from banks and financial institutions.
He said the capital market has to be strengthened for long-term investment in industries.
"But banks have a role to play in the capital market too," he said.
Mr Islam said many capital market investors invest in the market by taking out loans from banks. At the same time, banks are also listed with the capital market.
"So they are very much interrelated and influence one another," he added.
He said Bank Almanac is a good initiative, but the information in if should be made more analytical.
He also said there should be transparent information flow to protect depositors' as well as the banking sector's interest.
Speaking at the programme, another former advisor to caretaker government Hossain Zillur Rahman said the country needs robust investment for the industrialisation needed to generate employment and continue growing more.
He said the banking sector is now a key source of industrial financing that weakened the banks and financial institutions.
He said the situation in the banking sector will not be better if there is no structure for long-term financing and development of the capital market.
He also stressed the need for good governance in the banking and financial sector to have a healthy financial system.
Director at Bangladesh Bank board Dr. Jamaluddin Ahmed said the country has failed to build financial institutions for long term investments.
He said the banking sector alone cannot provide investment for industrialisation.
"We have to find the ways of long-term financing sources and this will only ensure our sustainable development, industrialisation and employment," he added.
Chaired by former governor of Bangladesh Bank Dr Salehuddin Ahmed, the programme was addressed, among others, by the Association of Bank, Bangladesh chairman Syed Mahbubur Rahmna, and chairman of the Bangladesh Leasing and Finance Corporation Companies Association Khalilur Rahman.
Unauthorized use or reproduction of The Finance Today content for commercial purposes is strictly prohibited.