Business /
Sacrificial animals in surplus
---
FT Online
Published:
2019-07-13 11:19:50 BdST
Sacrificial animals in surplus
---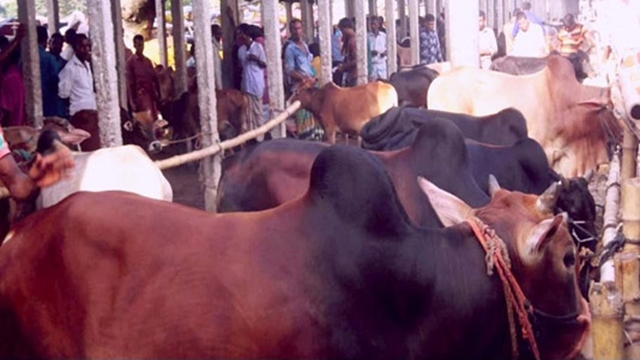 Sacrificial animals are in surplus ahead of Eid-ul-Azha thanks to commercial and marginal farmers, officials concerned said.
This year some 11.78 million cattle are available for sacrifice against the total demand for 11.20 million, according to Department of Livestock Services (DLS).
A total of 2,885,142 cows and buffaloes, 2,009,710 sheep and goats and 6,563 other animals like camel and 'dumba' are set to be sacrificed during this Eid.
Under the government's cow-fattening programme, these animals have been reared at 577,416 farms, according to official statistics.
On the other hand, 1,696,858 more old non-productive cows and buffaloes along with 5,190,290 sheep and goats are also being readied for this Eid.
More than 10 million cows, sheep and goats were sacrificed during Eid-ul-Azha in last couple of years, the data showed.
In addition, many households raise cows, sheep and goats, keeping the second largest festival of the Muslims in mind.
As many as 11,588,923 cows, sheep and goats were available in 2018 while it was 11,557,000 in 2017, according to the data. Of them, some 10.50 million were slaughtered during last Eid-ul-Azha.
The number of cattle sacrificed during Eid in 2010 was 2,783,800 while goats and sheep 1,684,300. It was around 4,435,000 and 6,020,000 respectively in 2018 while it was 4,529,200 and 5,891,500 respectively in 2017.
Nazrul Islam, an owner of Joarder Dairy Farm in Jhenaidah, said he has 22 bulls to sell. He wants to sell his cows at prices ranging between Tk 450,000 and Tk 500,000 ahead of Eid,
The cost of rearing cattle has risen and it is the real problem right now, Islam said, adding that he fears an influx of imported cattle.
There will be no shortfall of cattle as the farmers have reared a large number of cows and goats to meet the demand ahead of Eid, he said.
He also raised voice against cattle import from India as the country has surplus animals.
"The government should stop cattle import so that farmers like me don't incur heavy losses." It should take a tough stance on cattle smuggling, he said, adding that he incurred heavy loss last year as the demand for cattle was low.
Another small farmer Hira, owner of Meherpur Gorur Khamar in Meherpur district, said he has reared 32 cows to sell them at the market ahead of Eid.
He wants to sell his bulls at the prices ranging between Tk 200,000 and Tk 1200,000, he told the FE. He expected to earn good profit ahead of Eid as the government has already acted to restrict import of cows from India.
Feed costs represent 65-70 per cent of the total cost of farm production and the farmers are struggling to minimise the cost of cattle fattening, Hira claimed.
"The cost of feed ingredients and compound feed increased in last few years that was main concern for us," he said.
Imran Hossain, president of Bangladesh Dairy Farmers' Association (BDFA), said there may be no shortfall of sacrificial animals this Eid as commercial and marginal farmers reared a large number of cattle this time.
As cattle supply outstripped the demand last year, there is a little possibility of dearth of them, he claimed.
Foot-and-mouth disease (FDM) of cows reduced this time as imported cattle are on the decline, he argued. He also put emphasis on setting up of makeshift indoor market to ease the sufferings of both customers and traders during the rainy season.
Dr ABM Khaleduzzaman, DLS assistant director (farm), said sacrifice of cattle during Eid usually generates a huge supply of money.
This is an occasion when money circulates fast and changes hands everywhere which is expansionary, thus promoting trade and creating jobs, he added.
DLS director general Dr Hiresh Ranjan Bhowmik said DLS has taken necessary measures to stop cattle import. "Our farmers can now meet the local demand mainly due to cow-fattening programme," he told the FE.
DLS is playing a key role in ensuring the availability of cattle resources and reducing dependency on animal imports during the festival, Dr Hiresh said.
Livestock contributes 1.54 per cent to the country's gross domestic product with a growth rate of 3.42 per cent. This crucial sub-sector also generates 20 per cent full-time and 50 per cent part-time employment (DLS 2018).
Livestock works as a cash cow for thousands of marginal farmers who rear cattle for their subsistence and also for steady cash income.
It also contributes to poverty reduction, income generation and bridging the gap between the demand and supply of nutrition.
Unauthorized use or reproduction of The Finance Today content for commercial purposes is strictly prohibited.