Business /
PM seeks UAE investment in Bangladesh
---
FT Online
Published:
2019-11-18 17:00:42 BdST
PM seeks UAE investment in Bangladesh
---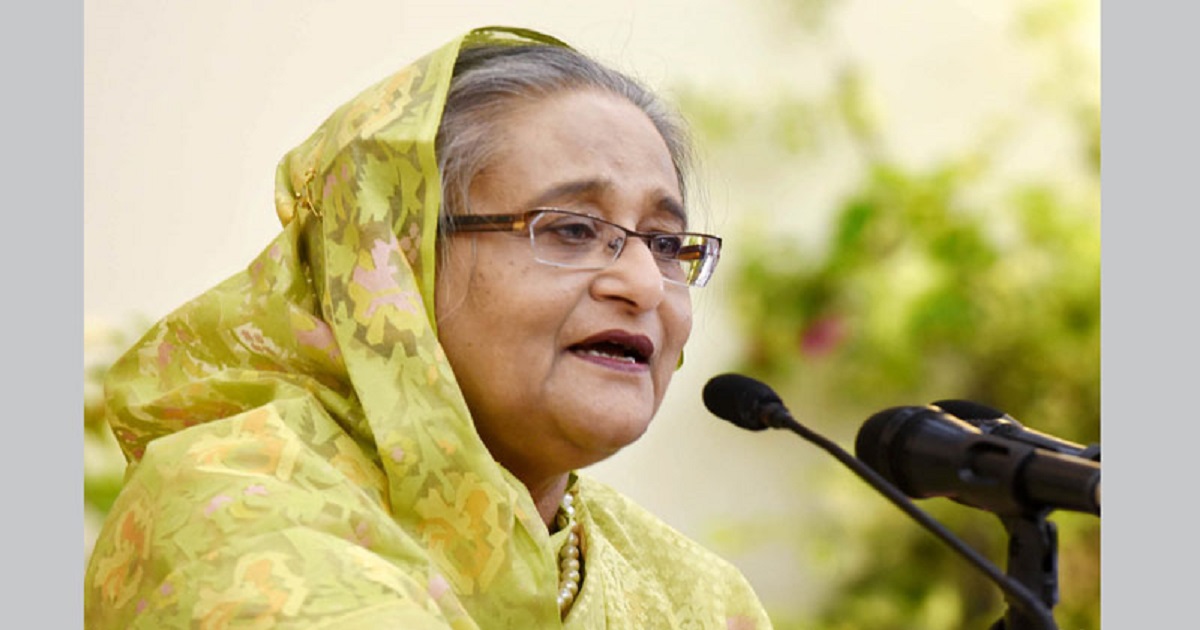 Prime Minister Sheikh Hasina on Sunday urged UAE investors to invest in various sectors in Bangladesh to boost bilateral trade.
"The mutual trade between Bangladesh and UAE is steadily growing. I believe, with our mutual efforts, the bilateral trade may be further diversified and enhanced," she said while addressing a dinner reception arranged in her honour by the Bangladesh Embassy in Abu Dhabi at Shangri-La Hotel.
UAE entrepreneurs and noted investors joined the function.
Sheikh Hasina said there is a huge potential of mutual trade and investment between Bangladesh and UAE along with opportunities for mutual collaborative engagements.
"We've identified many potential sectors for beneficial collaboration between Bangladesh and UAE both in public and private sectors," she said.
The Prime Minister said the UAE may import Bangladeshi products like pharmaceuticals, jute and jute goods, ceramic, leather, food items, plastic goods, knitwear, frozen food, textile and home textile, agricultural products and engineering products at competitive prices.
"I'm also happy to know that Bangladesh and UAE business representatives are in close contacts. Recently, a Bangladesh business delegation and forum, led by my Adviser for Private Industries and Investment, met with UAE business representatives in Dubai," she said.
The Prime Minister hoped that the close cooperation between Bangladesh Investment Development Authority (BIDA) and Economic Development Authority of UAE, and Bangladesh Economic Zone Authorities (BEZA) and Emirates Economic Zone authority will play important role in promotion of business and investment between the two countries.
"I look forward to more visits of UAE high dignitaries and entrepreneurs to Bangladesh with a view to enhancing cooperation and engagements in the fields of business and investment."
She said relations between Bangladesh and UAE have developed significantly in the recent past and attained a new height. The relations are multifaceted and diversified which are ever expanding in many areas.
"It's heartening to note that huge transformations have taken place in the socio-economic and development sectors of both Bangladesh and UAE."
Nowadays, she said, Bangladesh and UAE have multidimensional relations which have changed from uni-dimentional relation of only export of Bangladeshi manpower to the UAE.
The Prime Minister said the relationship has now been diversified in various sectors like energy and power, investment, infrastructure building, technical cooperation in investment, exchange of business delegations and development cooperation.
She said currently, Bangladesh is regarded as 'wonder of development' in international arena.
"Bangladesh is one of the fastest growing economies of the world. According to World Bank, Bangladesh is the second fastest growing economy in Asia and fifth in the world. As per IMF, Bangladesh's GDP is at the 30th position based on PPP," she pointed out.
She recalled her visit to UAE in February this year when agreements were signed between Bangladesh and UAE on establishment of port, industiral park, setting up of power plants and LNG terminal, supply of LNG and investment in the economic zones.
Following the visit, she said Bangladesh has received very positive response from the UAE side. UAE firms have come up with proposals of investment in our power and energy sector, including solar energy, she said.
"They've also shown interest in the establishment of LNG terminal and port. We've also received proposal from Emirates Economic Zone to establish its ventures in Bangladesh Economic Zone on G2G basis," the Prime Minister said.
She said Emirates Economic Zone would like to establish sustainable Economic Zone, Halal Food processing unit and certification centres.
"We've welcomed the proposal since agriculture is our major economic foundation."
Sheikh Hasina said the export of agricultural and argo-based products constitutes one of Bangladesh's major exports after readymade garments. "We welcome the UAE entrepreneurs to invest in Bangladesh in agro and food processing sectors."
She also mentioned that there remains a growing need of gas and electricity in Bangladesh owing to rapid industrialisation. Energy related cooperation with the UAE would greatly facilitate our industrialisation process.
The incumbent government has taken initiatives to attract foreign investments in Economic Zones, Special Economic Zones and High Tech Parks, she added.
In this connection, she said Bangladesh Economic Zone authority is offering one-stop services to the investors for more than 100 infrastructure-related and utility services.
"Bangladesh has the most liberal investment policy in South Asia. It includes protection of foreign investment by law; generous tax holiday; concessionary duty on import of machinery; unrestricted exit policy; full repatriation of dividend and capital on exit, to name a few."
She also announced that Bangladesh will participate in the Dubai Expo 2020 in a befitting manner.
Foreign Minister Dr AK Abdul Momen also spoke on the occasion while Bangladesh Ambassador to the UAE Muhammad Imran delivered the welcome speech.
Chairman and Managing Director of RELAM Investment Sultan Al Rashed Lootah, Chairman and Managing Director of Emirate Islami Bank Hesham Abdullah Al Qassim and Managing Director (International Operations) of Malabar Gold Shamlal Ahamed, among other entrepreneurs, were present.
The Prime Minister arrived here on Saturday night on a four-day official visit to the UAE to attend the Dubai Airshow 2019, one of the largest aviation exhibitions in the world.
Unauthorized use or reproduction of The Finance Today content for commercial purposes is strictly prohibited.