Business /
Reconditioned car imports drop by 31pc
---
SAM
Published:
2019-12-14 17:09:14 BdST
Reconditioned car imports drop by 31pc
---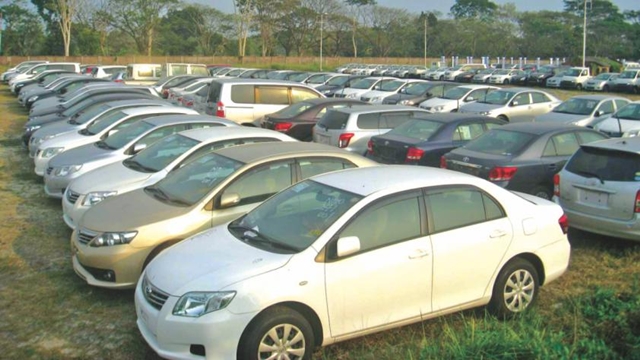 FT ONLINE
Import of reconditioned cars has dropped by 31 percent in July-November of the current fiscal year, compared to the same period of the previous year.
At the same time, sales of reconditioned cars have dropped by 67 percent to 20 units per day in the same period – from 60 units a day last year. As a result, the government is losing a large amount of revenue from this sector, said sources in the industry.
According to the Bangladesh Customs, the government earned Tk686.77 crore in revenue from the import of 3,438 reconditioned cars in July-November of FY20, compared to 5,007 units in the corresponding period of the previous year.
The government earned Tk1,456.11 crore in revenue from 12,502 imported reconditioned cars in FY2018-19, which was Tk2,649.95 crore from the import of 23,075 such vehicles in FY2017-18.
Those involved with the industry complained that the sale of reconditioned cars dropped due to the government's "faulty pricing method," which increased the import duty and sale price of these vehicles.
They added that the price difference between a reconditioned and a brand new car is very insignificant due to the reduction in the depreciation facility offered by the government.
The National Board of Revenue (NBR) reduced the maximum depreciation facility on the import of five-year-old reconditioned vehicles from 45 percent to 35 percent in FY2018-19.
"Reconditioned vehicle importers can enjoy up to 35 percent depreciation facility on the original purchase price of cars that are five years old, but it was 45 percent just three years ago," said Abdul Haque, president of the Bangladesh Reconditioned Vehicles Importers and Dealers Association (BARVIDA).
"There is no depreciation facility for importing one-year-old reconditioned vehicles. For this reason, importers recently demanded a 10 percent depreciation facility for such cars," said Haque, who is also the managing director of Haq's Bay Automobiles Ltd in Dhaka.
He continued, "The government used to provide vehicle importers with trade discounts and depreciation facility on reconditioned vehicle imports, which jointly reached up to 75 percent. The government currently provides only a 35 percent depreciation facility."
Meanwhile, the National Board of Revenue considers the yellow book price – the international yardstick for car prices – for duty assessment of imported reconditioned cars. However, importers buy their cars below the price mentioned in the yellow book.
"The revenue board is imposing a duty on imported reconditioned vehicles considering the brand price of a new car instead of the price of a reconditioned car. This increases the import duty and price of such cars," said Abdul Haque.
He added that the government is imposing a duty on brand new imported vehicles on the basis of prices mentioned in the invoice.
"This process has allowed some businessmen to import brand new vehicles through price manipulation so that they can pay less duty," the BARVIDA president said.
He further said, "Due to the minimal difference of import duty between brand new and reconditioned vehicles, the government is losing a large chunk of potential revenue from the sector, which once contributed about Tk4,000 crore to the government exchequer.
"Around 850 reconditioned vehicle importers had invested around Tk25,000 crore in the sector, but about 100 importers are leaving the business. Some of them are gradually shifting their focus from reconditioned to brand new vehicles."
Khalil Ullah Chowdhury Shakib, an owner of a reconditioned vehicles importing agency named Bakul World Trade in Chittagong, said, "Due to the high duty on the import of reconditioned vehicles, the selling price of cars also becomes too high.
"Car prices are now out of reach for many buyers. If the government reduces the duty on reconditioned vehicles, car imports will increase and the government will earn more revenue."
Auto Museum Ltd's Chairman Habibullah Dawn said, "We car sellers are in big trouble, sales dropped to 20 units a day, from 60 units per day last year."
M Fakhrul Alam, customs commissioner of Chittagong Customs House, said, "Import duties imposed on brand new and hybrid vehicles are lower compared to that of the reconditioned vehicles. At the same time, newer vehicles are also more environment-friendly and fuel-efficient.
"For this reason, imports of brand new cars have increased."
Reconditioned vehicle traders have to pay 31 percent to 826 percent in import duty depending on car engine capacity, apart from 15 percent VAT, 5 percent Advance Tax, 5 percent Regulatory Duty, and 4 percent advance trade VAT on tariff value.
Unauthorized use or reproduction of The Finance Today content for commercial purposes is strictly prohibited.