Business /
Furniture fair draws visitors with world class design
---
SAM
Published:
2019-12-14 19:43:50 BdST
Furniture fair draws visitors with world class design
---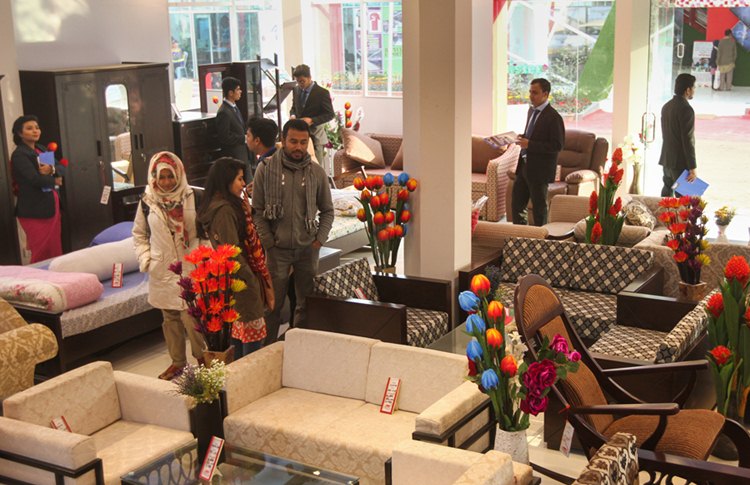 Chattogram Correspondent
Furniture designs are constantly changing with time. From home to office, indoors to outdoors, aesthetically designed furniture are popping up everywhere. Keeping the trends in mind, superior quality and aesthetic designs furniture are being made in the country.
Eyes of visitors are bound to be dazzled by the decorated stalls entering the furniture fair, the 11th edition of the event at GEC Convention Centre in the Chattogram city, where numerous furniture with the world-class design is being displayed.
31 enterprises, including 25 from the port city, have participated in the fair with a wide collection of furniture and various offers and they have decorated the stalls with their best furniture in a bid to draw a huge flock of the customers.
In a visit to the fair, the correspondent saw a sizable flock of visitors at stalls of Shoilpik Furniture, JMG, Need Furniture, Dell'arte, Universal Furnishers, Annex, Unique, Hatim, Star King, Mega Door, Paris Door, Quality Furniture.
At the stall of Shoilpik Furniture, it was found decorated with different designs of furniture. It catches the eye of any visitor; with their bed, dining, table, wardrobe, sofa sets having a touch of artistry to them.
"Furniture isn't just for use today it also reflects your aesthetic sense. Many enterprises in Chattogram are emerging into the furniture industry. Furniture made here are being supplied all over the country," said Ranbir Rubel, manager of Shoilpik Furniture.
"Every company bring out new designs keeping the fair in mind in a bid to draw customers' attention. The trend ensues a competition among them," said Proprietor of Haque Doors and Furniture, Sheikh Md Sajjadul Haque.
Mentioning that there has been a revolutionary change in the furniture industry in the last 12 years, Md Sajjadul Haque said: "70 percent of the raw materials, mainly timber and wood coating materials, have to be imported for furniture. They are subjected to high tax rates".
He also said that if the government allowed for the tax-free import of raw materials like the garments sector, then customers could buy furniture at 30 percent less than current prices.
In a visit to New Furniture, it was found that a minister table was being sold at Tk2,30,000. The golden coloured chair and table, made with teak (Segun) wood, attract customers with its fineness. Other than that, Teak wood made, silver coloured Sunflower Bed was seen being sold for Tk85,000.
Managing partner of New Furniture said: "World-class furniture is being made in Chattogram. New designs hit the market every year centering the fair. Furniture is not just about utility for the customers, but also a symbol of elegance."
"I am fascinated by the new designs of furniture in the fair. It feels good to know that superior quality and aesthetic designs furniture are being made in the country," said banker Abdul Awal visiting the fair.
Like Abdul Awal, a sizeable number of visitors came to the furniture fair Friday, the second day of the fair.
Md Maksudur Rahman, general secretary of Bangladesh Furniture Industry Owners Association, Chittagong Division said: "Furniture business has now become an industry. The furniture fair contributed to that. The fair has ensued competition among Furniture manufacturers in Chattogram for introducing newer designs. "
Not sale of goods, but publicity of the industry is given emphasis in the fair, he added.
The week-long furniture fair will end on December 17.
Unauthorized use or reproduction of The Finance Today content for commercial purposes is strictly prohibited.