Dr Yunus' company allegedly launders money, commits other irregularities
---
Special Correspondent
Published:
2023-03-15 03:12:47 BdST
Dr Yunus' company allegedly launders money, commits other irregularities
---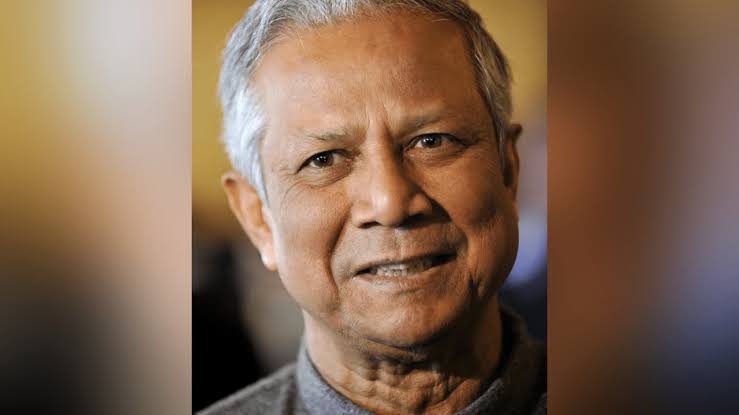 Nobel laureate Prof Dr Muhammad Yunus' company is allegedly involved in a sea of crimes including money laundering, bribery and conspiracy against the country.
All evidence as to his crimes has come to the light and the authorities concerned are in possession of those documents.
It is pertinent to explain as to how Dr Yunus siphoned off money of the common people of Bangladesh. All should know that he embezzled thousand of crores of taka from Grameen Bank, Grameen Telecom and other associated organisations.
Nobody except enemy of the country can launder the hard-earned money of the common people and domestic properties.
He bribed some judicial officials and administrative high-ups to be saved from the cases filed against him and operators of his companies. Besides, he allegedly persecuted employees of his companies violating labour rights.
There is a demand to rescind Nobel peace prize of Aung San Suu Kyi following torture and ouster of Rohingya minority people from their homestead at Rakhine state of Myanmar. Dr Yunus deserves similar situation stripping off her prize.
In 1997, Dr Yunus received licence of Grameen Telecom (GTC) from Prime Minister Sheikh Hasina. He gave commitment that GTC would work only for the welfare and betterment of the poor people. Unfortunately, taking licence, he handed over the lion portion of shares of Grameen Phone Limited to the foreign company. At present, GTC owns 34.20% shares in Grameen Phone Limited against which it receives thousands crores of dividend every year. Most of this dividend income from GTC is illegally laundered in the name of the so-called social business of Dr Yunus.
Against the illegal activities of Dr. Yunus and his company GTC, two types of legal actions can be taken: (1) Initiating criminal proceedings against Dr Yunus and his board members in accordance with applicable laws of the country, and (2) Winding up the GTC through court and taking over the properties of the GTC and handing over to any similar company under the management of the government as per the provisions of Companies Act, 1994.
The individual employees initiated proceedings to enforce their lawful claim of participation in the 5% of net profit of the GTC by filing as many as 107 BLA (IR) Cases before the 3rd Labor Court, Dhaka in the year 2017. GTC filed about a hundred writ petitions challenging the interim orders of the Labour Court, passed in those IR Cases.
Pending hearing of those writ petitions, the GTC terminated all the 99 employees who were in service at that time by a single notice on October 25, 2020. Challenging such illegal termination, separate applications were filed with the High Court by the individual employees praying for their reinstatement in their services.
The High Court was pleased to direct the GTC to reinstate them with all back wages. However, they moved to the Appellate Division challenging HC order. The Appellate Division was pleased not to interfere in the order of the HC. Hence, GTC management realised that they would not get their favourable verdict from any Divisions of the Supreme Court of Bangladesh. As such, they allegedly approached to a lobbyist firm was appointed as per nod of 104th Board Meeting held on June 14, 2021.
Being so appointed, DLSS prepared an assessment report with their blue print way forward with an estimated cost of Tk 13.80 crore for resolving the issues by manipulating the legal process.
The said Assessment report was sent to the then Managing Director Ashraful Hassan through email dated June 22, 2021:
"… However, please find attached the assessment and way forward including the tentative cost which can be negotiated upon the actual involvement of the level of influence and through whom with an objective to clean the whole issue in favour of GTC."
Dr Yunus plotted to deprive the employees from legal entitlements
In the said Assessment report, the DLSS proposed a "Top Down Approach" in which they have basically incorporated a series of illegal activities and corrupt practices to ensure exit from lawsuits. They moved to abuse legal process to get rid of labour court cases and cancellation of the registration of Trade Union.
Dr Yunus committed offences under the Money Laundering Prevention Act, 2012 and GTC has been transferring its dividends in violation of section 28 & 29 of the Companies Act, 1994
Grameen Telecom (GTC) is a company limited by guarantee and licensed under section 28 of the Companies Act, 1994. It has no share capital. Dr Yunus took the licence of the Company with the objective inter alia to promote development of tele-communication and ancillary services in the rural areas for reducing poverty in Bangladesh by extending loans and grants both in cash and kind to the poor. At the time of taking licence, the members of the GTC declared that sharing of dividends is prohibited. Section 29 further restricted sharing of dividends of a company licensed under section 28.
GTC earned thousands of crores taka each year as dividend from Grameen Phone Ltd against its 34.20% shares in the capital of Grameen Phone. Out of this dividend, GTC shares 42.65% with Grameen Kallyan on the plea that it took a loan of Tk 53,25,62,941.00 at the time of acquiring share of Grameen Phone. Against such loan of Tk 53.25 crores, GTC has been sharing hundreds crores of dividend in each year. A statement of dividend sharing since 2003 to 2017 are as follows:
After 2017, the amount of dividend income from Grameen Phone has been increased substantially, and accordingly, the amount of dividend transferred to Grameen Kallyan after 2017 has increased. As such, till 2022 about 5000 (Five Thousand) Crores of taka has been illegally disbursed to the Grameen Kallayan as dividend against their loan of an amount of BDT 53.25 crores only. The audit firm, in writing warned the management of GTC for such illegal transaction in 2017. The Audit Firm of GTC, categorically stated in a management letter in 2017 as follows:
"During the year under audit Grameen Telecom received a dividend of Tk 8,080,912,158 against their holding of 34.20% in the shares of Grameen Phone Limited. Out of total receipt of dividend of Tk 8,080,912,158, Tk 3,446,672,270 was distributed to Grameen Kallyan as dividend, although Grameen Kallyan does not have any holdings in the shares of Grameen Phone Limited."
The entire approximate amount of Tk 5,000 crore was transferred to Grameen Kallyan illegally and without any lawful authority. After receipt of such humongous amount of dividend, they have no visible undertakings or project for the welfare poor people. Besides, Grameen Kallyan, GTC laundered huge amount of money to the other entities of Dr Yunus. As for example, GTC donated an amount of Tk 1,413.58 crore to Grameen Telecom Trust during the period December 31, 2010 to October 22, 2013. The above mentioned illegally transferred huge amount of money eventually misappropriated by Dr Yunus and his board members in the name of social business. The regulatory and government authorities do not have any information about the final destination of the money transferred illegally. An extensive investigation is necessary under Money Laundering Prevention Act, 2012 to find out the final destination of the said illegally transferred money. There is a prima facie case that the entire amount or any part of the same was taking away from country. This is a punishable offence under section 4 of the Money Laundering Prevention Act, 2012.
Dr Yunus' Commission of Crime under section 397 of the Companies Act, 1994
Dr. Yunus' company GTC submits its annual returns to the Registrar of Joint Stock Companies And Firms (RJSC) with false statements that no dividend is distributed although thousands crores of dividends have been distributed to Grameen Kallyan over the years. Submitting false statements in the annual return is a punishable offence under section 397 of the Companies Act, 1994.
Section 397 of the Companies Act, 1994 provides penalty for false statement. It says: 'Whoever in any return, report, certificate balance-sheet or other documents, required by or for the purposes of any of the provisions of this Act, willfully makes a statement false in any material particular, knowing it to be false, shall be punishable with imprisonment of either description for a term which may extend to five years, and shall also be liable to fine.'
Unauthorized use or reproduction of The Finance Today content for commercial purposes is strictly prohibited.