Powerful syndicate active in smuggling thru Benapole landport
---
Special Correspondent
Published:
2020-11-22 12:25:12 BdST
Powerful syndicate active in smuggling thru Benapole landport
---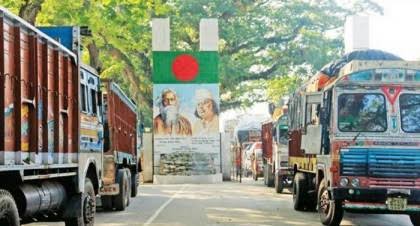 A powerful smuggling syndicate has become active around the country's largest land port, Benapole.
Various smuggling goods are being brought to Bangladesh using Indian trucks.
According to local traders, several identified Bangladeshi truck drivers from Benapole go to India every day loading export goods.
On their way back, Bangladeshi drivers contact the Indian truck drivers in Bangaon and Kolkata, India, to sell Indian medicines, cosmetics, drugs, clothing, saris.
Various goods including food items are being hidden in the cabin of Indian trucks and brought to Benapole port.
They said that these goods are being brought with i legally Imported products.
Sometimes this goods are being unloaded from the port's truck terminal and sometimes from inside the port.
According to customs sources, Altech Aluminum Limited, a Dhaka-based importer of Kai Group, imported 14 tones and 908 kg of aluminum ingot from India on the evening of November0 9.
Revenue of Tk 4.8 million (48 lakh) was paid after examination and assessment of the consignment.
Later, they were loaded in 14 trucks from the port for delivery.
In one of his trucks, a man named Shaheen Hawladar from the port talked to the driver and loaded 14 bales of cloth.
When driver Lalon Mia asked for paper for importing clothes, Shaheen failed to give him the paper immediately.
Meanwhile, the customs intelligence team reached the spot, seized the consignment and demanded papers from the driver.
As the driver Lalon could not show the paper and could not find Shaheen, the intelligence seized the truck with legal and illegal goods.
On the other hand, on November 17, an Indian truck arrived at Benapole port with imported goods with six consignments of several established Bangladeshi importers, including BRB Cable ltd.
The goods of five consignments were unloaded at Shed No. 9 in the port.
The other consignment of five boxes of Powerman Bangladesh Limited was going to unload the goods. A BGB team stopped the truck on its way to unload at Shed No. 40 of the port.
Later, Customs and BGB jointly searched the truck and found cream, chocolate, wine, cumin and raisins inside the driver's cabin.
The truck driver failed to show their valid documents.
Later, the truck was seized along with legal legitimate products of Powerman Limited. A group of smugglers tried to involve the Importer and C & F Agents
Zia Uddin, owner of Trim Trade, a C&F company of importer Altech Aluminum, said, "Why are we being harassed by paying revenue of TK. 48 lakh to the government?"
'The port is a valid bonded area. How did the smuggling syndicate come here? ', He asked.
He demanded the operation of a mobile court at the port on an emergency basis to detain smugglers.
Matiar Rahman, Director, India-Bangladesh Chamber of Commerce and Industries said stolen goods were found in the driver's cabin in trucks of legally imported goods due to the smuggling syndicate. Legal products are also being seized for this.'
Why established importers will be harassed, we want its remedy . There are illegal outsiders in every shed inside the port. They have to be brought under the law," he said.
Benapole Customs Commissioner. Azizur Rahman said that due to the smuggling syndicate, established importers are constantly being harassed. An urgent inquiry committee will be formed to look into the matter.
He added that legal action would be taken against the smugglers by conducting a mobile court on behalf of the customs, he added.
Unauthorized use or reproduction of The Finance Today content for commercial purposes is strictly prohibited.