Economy /
Import falls following forex austerity
---
Staff Correspondent
Published:
2022-08-01 18:25:34 BdST
Import falls following forex austerity
---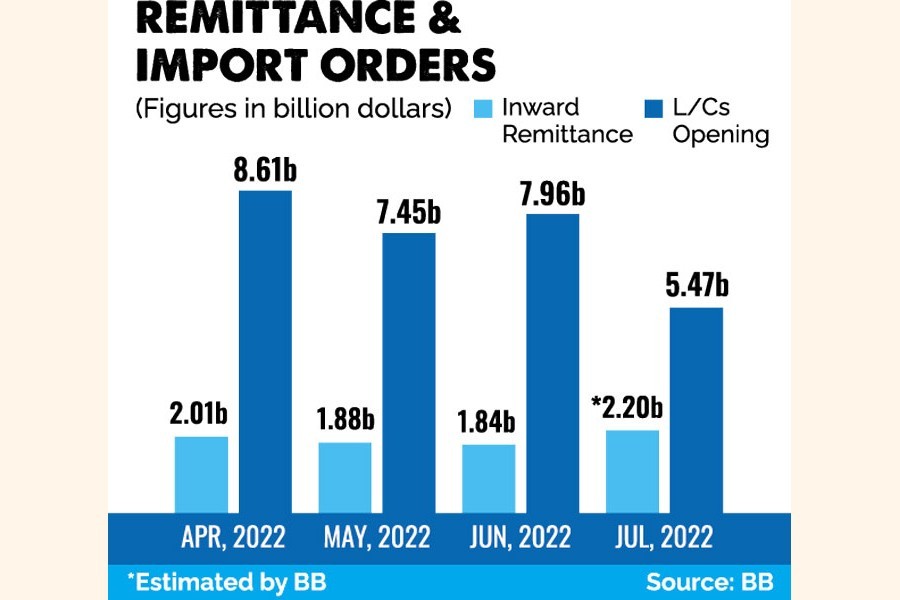 Bangladesh's imports plummet following regulatory measures to ease pressure of import-payment obligations and thus buttress country's falling foreign-exchange reserves, officials say.
The opening of letters of credit (LC), generally known as import orders, dropped over 31 percent to $5.47 billion in July 2022 from $7.96 billion a month before, according to Bangladesh Bank (BB)'s latest statistics.
"Import orders decreased significantly in July following regulatory measures alongside monitoring of LCs closely," a top central banker said Sunday-amid growing concerns over dollar doldrums and consequent problems worldwide.
He also said close monitoring of import LCs will be continued until stability comes back on the country's foreign-exchange market.
Earlier on July 14, the central bank started monitoring LCs worth US$5.0 million and above initially, using its dashboard, to discourage 'unnecessary' imports.
Currently, the BB monitors the LCs worth $3.0 million and above on the same grounds.
"The value of such LC monitoring may be re-fixed at $2.0 million and above, if necessary," the central banker said while replying to a query.
During the monitoring, the BB examines different documents like rules of origin and price of the import products on case-to-case basis to discourage unnecessary imports.
"We've already stopped a good number of LCs mainly for lack of relevant documents," the central banker explains.
Earlier on July 25, the bankers were asked at a bankers' meeting to comply with all the ten regulatory measures announced by the central bank recently aiming to improve the foreign-currency-liquidity situation on the money market.
Among the regulatory measures are encashing 50 per cent of total foreign currency held in relevant export retention quota (ERQ) accounts, slashing 5.0 percentage points of the net open position (NOP) limit of commercial banks and reporting prior to opening a letter of credit (LC) for imports worth $5 million or above to the central bank.
Actually, Bangladesh's import expenses have ballooned on account of a fresh hike in prices of essential commodities, including fuel oils, on the global market in recent months mainly due to the ongoing Russia-Ukraine war.
On the other hand, Bangladesh received US$ 1.96 billion in inward remittances until July 28 following celebration of the Eid-ul-Azha festival.
"We expect that the amount of inward remittance may cross $2.0 billion by the end of July," another BB official predicts.
In June, expatriates sent home $1.84 billion worth of remittances through the banking channel, according to the BB's statistics.
Lower import orders along with higher inflow of remittances will help ease the volatility on the country's foreign-exchange market in the near future, according to the officials.
"It will also help curb falling trend in the country's foreign-exchange reserves," the central banker noted.
The central bank continued its regulatory drive on moneychangers until Sunday aiming to bring stability in the price of the US currency on the open market, known as kerb market.
The BB made a drive at different moneychanger houses in Dhaka on Wednesday, just a day after the cash dollar price hit an all-time high of Tk 112 on the kerb market.
Bangladesh's forex reserves rose to $39.54 billion on Sunday from $39.47 billion of the previous working day following upward trend in inflow of foreign exchange.
Unauthorized use or reproduction of The Finance Today content for commercial purposes is strictly prohibited.