Economy /
Bangladesh mulls over ways to carry on trade with Russia
---
Asif Showkat Kallol
Published:
2022-11-20 10:56:08 BdST
Bangladesh mulls over ways to carry on trade with Russia
---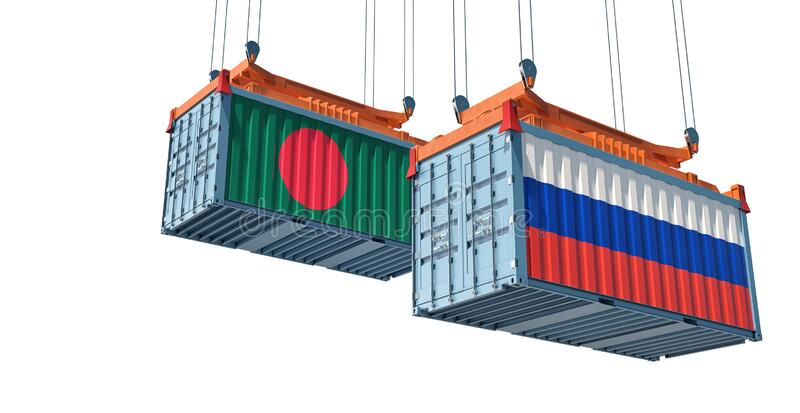 Bangladesh is set to mull over alternative possibilities of continuing export-import trade with Russia after Dhaka found trade with Moscow has been declining sharply in the last 10 months.
As part of the move, the government is considering establishing an 'online platform' as the West and its allies have banned Russia from the Swift payment network, an official of the commerce ministry said.
Amid the Russia-Ukraine war, Russia had offered Bangladesh to resume trade using different platforms. Although it is very late, the government is proceeding with the proposal now, said the official.
"We have sought sincere support of Russia for a way out of difficulties over convertibility of Ruble into taka to ensure direct shipment of Bangladeshi products including apparels amid several sanctions by the West on the Russian economy," Senior commerce Secretary Tapan Kanti Ghosh, said.
Another official of the commerce ministry who requested anonymity said the Economic Relations Division has already asked about the developments regarding overcoming trade and currency transaction problems between these duos.
Those developments such as converting the Russian Ruble into local currency Taka and trading via online platforms will be discussed in the next inter-government joint commission meeting this year, he added.
A senior official of the Information and Technology Division also said that the online trading will be implemented after necessary consultation with the relevant stakeholders of the Division of Information and Technology under the Ministry of Posts, Telecommunications and Information Technology and the Ministry of Commerce, respectively.
He also said, "We have already held a meeting with the relevant stakeholders including the Ministry of Home Affairs, Ministry of Commerce and Bangladesh Bank. All have emphasised on creation of a cross-border trade policy before launching such a platform. Imports of wheat, maize and sunflower oil from Russia will increase if trading begins on electronic platforms."
Those concerned also think that if the supply of food is increased, the price of commodities will fall, he added.
At the same time, export earnings will go up. Various products including frozen food, knitwear, jute products, and shrimp enjoy huge potential for shipment to Russia. Due to the changing global situation, the government intends to establish a platform under the bilateral 'Roadmap-2022-2025' formulated by the Ministry of Economic Development of the Russian Federation.
The roadmap aims to add related services to find potential buyers or suppliers through electronic trading platforms. These online trading platforms will depend on computer software programmes.
Different products can be traded through communication networks with intermediaries or directly between participants or members of the trading platform. It can buy and sell stocks, bonds, currencies, commodities and other products. Banks, markets, and stock exchanges act as intermediaries. Users can do online chatting and telephone trading from any location on this platform.
The Russian government has developed this roadmap under the Bangladesh-Russia Inter-Governmental Commission on Trade, Economic, Scientific and Technical Cooperation (BR-IGC) protocol signed earlier to enhance bilateral trade and economic cooperation. Earlier, the Division of Economic Relations prepared a roadmap with 29 sectors identified for bilateral cooperation with Russia.
According to the roadmap, a programme will be developed for export-import operations through electronic trading platforms and special partner services used to find business suppliers. Exports are not growing at the desired level due to various complications in direct banking transactions amid sanctions on Russia, said senior officials of the Ministry of Commerce.
Amid multiple sanctions, including the SWIFT on Russia, Moscow is trying to find an alternative mechanism to pay the outstanding import-export bills. Because without a free and secure trading system, bilateral trade suffers.
According to Bangladesh's Export Promotion Bureau (EPB), various products worth $665.3 million were exported to Russia in the fiscal year 2020-21. At the same time, goods worth $466.7 million were imported from there. Imported products include wheat, maize, sunflower oil and other food grains.
Unauthorized use or reproduction of The Finance Today content for commercial purposes is strictly prohibited.