Economy /
Tea exports decline as domestic demand surges
---
Rajib Kanti Roy
Published:
2023-05-22 10:07:59 BdST
Tea exports decline as domestic demand surges
---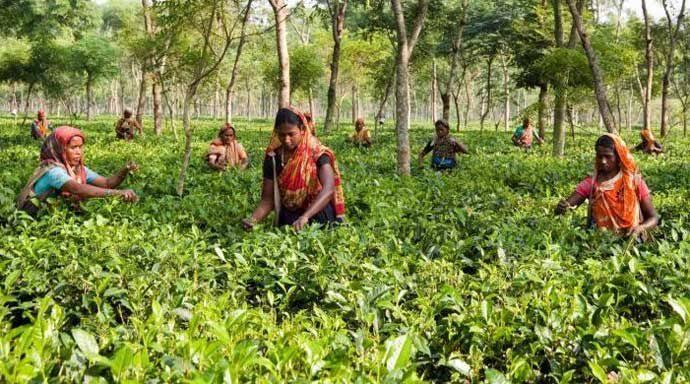 Despite the steady growth in tea production over the past decade, Bangladesh's tea exports have taken a hit due to mounting domestic demand, driven by a growing population and urbanisation.
The trend is observed as Bangladesh celebrates the World Tea Day on Sunday.
According to the state-run Bangladesh Tea Board (BTB), tea production reached an impressive 94 million kilograms in 2022, marking a 53 percent increase from the 62.52 million kilograms produced in 2012.
Yet, this growth didn't translate into booming exports. From the 2022 yield, a mere 0.78 million kilograms were exported, raking in Tk 196.31 million. This is a notable drop from 2020 when the country exported 2.17 million kilograms of tea, earning Tk 347.14 million.
Simultaneously, sources reveal that the nation annually imports just shy of a million kilograms of tea.
Insiders warn that if the current pace of domestic consumption persists, Bangladesh might need to import more tea in the coming years.
"Local consumption grows by 6-7 percent annually. If domestic production cannot keep up, we may need to import tea to compensate for supply shortages," warned Shah Moinuddin Hasan, Chairman of the Tea Traders Association of Bangladesh.
The government has set ambitious export targets for 2025, aiming to quintuple current figures. However, the primary concern for BTB Chairman Major General Md Ashraful Islam remains satisfying domestic demand.
"We aim to push tea production to more than 140 million kg by 2025, thereby augmenting our footprint in both global and local markets," Islam said.
He added that the BTB is working tirelessly to increase exportable surplus after domestic consumption has been met.
Though Bangladesh tea is of superior quality, higher production costs make it pricier than offerings from neighbouring countries.
This price point, combined with a lack of capital, outdated machinery, inadequate infrastructure, scarce resources and high-interest bank loans, poses significant challenges for the Bangladeshi tea industry.
"We need to concentrate on exports to compete globally. Our tea quality is exceptional, and with the right policy support, our exports can rebound," stated Mahadi Hasan, head of international marketing at Jafflong Tea Company Ltd.
With 167 tea gardens spanning 280,000 acres and employing over 360,000 people, Bangladesh is the world's ninth-largest tea producer.
The industry's economic importance is underscored by its annual global production value of over $17 billion and a trade value of approximately $9.5 billion.
As the tea leaves continue to unfurl, industry players and policymakers in the country must adapt to the changing dynamics of supply, demand, and global competitiveness.
Unauthorized use or reproduction of The Finance Today content for commercial purposes is strictly prohibited.