Economy /
Significant progress in equipment manufacture and shipment of Rooppur NPP
---
Rono
Published:
2019-11-21 18:56:30 BdST
Significant progress in equipment manufacture and shipment of Rooppur NPP
---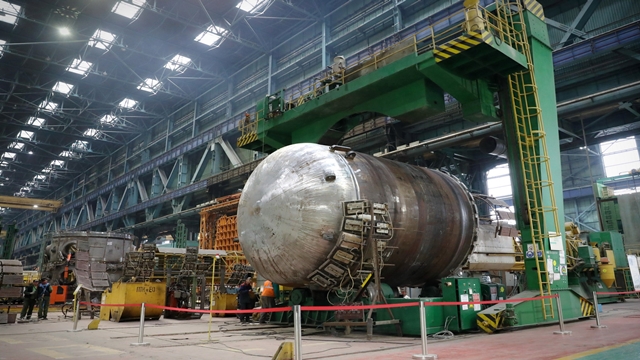 While Bangladesh is expecting its first megawatts of nuclear energy in the coming years, manufacture of various machineries and equipment is running in full swing in Russia. Some of them have already reached Bangladesh, some have been shipped and others are still in manufacturing process.
Lower semi-vessel of the Reactor Pressure Vessel (RPV) of Unit 1 has been assembled at the Volgodonsk Branch of AEM-technology under Atommash. The company is a part of Engineering Division of Rosatom – Atomenergomash.
Head and shells of the reactor core were assembled for subsequent welding of joints and heat treatment of joint welds. Following completion of the process the lower semi-vessel will undergo different inspection operations. Then it will be jointed to the already manufactured upper semi-vessel.
The Reactor represents a vertical cylindrical body with elliptic bottom with the Core and other equipment inside it. In the upper part of the vessel there are nozzles for coolant supply and removal, and also nozzles for emergency coolant supply in case of circuit depressurization.
On the other hand, ZiO-Podolsk, another division of Atomenergomash has manufactured and shipped from Russia the first lot of the turbine hall equipment – Moisture Separator-Reheaters for the Rooppur project. Total weight of the shipped products is 211 tons. The equipment service life is 50 years. The company last month shipped the Bubbler Tank, part of the reactor plant pressurizer system, which is expected to reach the project site shortly.
The Moisture Separator-Reheaters (MSR) are designed to dry and reheat the moist steam downstream the turbine high pressure cylinder. MSR is a vertical equipment consisting of three parts in one body. It is a part of the turbine plant steam regeneration system.
Atomenergomash is the sole supplier of the entire equipment for Rooppur NPP Reactor Hall and a big part of the turbine hall equipment.
Rooppur NPP is designed and being constructed according to Russian design. The Plant will have two power units, each of 1200 MW capacity, with latest generation 3+ VVER 1200 reactor.
Unauthorized use or reproduction of The Finance Today content for commercial purposes is strictly prohibited.