Economy /
RMG remediation helps large units boost profit
---
SAM
Published:
2019-12-09 17:57:58 BdST
RMG remediation helps large units boost profit
---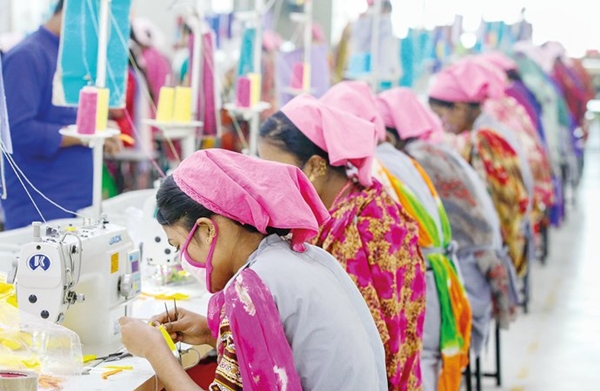 FT ONLINE
The country's big garment factories that adopted compliance measures prescribed by the Western retailers' platforms the Accord and the Alliance, as well as the National Initiative, made profit up to 10.72 percent in 2018, according to a survey.
The same factories had reported their profits at an average of 9.80 percent in 2013.
Besides, the large factories that were not included in any of the three safety programmes also recorded 8.74 percent profit in 2018, up by 1.43 percent from that in 2013, the survey revealed.
Industry leaders, however, differed with the survey findings.
The Bangladesh Institute of Development Studies (BIDS) conducted the primary survey on 508 garment factories across four districts -- Dhaka, Gazipur, Narayanganj and Chattogram.
Out of 508 firms, 255 were adopting the compliance measures suggested by any of the three initiatives - the Accord, the Alliance and the National Initiative. The remaining 253 have never been listed under any of the three remediation programmes.
The BIDS presented the findings of the survey on 'Impact of Compliance on RMG Industry of Bangladesh' at its Research Almanac 2019 at a city hotel on December 2.
Small garment factories that did not adopt compliance measures saw their profit margin going down. Still, they made higher profits (5.0 percent in 2018 and 6.04 percent in 2013 respectively) compared to those that adopted safety programmes, according to the BIDS survey findings.
The small RMG factories that took safety measures reported that their profit margin stood at 3.56 percent in 2018, up by 1.99 percent from the level in 2013.
On the other hand, medium garment factories (both inspected and not-inspected) reported a fall in their profit margin in 2018 from 2013, it showed.
The findings, however, showed that medium garment factories' that are not listed under any of the three initiatives made a higher profit of 10.06 percent in 2013. The profit fell to 7.41 percent in 2018.
The revenue of medium-sized ones under any of the three safety measures also saw a decline in their profit margin that came down slightly to 8.26 percent in 2018.
The BIDS categorized the garment factories based on the number of workers under the industrial policy 2006, said Tahreen Tahrima Chowdhury, one of the authors of the BIDS survey.
Factories having workers up to 120 are categorized as small, 121 to 500 medium and more than 500 large, she explained.
When asked, Bangladesh Garment Manufacturers and Exporters Association (BGMEA) President Dr. Rubana Huq said, "I agree with everything in the study except the bit on profit. I seriously doubt the figures and would like to have a clear understanding about where these figures have come from."
It is literally impossible to make even 2.0 percent profit and most manufacturers are bleeding now, she said.
"Post-December 2018, after the minimum wage hike, none of us is having an easy time. The question of profit is inconceivable," Ms. Huq noted.
"We are safe today, so are our workers," she said adding but mere compliance is not bringing us business.
Buyers are giving even lower prices now and are shifting their sourcing to other countries that have devalued their currencies significantly and are competitive, she noted.
Bangladesh Knitwear Manufacturers and Exporters Association (BKMEA) Director Fazlee Shamim Ehsan also disagreed with the survey findings and said small units are struggling to survive.
The medium ones are making higher profits than the larger ones and both the categories of units make a profit not more than 5.0 percent, he noted.
He, however, claimed there is no export-oriented garment factory that is not listed under any of the three safety programmes.
Those that are not under any of the safety programmes might do sub-contracting jobs, he noted.
Unauthorized use or reproduction of The Finance Today content for commercial purposes is strictly prohibited.