Economy /
Freight charges fly by a third
---
SAM
Published:
2020-01-23 18:28:18 BdST
Low-emission ruleFreight charges fly by a third
---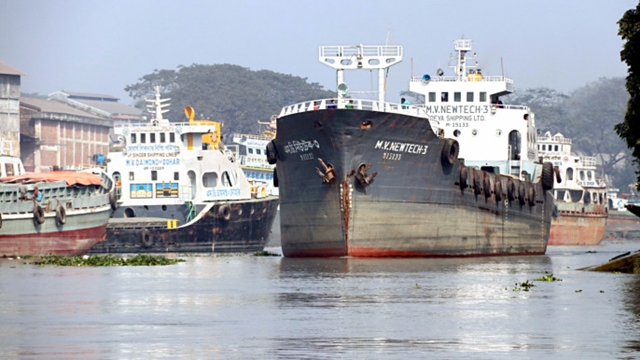 FT ONLINE
Shipping freight charges have jumped by 33 percent to $200 after the implementation of new international carbon rule.
The International Maritime Organisation, or IMO, introduced the global sulphur cap rule, which came into force from January 1, 2020.
The feeder vessels, which ply in short distance between Chattogram-Singapore and Colombo, have raised the freight fares by over 33 percent to $200 on the Chattogram-Singapore route and $190 to Chattogram-Colombo on each 20-foot equivalent units, TEUs. This applies to both laden and empty containers.
The rule envisages cutting the emissions of sulphur oxide in all sea-going vessels as part of the global effort to reduce air pollution.
The IMO has ruled that the marine sector emissions in international waters be slashed. The marine sector will have to reduce sulphur emissions by over 80 percent by switching to lower sulphur fuel, a type of diesel with low sulphur content.
Local importers have aired concern over such type of surcharge since low-sulphur fuel consumption will make goods expensive.
In case of shipment of goods, the buyers will have to pay, which may affect the local apparel manufacturers, with their CM, or cutting and making.
Sahed Sarwar, deputy managing director at the Singapore-based Feedertech, said that the rate has been raised to accommodate expensive low sulphur fuel.
"There is a significant change in prices of low sulphur fuel," he said.
He said the prices of the low sulphur fuel were volatile after the implementation of the IMO rule.
Prices of this fuel shot up by $200 dollar a tonne to $700 in a month, according to international media reports.
For freight fees, feeder operators usually charge their mainline counterparts, who adjust it with buyers in case the trade is under FoB, or free on board.
Abul Bashar Chowdhury, a leading commodity importer and chairman at the Chattogram-based BSM Group, said: "We're aware of it … the increased rate has already been implemented partially on the goods to and from the port city."
Mr. Chowdhury said there should have been negotiations before feeder operators fixed such charges as it impacts the end consumers.
The cost of freight is nearly estimated at $7.0 billion. If freight fees rise by 33 percent, then the total carrying costs will also go up.
Bangladesh is an import-dependent country and it imports goods and services worth around $60 billion, which is 19 percent of its gross domestic product, GDP. Overseas sales account for around $40 billion of the total external trade of more than $100 billion.
On the other hand, Mohammad Hatem, first vice-president of the Bangladesh Knitwear Exporters and Manufacturers Association said that they have yet to feel the effect.
"In fact, buyers usually pay for shipment, they may later adjust it by mostly cutting the CM."
Unauthorized use or reproduction of The Finance Today content for commercial purposes is strictly prohibited.