Economy /
Govt eyes more manpower export to Qatar
---
SAM
Published:
2020-02-16 01:54:39 BdST
Govt eyes more manpower export to Qatar
---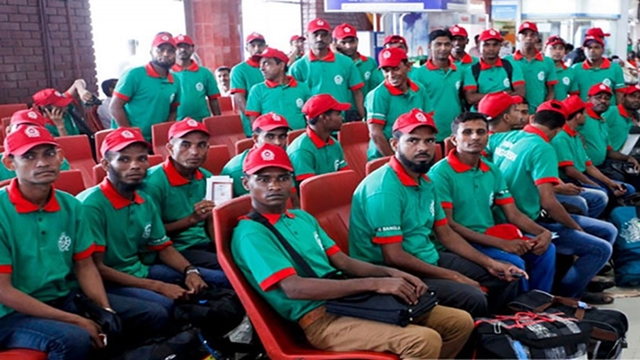 FT ONLINE
Bangladesh will ask the government of Qatar to recruit more skilled and trained workers from Bangladesh during Bangladesh-Qatar Dialogue scheduled to be held on Monday (February 17) in Dhaka.
The dialogue is part of the policy to further strengthen the excellent bilateral relations with Middle-Eastern countries, including Qatar. As part of that policy, Prime Minister Sheikh Hasina visited the UAE at the beginning of 2020.
Diplomatic sources said Bangladesh-Qatar Dialogue will dominate high-level political visits between the two countries, economic cooperation, migration and other issues.
On migration issue, Foreign Ministry officials said Qatar has earlier agreed to recruit skilled and semi-skilled manpower from Bangladesh to engage them in various infrastructure development works.
They said the scope for recruitment of unskilled manpower will decrease substantially after the World Cup in 2022. And thus Bangladesh has proposed to send skilled and semi-skilled manpower for employment in Qatar, which the middle-Eastern country agreed in principle.
It may be mentioned that several lakhs of Bangladeshis are now currently engaged in infrastructure development works for the World Cup 2022 and the development work is expected to complete next year.
Sources said the issue of extradition of convicted persons will also come up for discussion in Monday's meeting and the two countries are expected to sign a deal in this regard.
According to a source at the Bangladesh Embassy in Doha, there are now about 240 Bangladeshis in different jails in Qatar as they have been convicted on various crimes, including human trafficking and drug smuggling. There are also a couple of Bangladeshis who have been awarded death sentence in Qatar.
Embassy sources said the convicted Bangladeshis are interested to come back to Bangladesh and complete their jail terms staying at prisons in Bangladesh. However, Qatar will not send the people awarded with death sentence.
At the meeting, Bangladesh side will seek investment of Qatar in Bangladesh's mega projects and partnership. The Ministry of Finance is working on the modality of Qatar's partnership and investment in mega projects.
Qatar, which has expressed its eagerness to context in various UN forums, may seek support from Bangladesh during the upcoming meeting. Bangladesh will take decision keeping the national interest in its mind, officials said.
At the meeting, Bangladesh will seek a land plot in Qatar for establishing one Bangladeshi school there since a large number of Bangladeshi people are living there with families. It will also seek Qatar's permission to establish a FM Radio for the Bangladeshi community.
Formation of Joint Economic Commission between the two countries is also in the agenda for discussion.
Besides, the two countries are negotiating a number of issues for signing agreement, including transportation of goods by air and sea, cooperation in the field of education, science and research, transfer of sentenced persons and culture.
Unauthorized use or reproduction of The Finance Today content for commercial purposes is strictly prohibited.