Economy /
Deposit piles up despite rate cut
---
SAM
Published:
2020-02-19 17:30:56 BdST
Deposit piles up despite rate cut
---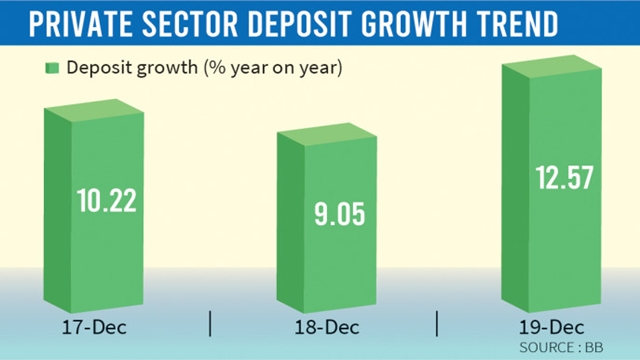 FT ONLINE
Despite a downward pressure on interest rates throughout last year, the banking sector experienced a substantial rise in deposit growth in December that year, a reflection that depositors still prefer banks to park their money.
The deposit growth surged to 12.57 percent in December last year in comparison with the 9 percent growth in the same period of the previous year, according to the latest data released by the Bangladesh Bank.
The deposit growth hovered around 10 percent throughout the year when the average interest rate was in the range of 9 to 10 percent.
The rise in the deposit growth increased liquidity inflow in the banking system, hitting excess liquidity to Tk1 lakh crore in December, which dipped to Tk63,000crore in March last year, according to central bank data.
However, bankers apprehended that the trend of deposit growth would not continue this year as the deposit rate of many banks have already come down to 6 percent from February this year following the government's instruction.
Moreover, the interest rate of government deposits has already declined to 6 percent for private banks and 5.5 percent for state-owned banks from January this year. It may divert money to financial institutions and other co-operative organisations, said industry insiders.
Syed Mahbubur Rahman, managing director of Mutual Trust Bank and former chairman of Association of Bankers, Bangladesh, said "Last year, savers got good interest on their deposits.
This year, the government is determined to implement single-digit interest rates, so depositors have to accept the rates. We are observing the situation. After April, everything will be clear."
Ahsan H Mansur, executive director of the Policy Research Institute and chairman of BRAC bank, said, "Last year, the deposit growth was better as a good number of depositors had returned to banks after tough regulations were imposed on a buying of savings certificates."
In March 2018, the Bangladesh Association of Banks, a forum of banks' directors, had declared that they agreed to slash deposits to 6 percent for implementing lending at single-digit rates.
For that they had got several facilities, like a cut in cash reserve requirement, and relaxation in advance deposit ratio and write-off rules.
But the bank owners' association could not keep their commitment to implement the single-digit lending rate. Only for a certain period in 2018 could they keep it lower.
Last week, the government cut down the deposit rate of the postal savings bank to almost half the previous rate.
The interest rate on three-year term fixed deposits was reduced to 6 percent from 11.28 percent, aiming to bring down deposits and lending in banks to single-digit rates.
Kakoly Chowdhury, a civil engineer, went to the Dhaka general post office to withdraw a fixed deposit from the Post Office Savings Bank after maturity because the government has reduced the profit rate.
Kakoly said, "It has destroyed my eagerness to save money. Six percent is nothing. If I can stitch two shalwar kameez, I can earn Tk600 in an evening. Why will I spend three to four hours to come to the post office for saving and withdrawing money?" Chowdhury questioned.
According to the post directorate data, in December 2019, the Post Office Savings Bank received Tk1,806 crore in fresh fixed deposits and Tk249 crore in fresh savings deposit.
In the July-December period, the Post Office Savings Bank got Tk13,397crore in deposits, of which the fixed deposit was Tk11726 crore.
Now many banks offer 6 percent interest rates on deposits. Experts fear this decision may encourage a flight of capital.
According to economist AB Mirza Azizul Islam, "If interest rates on all forms of deposits are lowered this way, where will savers go? Inflation is nearly 6 percent. Real interest is nothing. In this situation, capital flight may increase."
Unauthorized use or reproduction of The Finance Today content for commercial purposes is strictly prohibited.