Celebrities we lost in 2022
---
Staff Correspondent
Published:
2023-01-01 10:08:09 BdST
Celebrities we lost in 2022
---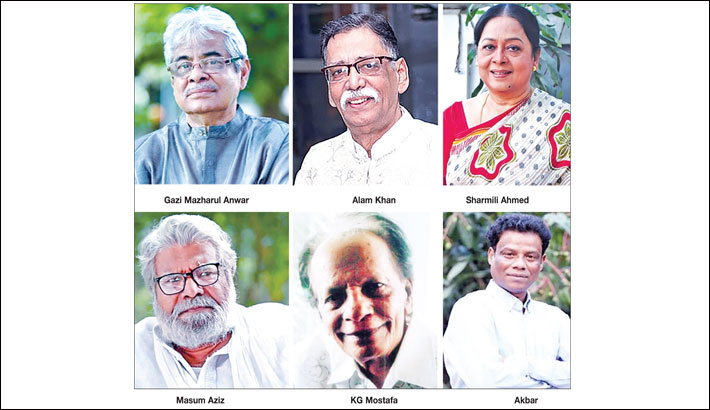 The country lost a good many of notable cultural personalities in 2022.
The celebrities we have lost include musician Alam Khan, film director Gazi Mazharul Anwar, actors Masum Aziz, Sharmili Ahmed, lyricist KG Mostafa, film director Azizur Rahman, singer Akbar, lyricist Omar Faruk Bishal, and fashion designer Emdad Hoque.
Here we're remembering the celebrities who have died this year:
Alam Khan
Prominent composer and music director Alam Khan died on July 8.
Born on 22 October, 1943, Khan's musical talents began to show at the age of 10. He began his career working with composers like Robin Ghosh, Altaf Mahmud, and Satya Shaha, and his first solo work was in the 1970 film 'Kanch Kata Heere'.
He was awarded Bangladesh National Film Award for Best Music Director five times for the films Boro Bhalo Lok Chhilo (2005), Teen Kanya (2006), Surrender (2007), Dinkal (2008) and Ibadat (2009). He also won Best Music Composer Award for the films Bagher Thaba (2005) and Ki Jadu Korila (2008).
Khan composed around 2000 songs and provided music direction for around 300 films. He is notable for the composition of the songs 'Ore Neel Doriya Amay De Re De Chhariya', 'Ami Rajanigandha', 'Daak Diachhe Doyal Amarey', 'Hayre Manush Rangin Phanush' and 'Tumi Jekhaney Ami Shekhaney'.
Sharmili Ahmed
Eminent actress Sharmili Ahmed passed away at the age of 75 on July 8.
Born in 1947 in Belur Chok village of Murshidabad, Sharmili started her career on radio in 1962 before making a foray into films 1964, and television four years later.
Sharmili started her acting career through Urdu films and acted in four Urdu films — Jugnu, Ujala, Panchi Baura and Thikana. Her first Bengali film was Abirbhab, directed by Subhash Dutta.
Sharmili Ahmed worked in over 150 films including 'Malancha', 'Dompoti', 'Agun', 'Abirvaab', 'Poush Phaguner Pala', 'Meherjaan', 'Abar Hawa Bodol', 'Brishtir Pore', 'Amader Ananda Bari', 'Anchol', 'Aguntuk', 'Poshak', 'Chheleti', 'Uposhonghar', 'Chena Manusher Panchalee', and 'Dhupchhay'.
Gazi Mazharul Anwar
Renowned Bangladeshi musician, film director, producer and lyricist Gazi Mazharul Anwar passed away on September 4.
Born on February 22, 1943, at Daudkandi in Cumilla, Gazi Mazharul Anwar contributed greatly to the cultural and entertainment industry in Bangladesh with a glorious career spanning more than 60 years.
In his legendary career as a lyricist, he wrote over 20,000 songs including the coveted patriotic song "Joy Bangla, Banglar Joy." He was one of the eminent lyricists of the Shwadhin Bangla Betar Kendra and three of his songs are included in BBC Bangla's list of the "20 greatest Bangla songs".
Masum Aziz
Ekushey Padak-winning actor and screenplay writer Masum Aziz passed away on October 17 after battle with cancer.
While studying at Chittagong University, he made his acting debut in theatre.
In 1985, he debuted in TV drama. He has played more than four hundred dramas. Alongside performing on TV and stage, he has also acted in films.
The actor won National Film Award for his performance in 'Ghani' in 2006. He was awarded the Ekushey Padak in 2022.
KG Mostafa
Legendary lyricist KG Mostafa breathed his last on May 8. He is known for numerous evergreen songs like 'Tomare Legeche Eto Je Bhalo' and 'Ainate Oi Mukh Dekhbe Jokhon'.
Born on July 1st, 1936, in Begumganj of Noakhali district, KG Mostafa completed his Alma Matters from the Department of Bangla at Dhaka University. He then began his career as a lyricist and journalist.
'Ogo Lajuk Lata', 'Shohorbashi Shono' are some of the other popular songs penned by KG Mostafa.
In his esteemed career, KG Mostafa worked as a prominent journalist, columnist and poet. He was the editor of 'Shachitra Bangladesh' magazine.
Akbar
Singer Akbar Ali Gazi, known for his performance in the popular magazine show 'Ityadi', breathed his last on November 13.
Akbar was born in Paikgacha, Khulna. He came to limelight after performing at the popular programme 'Ityadi' in 2003, where he rendered the song 'Ekdin Pakhi Ure Jabe Je Akashe'. His song 'Tomar Haath Pakhar Batash' also got popular among the audience. Before his TV appearance, he would pull rickshaw as a means of livelihood.
Akbar was suffering from diabetes, kidney disease, liver disease and other complications since 2017. His right leg amputated due to health complications on October 16, 2022. Due to being sick for a long time, he was unable to perform later in his life.
Besides, legendary film director Azizur Rahman known for the film 'Chhutir Ghonta' passed away on March 15 in Canada.
Lyricist and journalist Omar Faruk Bishal was killed in a road accident on November 7.
And renowned fashion designer and Fashion Design Council of Bangladesh vice-president Emdad Hoque passed away on December 23 due to heart attack.
Unauthorized use or reproduction of The Finance Today content for commercial purposes is strictly prohibited.