Former Pakistan PM Imran Khan arrested
---
Int'l Correspondent
Published:
2023-05-10 01:31:59 BdST
Former Pakistan PM Imran Khan arrested
---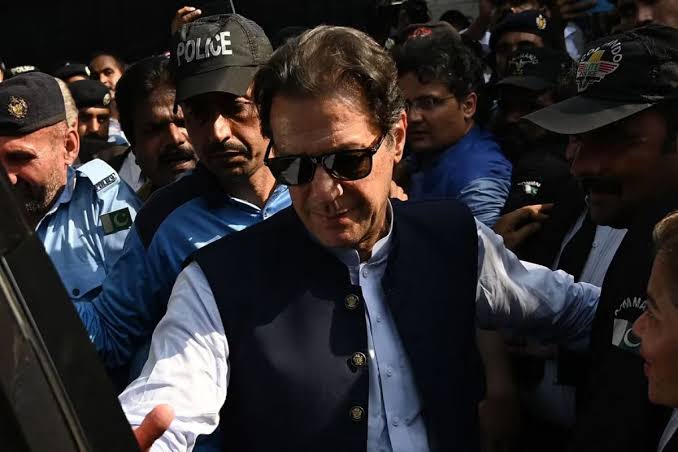 Former Pakistan prime minister Imran Khan was arrested Tuesday during a court appearance in the capital for one of dozens of cases pending since he was ousted last year.
His arrest follows months of political crisis and comes hours after the powerful military rebuked the former international cricketer for alleging a senior officer had been involved in a plot to kill him.
Officials from Khan's Pakistan Tehreek-e-Insaf (PTI) party urged supporters to take to the streets after his arrest, but police warned that an order prohibiting gatherings of more than four people would be strictly enforced.
PTI supporters were reported to be gathering and blocking roads in cities across the country, including the capital Islamabad, Lahore and Peshawar.
"Imran Khan has been arrested in the Qadir Trust case," the official Islamabad police Twitter account said, referring to a graft case.
Video broadcast on local TV channels showed Khan -- who has a pronounced limp since being shot during an assassination attempt last year -- being manhandled by dozens of paramilitary rangers into an armoured car inside the Islamabad High Court premises.
"As we reached court's biometric room to mark the attendance, dozens of rangers attacked us," said Ali Bukhari, a PTI lawyer.
"They beat him and dragged him out," he told AFP.
It was not immediately clear where he was taken.
Khan's arrest comes a day after the military warned him against making "baseless allegations" after he again accused a senior officer of plotting to kill him.
The rebuke late Monday underscored how far Khan's relations have deteriorated with the powerful military, which backed his rise to power in 2018 but withdrew its support ahead of a parliamentary vote of no confidence that ousted him last year.
'Democracy has been buried'
Anticipating his arrest, party officials later released a pre-recorded video by Khan in which he urged supporters to come out in support of "true freedom".
"My Pakistanis, by the time these words reach you I would have been detained under an illegitimate case," he says in the video.
"One thing should become clear for all of you from this is that fundamental rights in Pakistan, the rights given to us by our constitution and democracy have been buried."
Pakistan is deeply mired in an economic and political crisis, with Khan pressuring the struggling coalition government for early elections.
At a weekend rally in Lahore, Khan repeated claims that senior intelligence officer Major-General Faisal Naseer was involved in an assassination attempt last year during which he was shot in the leg.
The military's Inter-Services Public Relations (ISPR) wing said in a statement that "this fabricated and malicious allegation is extremely unfortunate, deplorable and unacceptable".
"This has been a consistent pattern for the last year wherein military and intelligence agencies officials are targeted with insinuations and sensational propaganda for the furtherance of political objectives," it said.
Criticism of the military establishment is rare in Pakistan, where army chiefs hold significant influence over domestic politics and foreign policy and have long been accused of interfering in the rise and fall of governments.
Prime Minister Shehbaz Sharif -- whom Khan also alleged was involved in the assassination plot -- weighed in on Twitter.
"His levelling of allegations without any proof against Gen Faisal Naseer and officers of our Intelligence Agency cannot be allowed and will not be tolerated," he said.
- Rejects findings -
Pakistan's government has said the assassination attempt was the work of a lone gunman, who is now in custody and who confessed in a video controversially leaked to media.
Khan rejects those findings and insists authorities have refused to accept his attempts to file a so-called first information report (FIR) with police identifying the real culprits.
ISPR said it reserved the right to "take legal course of action against patently false and malafide statements and propaganda".
Khan faces dozens of charges that were brought against him since he was ousted -- a tactic analysts say successive Pakistan governments have used to silence their opponents.
Pakistan's military, the world's sixth largest, holds undue influence over the nation.
It staged at least three coups since the country gained independence in 1947 and ruled for more than three decades.
Unauthorized use or reproduction of The Finance Today content for commercial purposes is strictly prohibited.